By franco on 27 April, 2008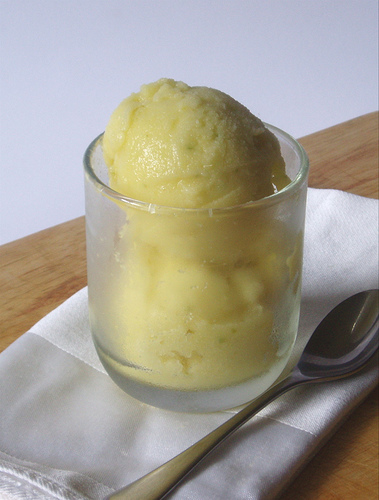 We love mangoes.
Because of this love and a sheer lack of EQ, A. and I just can't seem to wait for our mangoes to ripen to a bright, sunny yellow. Instead, we find ourselves cutting our green, unripe mangoes into finger-like pieces, dipping them in our favorite spicy/salty bagoong (shrimp paste) and savoring every bite. The sour of the green mangoes, along with the salty and spicy flavors of the bagoong make for a delightful explosion of tastes and textures. Few things say summer like this dish.
Since this is the season when mangoes are at their prime, I decide that it was time to do some experimenting. It's time to create a Green Mango Sorbet. After a quick search, I'm quite surprised to learn that there are no recipes for a Green Mango Sorbet on the web. Shocking because, I know that many of the finer restaurants in the Philippines have been making this dessert for some time. Undaunted, I turn to my frozen desserts guru, David Lebovitz. Although Mr. Lebovitz doesn't have a recipe specific to my needs, I decide that his Mango Sorbet recipe is great jumping off point. Since alcohol tends to intensify in flavor in sorbets, I have omitted it this recipe and substitute a light corn syrup instead. The unripened mangoes stand up well against the added sweetness of the corn syrup. In fact, corn syrup helps balance out the flavors of this sorbet.
Green Mango Sorbet
Adapted from The Perfect Scoop by David Lebovitz

3 large, unripe mangoes (about 1 kg)
2/3 cup white sugar
2/3 cup water
4 teaspoons freshly squeezed lime juice
1 tablespoon of light corn syrup
Pinch of salt

Peel the mangoes and slice the flesh away from the pit.*
Cut the flesh into chucks. Place the chopped flesh in a blender with the rest of the ingredients.
Puree the mixture until smooth.
Place the mixture in refrigerator and chill thoroughly
Freeze in your ice cream maker according to the manufacturer's instructions

*Optional: Reserve some slivers of mango peel, finely mince and add to the mixture during churning.

Makes about 1 litre
With all do respect to all mango producing nations, I believe that the Philippines grows the best mangoes out there. I would strongly recommend that only Philippine Mangoes be used in this recipe. I cannot guarantee the end results if any substitute mangoes are used.
You have been warned.
LABELS: Green Mango Sorbet, Table Recipes