By franco on 6 April, 2008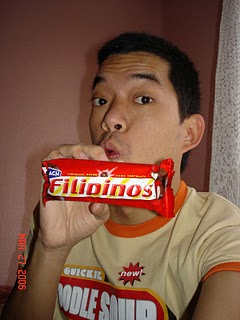 If you haven't heard of
Ivan Man Dy's Binondo Food Wok
, then we suggest you read his interview, click on the link and immediately sign up. On this walking food tour, Ivan takes foodies around Manila's Chinatown, feeding not only their stomachs with taste of Binondo but also captivating their minds with glimpses into
Tsinoy
culture and history. Ivan has found the perfect way to indulge a person's love of food, get a education about a much loved district of Manila and burn off calories all in span of an afternoon walk.
So Ivan, tell us a little about yourself.
My name is Ivan Man Dy. I am an operations manager by profession but on certain days, in fact, more than the time I should be spending time on my desk, I morph into a cultural guide taking people on historical, cultural and culinary walking tours around the nook and crannies of our city. I'm quite passionate about traveling and a lot that goes with it (including eating) but more than seeing food as just something to please the palette and fill my stomach, I also see it as an cultural subject, a means to understand one's heritage and identity as well as digging deeper to one's roots.
What is Old Manila Walks and how and why did it get started?
Old Manila Walks is a series of tours exploring the different facets and historic quarters of Manila. It started in late 2004 after several trips abroad which made me realize three things: One, that I could actually share my passion for my city (Manila) and people would care to listen; two, that I can use it a tool to for creating awareness for my advocacy on cultural heritage awareness; and three, that I can actually combine it with exercise, in this case walking, something which my father had nagged me to do for the longest time! To my surprise, people cared to listen (or maybe eat?) and my dad has stopped nagging ever since.
Given we are a food blog, your Big Binondo Food Wok piqued our interest. For those who have never done this tour, can you explain what this tour is about?
The BIG Binondo Food WOK is a cultural, historical, culinary WOK-ing tour of Binondo. For locals, it's essentially a rediscovery of this place which they've been going to all their lives which they thought was familiar with but this time, seeing it in a new light. For foreigners, it's another cultural dimension to Manila's multi-faceted character in what possibly is the oldest Chinatown in the world. You'd be surprised to know how this tour actually started out as an architectural walk but eventually morphed into a culinary one. For this particular tour, it takes food as a medium for sustenance as well as taste and relates to it to the history of the district, the Tsinoy community and ultimately to Manila itself.
What are the highlights of the Food Wok?
On the whole, I think the highlight of the BIG Binondo Food WOK is fishing out all those great culinary finds in Chinatown, it's like a walking lauriat with all the elements thrown in: good food, conversational pieces and a natural camaraderie that encourages interaction among fellow enthusiasts, oh, there's a dash of of cultural lessons too. It's not just about filling the tummy but also nourishing the soul.
Of all the stories you tell on your Wok, what stories are your favorites?
None in particular as they tie up and give substance to the WOK.
Since you give food tours of Binondo, we imagine that you know a lot of gastronomical treasuries that only locals would know, care to share?
Well, I'm not much of a shopper but of late, I've discovered that the food court of 168 Mall is a good source of cheap and tasty meals. Some of the foods there are not the type that you'd find in your average Chinese restaurant but a lot of quite authentic since theyre manned by newly-arrived Chinese immigrants.
When you eat in Binondo, what and where do you like to eat?
Where I eat would ultimately depend on what type of food I wold want for the moment. For my noodle fix, I like eating at Tasty Dumplings along Ongpin for their Taiwanese style Mami or to Lan Zhou noodle house along Benavides for their version of the hand-pulled noodes. It's very different from the regular beef-mami that everybody's familiar with and they have an all-you-can-put scallions or wansoy on the table to top off the very beefy broth! If it's old-timer taste, I go to Ma Su Ki along Benavides (check out their huge siomais!) or the original Ling Nam along Teodora Alonzo. Just across, Panciteria Lido serves up a very filling chami (stir-fried lomi). My list would also include Quick Snack along Carjvajal for sate noodles, lumpia and this very hard to find dish called 'lo-bihon' (think a thicker version of lomi but with bihon noodles instead) and Icefield Restaurant along Ongpin for their oyster omelet.
What non-foodie activities, should visitors not miss when walking the streets of Binondo?
If you are an architecture groupie, check out Binondo's eclectic collection of historic buildings from the ornate Bahay na Bato to the flamboyant Art Deco but if you really can't take your mind off food, then perhaps the next best thing to do is dive-in the culinary shopping scene! Check the colorful street markets along Ongpin, Nueva, Salazar, Carvajal, Benavides, Teodoro Alonzo etc, they're chock full of stores and hawkers selling food stuffs that's guaranteed to make you go home with your tummy smiling with a big loot in tow. Binondo is really more of an experiential place, yes, it has sights but its more of the the buzz, the sound, the history, the smell and the culinary treats all of which are tossed up in one big flavorful pot that will surely leave a memorable taste to anyone who walk through her streets.
Just between us, what are the future plans for Ivan Man Dy and Old Manila Walks?
On the menu: more explorations of the old city including a possible second serving of the Binondo Food WOK or something architectural on Malate…that is is if our feet doesn't calloused with treading from one broken pavement to another.
Old Manila Walks
Telephone: (02) 711 3823
Cel Phone: (0917) 329 1622
Email: oldmanilawalks2@gmail.com
Contact Ivan or Cherry
LABELS: Binondo Food Wok, Ivan Man Dy, On The Table