By franco on 23 April, 2008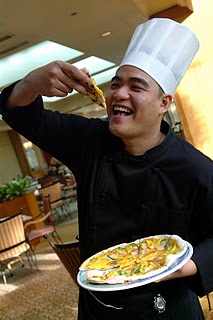 He calls it Freestyle Cooking. During every service,

Chef Marco Legasto

and his team of intrepid cooks perform gastronomical magic. Without the guidance of a set menu, they create amazing dishes tailor-made to his guests' tastes, whims and desires. Chef Marco's culinary star is definitely on the rise. A meal at

Purple Feet

isn't one to be missed and comes highly recommended. We strongly suggest you make your reservations and make them soon.

Who in your life has influenced your baking the most?

Probably my cooking influence came from my grandmother. She used to cook a lot. Maybe, my dad also has a big influence as well. He used to invent dishes by mixing whatever ingredients he would finds in the market and on our travels He loved experimenting. Not all his experiments were good but he had more hits then misses. Another might be my mom. She used to cook traditional dishes that I love as well.
Which book has had the biggest impact?

I don't read cook books. I do browse food encyclopedias to see the different ingredients I should try. I've read a few autobiographies. The book I enjoyed reading the most was about Chef Marco Pierre White.
What was your first job in the food business?
Before I went to the United Kingdom, I was cooking in a small restaurant I had with a friend. It closed down. But professionally, I started the real hard work in the UK where I studied and had a part time job first as a bartender for a month. I moved jobs when I found an opening in a hotel kitchen. I started as a steward cleaning everything and worked my way up to executive chef in a short period of time.
When did you decide you wanted to open Purple Feet?
My partners and I have been talking about putting a restaurant up for quite a while, The idea died down and I even forgot about it and didn't expect much from it. Until last year, it was a big surprise for me that the place was all ready up and ready to start. We opened July 2007.

What is your favorite item on the your menu?
That's a hard question to answer. We don't have a specific menu but, I like our
Prime Rib,
blackened on the outside but raw on the inside. Just the way I like my meats. Two others would be the
Smoked Baby Back Ribs
or
Lamb Shank
. I could go on and on. I always make sure the dishes I bring out are dishes that I would love to eat myself. We make it a habit of trying everything we cook. My motto is if you don't like the taste of it, don't even dare serve it.
Which restaurant meal (foreign or local) do you remember the most?
I don't remember the name of the restaurant but the dish was a duck breast stuffed with goose liver and fresh truffles, wrapped in fennel and jamon serrano.
Besides your own place, what's your favorite restaurant in Manila?
Depends on my mood, I guess. For japanese, its
Kobikicho
which is located on Legazpi Street in Makati. It's run by a friend who is the chef. All the ingredients are flown in from Japan. The only local item they have is the San Miguel Beer. Two other restaurants I like would be
Kashmir
and
Korea Garden
. I actually like a lot of restaurants in Manila.
What junk food do you love?
I'm a sucker for Mcdonalds fries, Cheetos Jalopeno and Pringles Guacamole or Original Flavor.
Is there a food you just can't seem to enjoy?
Bitter Gourd or Ampalaya. I don't really know why.
Just between us, what are your future plans?
Well, this restaurant is relatively new. I want to do a lot of things that are still locked away in my brain. We planning on doing different concepts for the other Wine Depot branches. We have a lot of events lined up like wine dinners whenever a wine maker comes to the country. These events are actually great value for money.
Purple Feet
217 Nicanor Garcia Street
Bel-Air, Makati City
Metro Manila
Telephone: (02) 897 3220/ 897 8167
LABELS: Marco Legasto, On The Table, Purple Feet