By franco on 13 March, 2008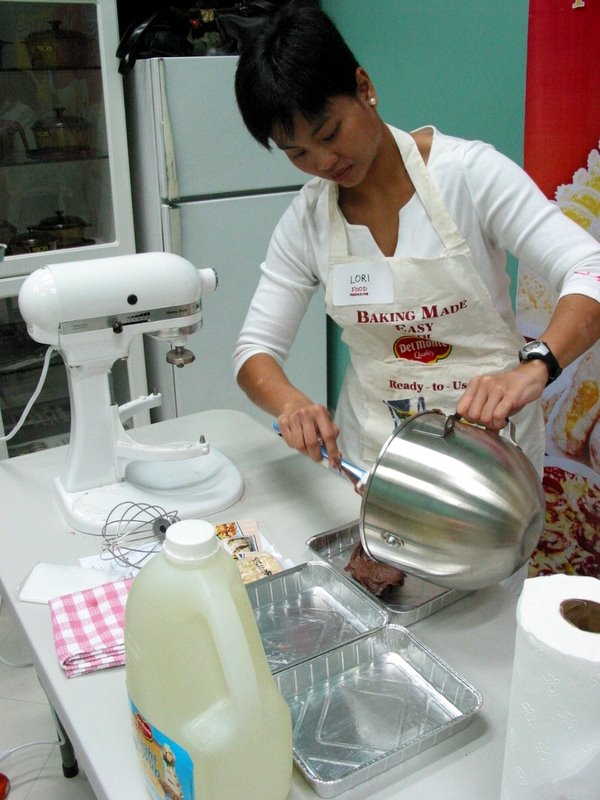 Lori Baltazar's Dessert Comes First is a gastronomical work of sugar and caffeine powered zeal. Through her blog, readers are given a glimpse into the world of this fanatical foodie where food is a passion and dessert is king. After looking over her scrumptious photos and her deliciously written prose to all things delectable, one can't help but run to the kitchen and search for something to tuck into. In our opinion, Dessert Comes First is arguably the best Pinoy food blog around.

Of all the things you could write about, why food?


It's been a long, long journey for me from radio announcer ( my first job) to what I've discovered I'm meant to be, which is a food writer. I've always adored food and I was lucky enough to grow up in a house with a mom who believed that there was more to life than adobo and sinigang. It was my mom who introduced me to then-gourmet foods like tempura, shabu-shabu, shepherd's pie, tacos — and all homemade, mind you. Food fascinated (and continues to fascinate) me then, and from the yellowing recipes that I xeroxed and clipped out when I was in Grade 3 (which I still have) to my hundreds of cookbooks now, it only made sense that I would end up writing about something that I'm zealous about.
Who are the food writers who inspire you and why?
Good writers are good readers and I'm constantly inspired by food writers who have substantive things to say about food. I admire Nigella Lawson for her typical British charm and self-effacing humor; Jane and Michael Stern have the most seductive food descriptions that never fail to send me scampering for something to eat; Michael Ruhlman has decoded the art of what makes a chef a chef; and of course, I love Ruth Reichl, Jeffrey Steingarten (though I sometimes find him a tad too scientific at times), and Anthony Bourdain.
Many regional cuisines like Thai, Singaporean and Vietnamese have found their place on the world culinary stage, why do you think Pinoy food hasn't achived the same global acclaim?
Who says it hasn't already? And what exactly is "global acclaim" anyway? I'm not a big proponent of those who say that Filipino cuisine isn't getting any respect. Do we desire to see Filipino restaurants dotting every corner of the globe? Do we crave for the thrill of seeing foreigners ordering laing and kare-kare with as much aplomb as they do tom yung goong or pho or spanokopita or okonomiyaki? Are we waiting for a Filipino dish to land on the cover of Gourmet or Saveur? Truly, will we only be satisfied when those things happen? I believe that Filipino cuisine speaks for itself. Certainly, it fulfills the appetites and hearts of millions of people the world over, and not just Filipinos. I don't think we should be irrationally attached to it becoming popular or "acclaimed." It already is.
You have been writing your blog for over seven years now and a food writer for longer than that, what changes have you observed in the local food scene over the years?
I've been a food writer for 8 years. I'm very proud of the fact that Filipinos have become more adventurous and educated in terms of food, as evidenced by the sheer number of quality restaurants that dot our metropolis. International food trends do trickle slowly down to us, (South Beach diets, cupcakes, eating locally, etc.) but we ultimately go back to what we're comfortable and familiar with. More Filipinos are also more aware of eating locally and the surge in weekend markets feeds that lifestyle. Coffee continues to outshine tea in terms of popularity and "coolness," and restaurants live and die by how much parking they offer.
What is your favorite food blog, cookbook, food-related TV show and food magazine?
Food blog: When I first started DCF, there were about 10 food blogs I used to read voraciously. As life got more hectic (aka: motherhood!) the blog readings dwindled, and while I jump from blog to food site and back, I can't say that I have one favorite.
Cookbook: Ack, I have hundreds of cookbooks but there are a few that I do keep going back to because the recipes are so reliable and the books themselves are so attractive. Some of them: Baking Illustrated by the Editors of Cook's Illustrated Magazine, The King Arthur Flour's Baking Companion, and all my books by Marcy Goldman and Rose Levy Beranbaum.
Food-related TV show: Top Chef (but of course!)
Food magazine: Delicious, Chocolatier
Say I am visitor from out of town who visiting for the day, where would you take me for breakfast, a mid-moring snack, lunch, an afternoon snack, dinner and cocktails?
First I'd tell you that "gosh, you eat a lot!" (wink). And then we'd start noshing.
Breakfast: Definitely at Apartment 1B for their incomparable Eggs Benedict and the sexiest omelets in town — lush and stuffed to bursting.

A mid-morning snack: an Espresso Affogato at Piazza Pazzo at Rockwell. We need all the caffeine we can get!
Lunch: Martini's Carvery Lunch at the Mandarin Hotel

An afternoon snack: C2 for their Turon ala Mode. The twist given to this street food is the ube smeared on the banana filling, its spring roll wrapper laced with a langka sauce. With a scoop of vanilla ice cream, this is one of those definitive hot-meets-cold desserts that tantalizes the taste buds.
Dinner and Cocktails: The Tonnos Salata Salad (we have to get our greens in somehow!) at Cyma along with their giant gyros.

What junk food do you love?
Is this a trick question? I think the better question would be, "What junk foods do I not love?" Seriously though, tops on my list would be Ben & Jerry's Chocolate Chip Cookie Dough ice cream (when I can find it!); Lay's Kettle-Cooked Chips in Barbeque; Pik-Nik's Ketchup Fries, and when I have the time and inclination, I whip up a batch of these really soft and moist chocolate chip cookies. Freshly-baked, warm-from-the-oven cookies does it for me every time!
Is there a food you just can't seem to enjoy?
Ampalaya! And it looks gross, too.
Can you give three tips for would be food writers/bloggers?
1. Read, read, read. If you don't like to read, you can't be a writer. It's that simple. 2. Don't aspire to copy another writer's style. Readers can spot a phony a mile away. Be yourself. 3. Pay attention to grammar and spelling. (I cannot stress this often enough).
What are the future plans for Lori Baltazar and Dessert Come First?
The website will keep on getting better and better — I'm set on refining and polishing my writing and photography. Future plans include writing a book, launching a photo exhibit, holding the mother of all dessert bazaars, and throwing smaller events for loyal Dessert Comes First readers. Without them, I wouldn't be here.
Many thanks to Lori for the photo and for saying yes.
LABELS: Desserts Come First, Lori Baltazar, On The Table