By franco on 27 March, 2008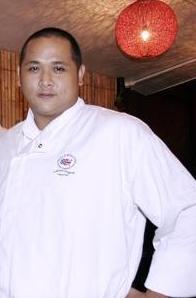 From a kitchen assistant at Mario's Kitchen to the owner of his own restaurant, Chef Archie Val Juanta's culinary journey has been anything but boring. After leaving the tutelage of Chef Sau del Rosario at M cafe, Chef Archie teamed up with some friends and set up Lime 88. In this converted bungalow home in Mandaluyong city, he takes common roadside treats, applies his learned gourmet techniques and creates his own take on Pinoy street cuisine. Love it or hate it, one thing is undeniable, Chef Archie is taking bold steps to reintroducing Filipino recipes and ingredients in new and innovative ways.
Who in your life has influenced your cooking the most?
Maybe it's in the genes. Hehe. Because I'm kapampangan. But really it's my mom. I remember growing up, she would always ask me to assist her in preparing dishes for the family. I think that's how i really started getting interested in cooking.
Which book has had the biggest impact?
The Art Culinarie book series. It's not like any other cookbook that talks only about the food but it also highlights the philosophy of the chefs on their food and techniques.
What was your first job in the food business?
My first encounter in the food industry biz was as a Kitchen Helper at Mario's Kitchen but my professional career in the food industry really started at the M Cafe under chef Sau del Rosario.

When did you decide you wanted to open Lime 88?
I started conceptualizing Lime88 around April of 2007 and had it come together in July of the same year.
What is your favorite item on the your menu?
The Street-Style Pizza which has Quesong kalabaw, tuyo and chicken longganisa.

Which restaurant meal (foreign or local) do you remember the most?
Involtini of red snapper with tomato coulis and lobster creme brulee in Martini's at the Mandarin Oriental Manila.

Besides your own place, what's your favorite restaurant in Manila?
Pino Restaurant in Teachers Village. I love their Asian fusion rendition. I enjoy having meals in really laid back but cozy settings.
What junk food do you love?
My favorite junk food is Cheese Curls and Oreo cookies.
Is there a food you just can't seem to enjoy?
I'm not a fan of tinola, pochero and afritada. I don't know hindi ko lang talaga trip.
Just between us, what are your future plans?
I want to be a culinary instructor. To help hone the talents of those people interested in culinary artistry. I also want to give them the proper mindset of a professional kulinero. It's not as glamorous as it seems. It maybe at times but mostly it's hard work. Standing in the heat for hours on end, thriving in the pressure, discipline, passion, passion and passion.
Lime 88
160 San Rafael Street
Mandaluyong City
Metro Manila
Telephone: (02) 533 7515
Thank you to Anton for the use of his photo
LABELS: Chef Archie Val Juanta, Lime 88, On The Table