By franco on 4 March, 2008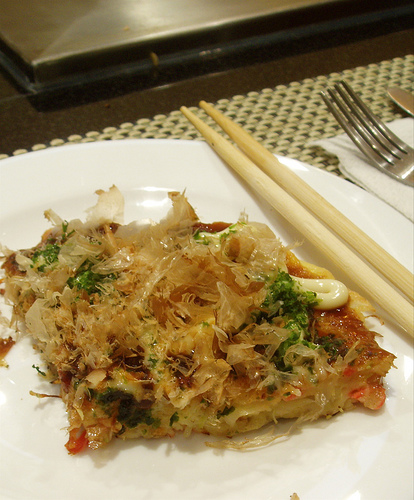 Gyutama: An okonomiyaki of beef


Eating out can be pure theater.
Take, for example, lunch at Nihonbashitei, a Japanese eatery located at the very end of N. Aranaiz Street (formerly yet more popularly known as Pasay Road).
A and I have always been curious about this restaurant. On our occasional nights out, we would observe this place teeming with people, both locals and Japanese alike. Never before had we seen place so overcrowded with patrons, unless of course the establishment was called Krispy Kreame. Fair warning. Nihonbashitei can get busy.
We knew it was just a matter of time before we would tuck in and see for ourselves what the fuss was all about.
This Japanese restaurant is divided into two very distinct dining areas. The first floor dining room serves the usual Japanese fare. The second floor (which has it own separate entrance), on the other hand, is exclusively a teppanyaki room.
I don't know about you but I usually shy away from teppanyaki, simply because I like eating my food and not smelling like it. But today, I am willing to make an exception.
Having just eaten in another Japanese establishment, I convince my lunch companions that trying out Nihonbashitei's teppanyaki room would be an interesting change of pace. Thankfully, they agreed. One can only eat so much raw fish.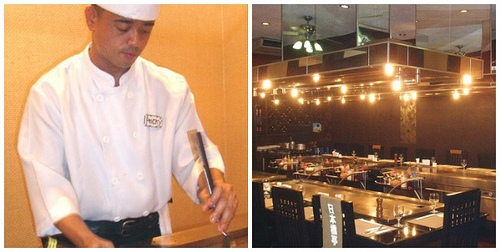 Our

teppanyaki

chef, Ricky at work, the Interiors of Nihonbashitei


A short primer on
Teppanyaki
courtesy of
Wikipedia
:
In Japan, teppanyaki may refer to any of a number of dishes cooked using a teppan, including okonomiyaki, yakisoba and monjayaki, frequently with the hot plate located in the center of the diners' table. The form of teppanyaki most familiar… consists of steak and other meats, along with vegetable accompaniments.

The originator of the teppanyaki-style steakhouse is the Japanese restaurant chain Misono, which introduced the concept of cooking Western-influenced food on a teppan in Japan in 1945. They soon found that the cuisine was even more popular with foreigners than with the Japanese, who enjoyed both watching the skilled maneuvers of the chefs preparing the food as well as the cuisine, somewhat more familiar than more traditional Japanese dishes.
The teppanyaki room is nothing like what you would expect from a Japanese restaurant. In a word, it's attractive. Done in dark colored wood and stainless steel, the center of the room is a large common flat griddle area. For those looking for more privacy, several glass-walled private rooms equipped with their own grilling area and can seat at least six comfortably surround the center area.
Once seated, we settle on three dishes: two teppanyaki dishes of Wagyu Innards (P220) and Squid (P180) and in spirit of tasting the new, we tried an okonomiyaki of beef called Gyutama (P300).
I wish could say that eating the grilled wagyu innards (aka. slices of liver) and squid will cause a paradigm shift in the art of Japanese cuisine. But, I won't. At best, you will have a delicious meal of meat and seafood with a delightful show of culinary acrobatics care of our chef, Ricky. He slices and diced, seasons and sautés with amazing speed and dexterity. If you blink you might miss the show.
A notable exception to this 'eat and tell' is the beef okonomiyaki. Grilled on the teppan or hotplate, an okonomiyaki can be described as Japanese layered pancake. This dish that originates from Osaka is popular throughout Japan. Primarily made of eggs, flour, yams and cabbage, the batter is mixed with other ingredients such as vegetables, seafood or as our case, thin slices of beef. Once fried to a spongy omelet-like consistency, this griddle cake is topped with a thick, sweet sauce, ginger, seaweed flakes and a 'healthy' serving of Japanese mayo. I love this dish. The layers for flavors and textures are distinct. Yet, they meld beautiful together into one well-balanced and scrumptious dish.
Eating teppanyaki at Nihonbashitei (or anywhere else, for that matter) isn't for everyone. If you are searching of a zen-like experience as you dine on your immaculately hand-rolled sushi, visiting Nohonbashitei's first floor dining area might be a better option. But, if you have an appreciation for gastronomical performance art or just have craving for a Japanese grilled steak, this place is guaranteed to hit the spot. Personally, I would go back to tuck into another okonomiyaki. A whole order, all for myself. No sharing, please.
PS. Customers dining that in the teppanyaki room cannot order from the other dining area on the first floor. So if you feel like starting with an order of sashimi, you are going to have order take-out and bring it up yourself. Odd and highly inconvenient.




Nihonbashitei

800 A. Arnaiz Avenue

Makati City

Metro Manila

Telephone: (02) 818 8893, (02) 818 8894




LABELS: Franco, Manila, Nihobashitei, Restaurants