By Mariko on 31 March, 2008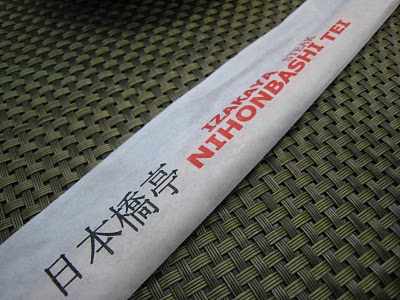 I'm not a big fan of teppan, so I pretty much knew from the start that I would be going to the first floor of Nihonbashitei. (Yes, I know teppan is good, but after a while, everything kind of just tastes the same, at least to me.) That both Franco and Monchu had already gone to the second floor sealed the deal.
The boys already wrote about the resto, how it's divided, etc., so no lengthy post here. I just ordered the
Nihon Nigiri
(regular, P280), which came with a bowl of miso soup…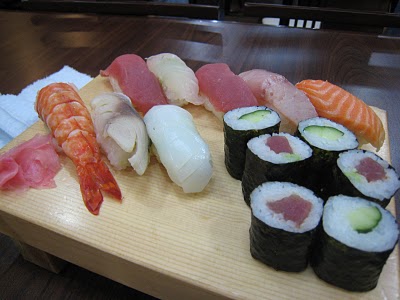 Very fresh, no complaints here. Had a hard time deciding what else to order, because the menu was a bit overwhelming. Friends have been raving about Nihonbashitei's set meal of chopped-up wagyu steak, rice, and veggies. It was supposedly around P1,400, but I was prepared to spend for it. Alas, it wasn't available that evening because the set meal is only served during lunch! Sigh.
Wanting to try wagyu, I opted to get the Sukiyaki, which was the only other thing on the menu that had wagyu in it.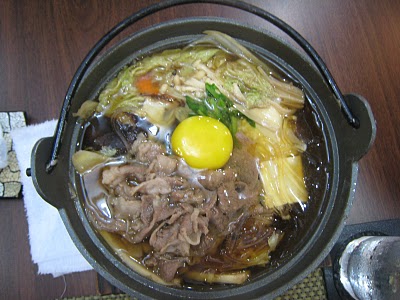 Ever since I was a kid, I've been eating sukiyaki at home, so I never thought to order it at a Japanese resto. Turns out, our version was stripped down and, well, wrong! The family recipe just has those glassy noodles, beef (often tough after coming into contact with the noodles!), some veggies, and tofu. No egg (hence, our broth remained clear), no mushrooms, but it was flavorful, sweet, and comforting nonetheless.
So, yeah, this was officially my first time to try authentic sukiyaki. To be honest, I quite prefer our own version, flavor-wise–but the beef, oh, the beef! Sliced almost paper thin, these babies were the most tender I had ever had in my life. Any softer and they woulda been butter!
It turns out, the resto got my order wrong and gave me US beef (P470) instead of the P800+ wagyu. A bit annoying, but I just let it go considering I did enjoy what I got, plus it cost, like, half the wagyu version.
I would go back one lunch time just to try that wagyu meal. I'm even more curious now after trying the unbelievably soft non-wagyu beef. I'd like to see if it's possible for beef to actually melt in your mouth.
Nihonbashitei
800 A. Arnaiz Avenue
Makati City
Metro Manila
Telephone: (02) 818 8893, (02) 818 8894
LABELS: Manila, Mariko, Nihobashitei, Restaurants