By Monchu on 23 March, 2008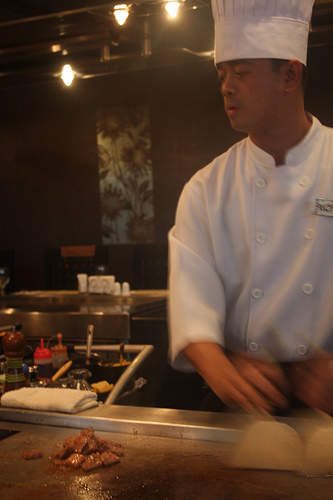 If my memory serves me right, my first ever taste of Japanese food was at Kimpura. I was a REALLY young kid back then, and it was an adventure of sorts venturing into a Japanese restaurant. Hardly any idea what would be served, without any idea as to the difference between an udon and a soba, and where Kani was thought to be a square clawed crab that need not be shelled. (okay – that was stretching it a bit…)
Discovery is indeed a wonderful thing, and I have learned one or two things since then about Japanese food. A number of times it just involves diving into a menu, choosing something different or one which you have never tried before. On braver moments, it simply takes walking into a Japanese restaurant that has Japanese characters on the neon sign, and hope it is not actually a club where you are not supposed to be seen except in anonimity.
That said, I have passed IZAKAYA NIHONBASHITEI a number of times the past year, and always intrigued by the fact that its car park is ALWAYS full when I pass. Thus, when Franco asked me where I would like to go to for my next "assignment", I did my best Miyagi impersonation and said – NNNIIIIHHHHOONNBASSSHTEI!
I went on a slow (read: post hang over) late Saturday Morning, opting out my usual breakfast at Salcedo Park. By eleven, my stomach began complaining. True enough, the restaurant just opened and apart from the crew, Me, Myself and I had the restaurant all to "ourselves".
For this trip, I went to the Teppanyaki place located at the second level. Nothing fancy.. the main dining consists of two rows, and the chefs would be at the middle. There are private function rooms at the side, which could comfortably seat about four to six persons each (plus the chef, of course).
The gracious waitress handed me the menu, and talked to me in Japanese. (*Note: Ive wondered how or why they even bother to translate the Japanese words into English, when the "english words" are simply the way it is pronounced in Japanese). Tempted as I was to hum the hymn of Voltes V, I politely said, I would have the US STEAK and RICE combo (P500.00 is the going price for the set). And HIYAYAKO which came out quite promptly (Cold Tofu)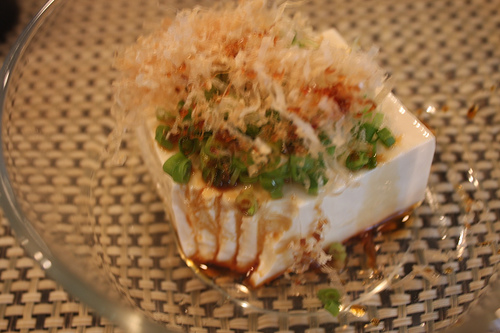 The Cold Tofu
Chef Ricky was on deck. He asked if I wanted the steak to be prepared first or the rice, and how I want my steak done. "Medium Rare, please". He takes out a slab of beef with very very decent marbling (read: fat). Oh yum!
He starts off by warming the plate, and in true showbiz fashion, splashes the hit plate with some liquer, and BAM!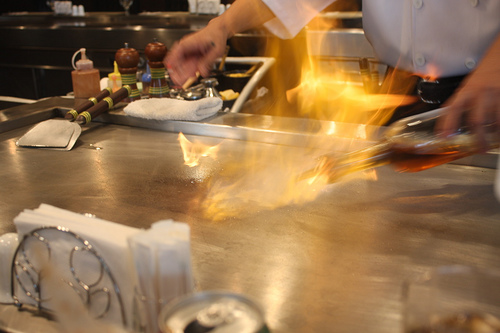 Fired up at the Teppan
I'm reasonably convinced that this flame thing on the metal surface is more for show than anything to add flavor, but I have to admit that it does look good.
Seasoning the steak is a different performance altogether. The beef was lightly coated with a stacatto of pepper and salt, with enough of twirling of the pepper mill that will make any Friday's bartender cry. The beef is seared to my preference, and at the end of the performance, the restaurant erupts with applause from the staff (and me, of course) for a job well done and with all fingers intact because of the fancy knife action.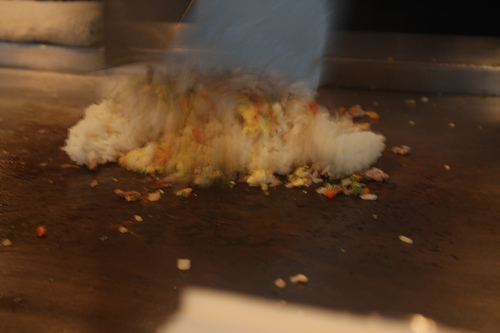 Fried Rice on the Fry
The fried rice was likewise prepared with similar fashion and flair. Though borderline salty , it can be forgiven.
For dessert fans, the set meal comes with nata de coco (remember that from the 90s?) and coffee.
As I left, a Filipino couple walked in and sat at the other station. Another chef was on hand. It might be the time of day or his bio rhythm is all wrong, but it did seem that he was off the beat by a little bit. I couldn't tell if he was shaking the pepper mill to Black Magic Woman or Spaghetti Song.
All in all, my first trip to Nihonbashitei it was a very good experience. The steak combo is definitely value for money, and add in the show, I think is a very good deal. But please, try to go there with a group, and if you can, fill up the main hall with your friends. I could imagine some good exchanges between the chefs who can jazz up their performance. Certainly, there are better steaks, but just to put things in proper perspective, Ive been there a couple of times, and left after my meal always quite pleased.
Nihonbashitei


800 A. Arnaiz Avenue
Makati City
Metro Manila
Telephone: (02) 818 8893, (02) 818 8894
LABELS: Manila, Monchu, Nihobashitei, Restaurants