By Guest on 25 March, 2008
Imagine: a food-obsessed Pinoy living in HK given the opportunity to share her favorite eateries with food lovers from the Philippines. Think: crummy looking hole-in-the-walls, noisy eateries, chic bars, grand palaces of dining. Disregard: weight, health and wallet concerns. Visualize: a trip to Macau for just 1 meal. Plan: a food trip that will leave you hungry for more.
For breakfast or brunch, that very important meal, skip the hotel buffets and fry-ups. Cha chan tangs or Hong Kong style coffee houses are the answer. No Starbucks, these. Perennially busy and cramped, they serve milk tea, pineapple buns, pork chop buns, instant noodles and a hodgepodge of food at cheap prices. Some are definitely not for the squeamish, but they're a novel, very "local" place to try, and they're found almost anywhere in HK. Usually with no English menu, and the food is an offspring of Westernized Chinese and instant everything with eggs on the side:
Lan Fong Yuen

(4-6 Gage St. Central)

Tsui Wah

(15-19 Wellington St. Central)
HK does dimsum well. So this lunch treat is not to be missed:

Dimsum

(63 Sing Woo Road Happy Valley 28348893)

Moon Koon

(2/F Hong Kong Jockey Club Happy Valley 29667111)

West Villa

(1/F Lee Garden 2 Causeway Bay 28822110)

Victoria City

(5/F Citic Tower, 1 Tim Mei Avenue, Admiralty 28772211)

Metropol

(4/F United Center 95 Queensway, Admiralty 28651988)

Fu Sing

(1/F Sunshine Plaza, 353 Lockhart Road, Wan Chai 28930881)
On a bright sunny day nothing beats an alfresco seafood lunch where restaurants face the water or beach and you choose your meal from live sea creatures swimming in tanks and have them cooked any way you like. Order the scallop with vermicelli and garlic served in their shell, lobster, poached shrimp which is always sweet and perfectly cooked, razor clams with black bean sauce, salt and pepper mantis shrimp, and whatever fish specialty they have:
Lamma Hilton (Sok Kwu Wan, Lamma Island 29828241)
Chuen Kee

(53 Hoi pong St. Sai Kung 32861779)

Lei Yue Moon in Kowloon

(look for full establishments with happy diners)
Avoid the places chock-full of foreigners and flock to where locals go for lunch:
Joy Hing

(265-276 Hennesy Road Wan Chai)

:

Tucked away on a side street this tiny, inexpensive place with long lines serves very lean yet juicy "cha siu" or bbq pork and roast suckling pig. Those who have issues with hygiene should just order "take-away".

Wang Fu

(65 Wellington Street, Central 21218089)

: Try their pea shoot and pork dumplings or any dumpling of the day. Most tables will have something from the pictures posted outside, so take your pick from there.
Ser Wong Fun (30 Cochrane St. Central 25431032): Order the liver sausage rice, and variety of soups; the intrepid can try the snake soup!
Ning Po Residents Association (4/F Yip Fung Building, 12 D'Aguilar Street, Lan Kwai Fong, Central 25230648): Just pay HKD 20 to get a membership card. Try the kung pao chicken, chive pancakes, fish strips with ginger and leeks, tofu hotpot, lion's head meatballs (a bit too fatty tasting for me but it's not a common dish back home so try it) and whatever the waiter recommends. No English menu. Booking highly recommended.
Hankering for a quick afternoon snack? Noodles shops are the answer. They're ubiquitous, cheap and filling. Grab a bowl and slurp away:
Mak's Noodle

(77 Wellington Street, Central, servings are small)

Tsim Tsai Kee

(98 Wellington Street, Central)

Nam Kee Spring Roll Noodle Shop

(Stanley Street Central and many other locations)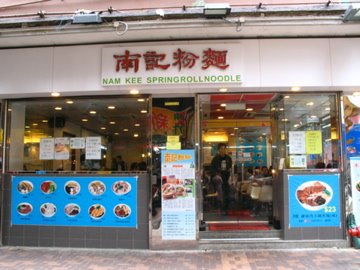 Chee Kei

(Percival Street Causeway Bay with the yellow sign and long lines outside, near the trams and Times Square)
Law Fu Kee

(144 Queen's Road Central, Central)

At Chee Kei order the fried dace fish ball with clam sauce – the clam is salty, like bagoong. It takes a while to get used to this dish.
A more "genteel" choice would be afternoon tea at the lobby of
The Peninsula (Salisbury Road, Kowloon 29202888)
or at
The Verandah (The Repulse Bay 22922822)
. There's a lot of history and nostalgia attached to both places.
For the more adventurous, nothing beats
HK street food
. Deep-fried vegetables and cuttlefish tentacles, rice noodles, "fake" siomai, all kinds of skewered "balls", waffle, fruit juices squeezed at every corner with no added sugar syrup or water, stinky tofu (smells like athlete's foot, tastes better than expected).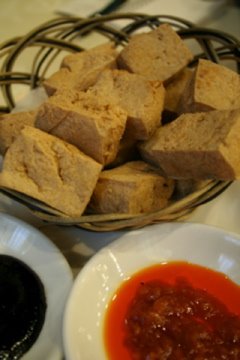 A special dinner can be had at the sky's-the-limit
Hutong (1 Peking Road, Tsim Sha Tsui 34288342)
with its killer view, beautiful presentation, unique interiors, Sichuan chicken, boneless lamb ribs and hot Oriental-style drinks. Fans of celebrity chefs will enjoy:
Nobu

(Intercontinental Hong Kong, 18 Salisbury Road, Tsim Sha Tsui 27211211)

L' Atelier de Joel Robuchon

(4/F The Landmark, Central 21669000)

Alain Ducasse's Spoon

(Intercontinental Hong Kong, Salisbury Road, Tsim Sha Tsui 23132256).
If local fare is more your cup of tea, then these would be good choices for dinner:
Under Bridge Spicy Crab

(401-402 Lockhart Road or 414 Jaffe Road, Wan Chai 28346818)

Hei Kee

(392H Jaffe Road, Wan Chai 28937565)

Spring Deer

(2/F 42 Mody Road Tsim Sha Tsui 23664012)

Peking Garden

(Upper G/F Alexandra House, Central 25266456)

Tasty Congee and Noodle

(21 King Kwong St. Happy Valley/Podium 3, One IFC, Central 28383922/22950101)
Crystal Jade La Mian Xiao Long Bao (IFC Mall, Times Square, Harbour City): It may be a chain and located in the mall, but the food always satisfies. Order the xiao long bao, la mian with minced meat and spicy mushrooms, la mian in hot and sour soup, crispy eel, fried prawns with salty egg yolk, crispy crab meat and mushroom pastry "wuxi" style, braised pork with beancurd sheet, Shanghai noodles, sauteed eggwhite with conpoy, deep-fried soufflé ball with red bean paste for dessert.
Tung Po (2/F Java Road Complex, 99 Java Road North Point 28809399). A dai pai dong, or hawker/street side stall. Order the duck rice and prawns with salty egg yolk.
Fook Lam Moon

(35 Johnston Road, Wan Chai 28660663)

Yellow Door Kitchen

(5/F 37 Cochrane St. Central 28586555)

Ngau Kee Food Café (3-5 Gough St. Sheung Wan 25462584)
Ahhhh, dessert. How can we sweet-toothed Pinoys go on a proper foodtrip without trying some? Visit a Chinese-style dessert shop featuring fresh fruits, coconut milk, aloe vera, nata, sago, black sesame, red beans, mango pancake, sticky rice and a lot of hot soupy and not-too-sweet stuff:
Honeymoon Dessert

(Harbour City, western Market Sheung Wan, Po Tng Road Sai Kung, Podium 3 One IFC)

Moon House

(5-7 Cleveland Street Causeway Bay)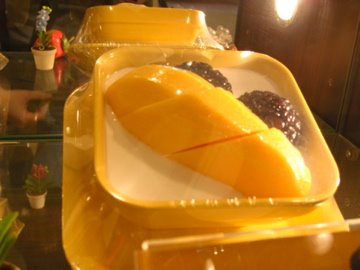 Wondering where the fashionable and knowledgeable go for drinks?
FINDS

(2/F LKF Tower, 33 Wyndham St. Central 25229318)

Red

(Podium 4, Two IFC 81298882)

for the relaxed vibe under the night sky.

Zuma

(Level 5 and 6 The Landmark Atrium, Central 36576388)

for its interiors and fashionable crowd.

Lotus

(37-43 Pottinger St. Central)

They have a resident mixologist. Enough said.
And Macau? Let's not forget that gambling mecca that's only an hour's ferry ride away. If you could eat only 1 meal there, go to
A Lorcha (Rua Almirante Sérgio No. 289 Inner Harbour Macau 853- 28313195)
. Call and book because they're always full. They have the friendliest Pinoy waiters, and the most delicious Portugese food. Order the sopa de mariscos, callo verde, chorizo, bacalhau fritters, bacalhau with potatoes and cream, grilled lamb chops, grilled chicken, African chicken, seafood rice, clams with beer and tomato sauce or clams Lorcha style, and the tender oxtail stew.
I've been here for 5 years and I haven't even begun to cross off half the restaurants on my "To Try" list. Hong Kong is indeed a food lover's dream
Pictures care of my friends Acky Ferreria and Tehlin Betts.
Franco's Note: Many thanks, Ragamuffin Girl. I think it's time to take a trip to HK…

LABELS: Eating in Hong Kong, Ragamuffin Girl, Table Guest