By Salamia on 29 February, 2008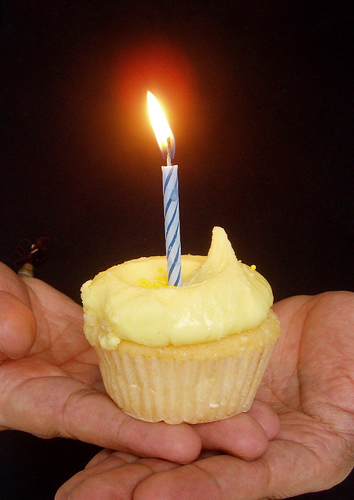 Table for Three, Please
turns ONE this month.
Frankly, there were times when I wondered if we would get this far.
On behalf of Mariko and Monchu, I would like to thank all the chefs, bloggers, Table Guests and you, the readers (especially those who take the time to comment) for helping build this blog into what it is today. We could have not done it without you.
A special thanks to Senor Macho, Sharkey, Stich, Salamia and Erik (the photographer) for taking a seat at the table and sharing their love of all things gastronomical with rest of us. Many, many thanks to you all.
Here is to another year of posts celebrating what all foodies believe makes life worth living and showcasing what the Philippines has to offer the culinary world.
Cheers!
The cupcake is Lemon Drop from Cupcakes from Sonja. The hands, mine.
LABELS: Anniversary, Blog, Table For Three Please