By Mariko on 7 February, 2008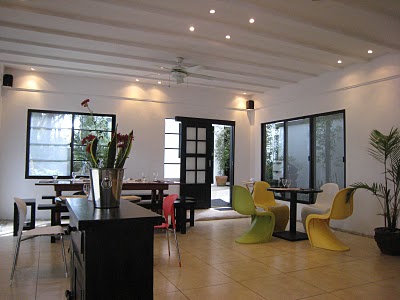 We stumbled upon
T House
one morning in Tagaytay last year—B and I parked on the road before going to church. On our way back to the car, we spied a tranquil-looking, Zen-inspired structure beyond the open gates. Our curiosity piqued, we asked the guard what the place was, and if it was open to the public. I thought it looked like a very stylish retreat house—it was right beside the church and seemed so ideal for meditation, so you can't blame me for thinking that! "Hotel, restaurant, spa
po
," replied the guard. Ahh, one of those multi-functional affairs. At least this one made sense; I still scratch my head every time I pass the "Hotel and Zoo" and the occasional "salon and cafe." (The thought of getting trimmed hair floating in a cup of joe doesn't appeal to me.)
We decided to go back for lunch on another day—T House was enticing enough to lure us back on a second, proper, visit. (Besides, lunch and dinner are supposedly by reservation only.) A few weeks later, after getting stuck in three hours of traffic, we finally made it back.
While the rest of T House is all about neutrals—white, grey, dark wood—the restaurant has some touches of color, courtesy of vibrantly hued Panton chairs (I'm guessing they're repros). They've got a set menu at PHP550 per head (the magic words: VAT inclusive!): two choices of soup served in dainty little bowls, a salad, an entree, and a dessert. Not bad. Except a lot of our first choices weren't available that day. Darn. We ended up getting…
Soup
Wild Mushroom
– Made with three kinds of mushroom, garlic, and truffle oil, this was a pleasant departure from typical canned cream of mushroom soups.
Fresh Tomato – Which B said kind of tasted like tomato paste.
Carrot and Coriander – Served with yogurt. Nothing memorable. We wanted the fourth kind of soup (broccoli and almond, I think), but unfortunately, it wasn't available. Or maybe "fortunately" because I don't really like broccoli…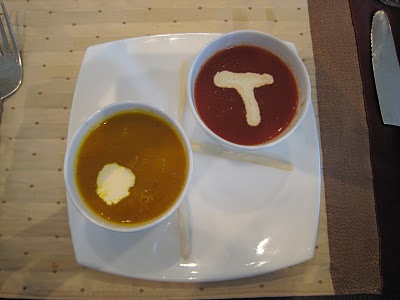 Salad
Tuna Citrus Salad – I so wanted the Grilled Vegetable Salad but—you guessed it—it wasn't available. So I got this salad, which had tuna flakes on greens, topped with olives, white cheese, a few orange bits, and roasted capsicum vinaigrette.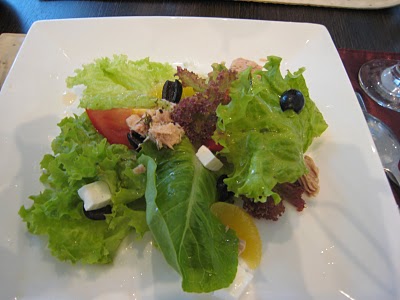 T House Signature Salad – My hurriedly scribbled notes say "with toasted coconut and honey dill dressing." The fact that I can't remember much about the salads should tell you something…which is kind of disappointing considering it's a restaurant in Tagaytay, a place known for great, fresh salads. More innovation, please. I'm guessing Franco's Mixed Green Salad with Feta Cheese and Candied Walnuts could blow any of these outta the water.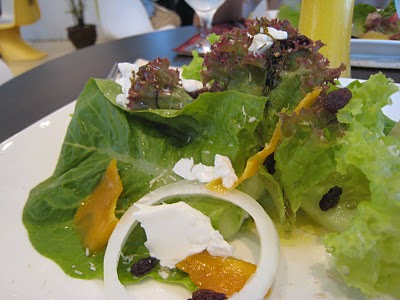 Entree
While the first courses weren't anything exceptional, I must say I enjoyed the main course, particularly my…
Fillet of Fish a la Creme Saffron – Yum yum yum! The menu described it as "grilled marinated fish in freshly pickled dressing with saffron cream with capsicum and shitake." While it doesn't look particularly special, it tasted awesome! First of all, you can't go wrong with saffron—it ain't the most expensive spice for nothing. Second, it made me enjoy capsicum! I normally pick strips of pepper out of my food because I don't like the texture and the slight bitterness. But here, it perfectly complemented the creamy saffron sauce.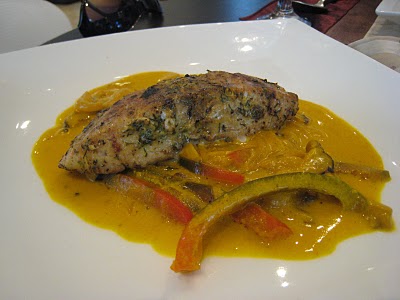 Salmon Meuniere with Wasabi Mash
– "Pan-seared fillet wrapped with nori served with horseradish dressing and wasabi mashed potatoes." This, to me, seemed like a blown-up version of maki: You have a big piece of salmon with an obi of seaweed, and it lies on a bed of wasabi-infused mashed potatoes (instead of rice). I wouldn't mind ordering this again if I ended up going back. I'm a sucker for salmon.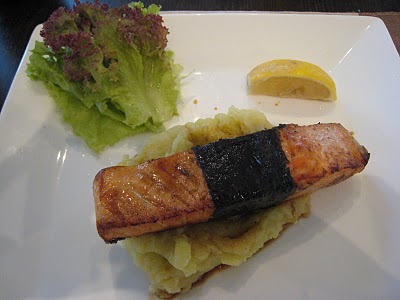 Dessert
Banana Nangkatan Crumble – It was OK (although I'd take a six-peso, sugar-coated turon over it any day)—would have been immensely more enjoyable a la mode!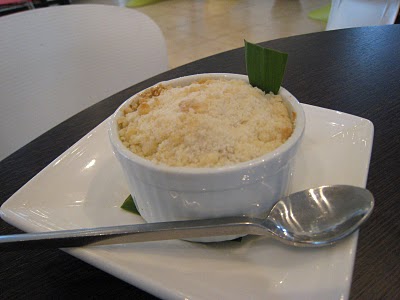 Mint Panna Cotta – This was served in two shot glasses, and which was a bit firmer than I would have liked…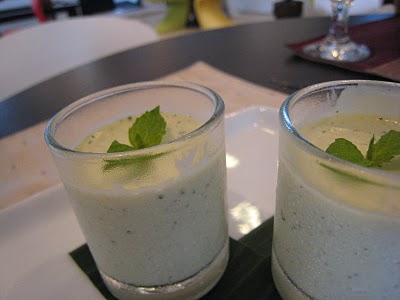 …but I polished it off anyway.
T House
3195 Calamba Road Tagaytay City
(046) 483-0011
thousetagaytay.com
LABELS: T House, Tagaytay, The Travelling Table