By franco on 22 February, 2008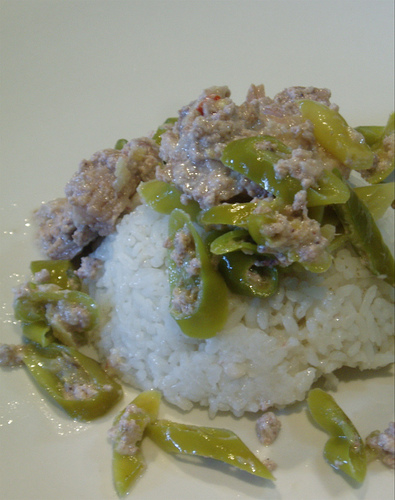 The universe is listening.
After a short email conversation with Chichajo, I found myself wanting to a cook a dish called Bicol Express. I have never cooked this dish before but I do remember loving this dish the last time I ate a popular restaurant called Trellis ages ago. I'm a sucker for anything stewed in coconut milk.
A week later, we were invited to small dinner party hosted by a dear friend, AW. The evening's menu? A myriad of delicious Filipino dishes once served at AW's grandmother's restaurant called Bungalow.
In the 50s, Bungalow was a famous Filipino restaurant along San Marcelino Street in Ermita. Although this restaurant has moved on, the recipes still remain and are kept like family heirlooms.
One of the dishes served was a large, lovely bowl of hot, spicy Bicol Express. I loved it. I desperately wanted the recipe. After a bit of friendly pestering, AW relented and finally sent me the recipe.
Bicol Express
Adapted from Bungalow Restaurant's recipe

2 tbsps canola oil
2 cloves garlic, finely chopped
1 tbsp grams ginger, finely chopped
1 onion, finely chopped
2 tbsps alamang
500 grams pork belly, cut into 1inch cubes.
2 cups coconut milk
1 1/2 cups kakang gata
2 cups sili panigang, cut into 1/4 inch strips
2 pcs sili labuyo, finely sliced*
Salt and pepper

* Adjust the amount of chili used depending on your desired level of heat.

In a large pot or casserole pan, sauté garlic, ginger, onions until the onions over medium high heat. Cook until soft but not colored. Add the alamang, then the pork.

Stir and lightly brown the pork. Add the 2nd extracted coconut milk. Simmer over low heat until the pork is tender.

Add the 1st extracted kakang gata. Season with salt and pepper to taste. Lastly, add the sili panigang and labuyo. Simmer for five minutes

Makes eight large servings.
Many thanks to AW for letting me publish this family recipe.
This recipe is an entry of the blogger event, Lasang Pinoy 24: Loco over Coco

LABELS: Bicol Express, Lasang Pinoy, Table Recipes