By franco on 4 February, 2008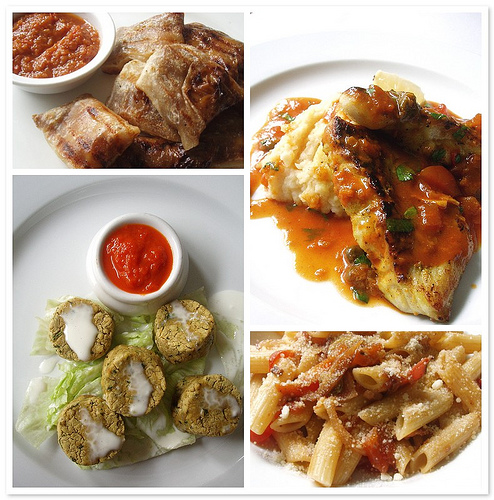 from top left, clockwise
Roasted Roti with Onions and Gruyere, Grill Wrasse with Vindaloo Sauce
Pasta Putanesca, Falafel with Tzatziki Sauce
Restaurants are like old friends.
You start off building great memories and delicious experiences together. Then as time passes, you part ways, move on, try new things but never forgetting those good, old times. Then, by some twist of fate, you get back in touch and it's almost like you never left…
It's Saturday and A. and I have had a less than perfect morning. So for lunch, we are looking for a place to have a satisfying meal to brighten our day. After reading this, I decide that maybe it's time to visit an old friend, Restaurant Uno.
I'm old enough to remember going to Restaurant Uno when it first opened in the 90s. Then, it was a one-story affair with less than fifteen tables. The interiors were sparse but smartly casual. You felt like it was a place where food was taken seriously but never pretentiously. Over time, some things may have changed but at its core, Restaurant Uno has mostly stayed the same.
Now, Restaurant Uno is a two-floor restaurant with simple, dark colored interiors and white linen covered tables. Still minimalist but delightfully unassuming. Their menu is not as extensive as other restaurants. But it's focused and thoughtful, reflecting Chef Jose Mari Relucio's experiments in fusing Asian sauces and ingredients with more western techniques.
We start our meal with two dishes that sound familiar but are given a twist to make them new and quite interesting. First is the Flame Roasted Roti with Onions and Gruyere Cheese (P145). A roti canai is formed into fluffy pillows filled with onion and cheese mixture. Biting into this lovely dish is like tucking into a warm bowl of onion soup. Second, we had the Falafel with Tzatziki Sauce (P130). This tiny patties of mashed chickpeas are mixed with spices, fried and drizzled with sauce of yoghurt, cucumber, garlic and olive oil. This Southwest Asian- inspired dish is served with a spicy chili sauce but without the traditional pita bread wrap. Still, it is a delight to nibble on (if you don't mind getting chickpea stuck between your teeth).
For my entrée, I decide on the Grilled Wrasse with Garlic, Capers and Vindaloo Sauce (P380). The fillets of Wrasse rests on a bed of mashed potatoes. The fish is smothered in sauce of red chilis, cumin, ginger, tamarind and mustard seeds, giving this dish a distinctive North Asian curry-like flavor. I just happen to love curry. So choosing this dish was almost a no-brainer.
The only downside to our meal was A's pasta dish. Years ago during an earlier visit, A felt like eating a pasta that was no longer on the menu. Uno's kitchen gladly cooked her the dish nonetheless. A. was of course, pleased. Keeping this in mind, A. asked if they could prepare her a Pasta Putanesca (P180) which is not on the menu. The server agreed. But what arrived was nothing like what we have come to expect a Putanesca to be. To be fair, the pasta was quite appetizing but when your taste buds want a certain flavor, anything else can be a bit of a letdown.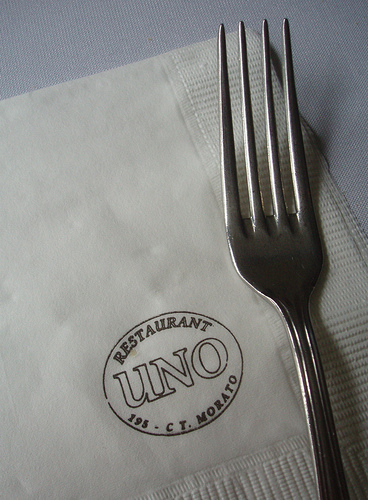 Restaurant Uno is a pleasure to visit. Its casual interiors and slightly whimsical yet, delectable food are comforting. Making you wish that you could linger longer.
Good friends should always keep in touch.
PS. A. claims that Restaurant Uno serves some of best bread and iced tea in town. I tend to agree.
Restaurant Uno
195-C Tomas Morato cor.
Scout Funtabella Street
Quezon City
Telphone: (02) 374-0774
LABELS: Franco, Manila, Restaurant Uno, Restaurants