By Stitch on 4 January, 2008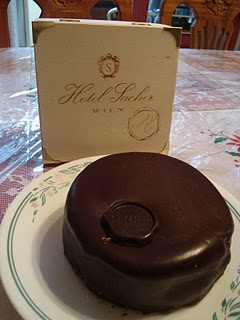 It isn't often that food actually travels to a table. Normally, people do the walking, or flying, and the food patiently waits to meet the travellers. In this case, it was the opposite as we finally met the famous Sacher Torte, from the Sacher Hotel in Austria.
It arrived as a travelling companion of my brother-in-law, who asked us what we wanted from Europe (he's based there). In jest, we said, a Sacher Torte. Imagine our surprise as he brought one out, complete with its own branded (I mean literally branded, like cows) box. Talk about packaging! I don't know of many cakes that come with their own travel accommodations, as this one was obviously packed for travel. Guess it shows just how popular the cake is.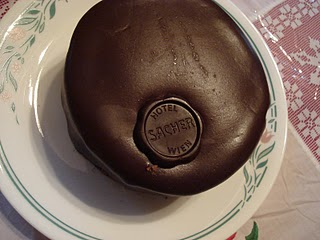 The Sacher Torte, for those who are curious, is a chocolate and apricot jam concoction, with the layers of torte, or cake, sandwiching a thin layer of apricot jam. More jam is spread on top of the cake, then the whole thing is coated in rich, thick ganache. Mmmm.
It took us a few minutes of actual hemming and hawing before we finally cut into the thing, since it looked so gorgeous, with that little Hotel Sacher Chocolate badge placed off center. When we did…well…
Flavor-wise, it was very good. The cake itself was not very sweet, since the ganache and the apricot jam were, it set the other two off very nicely. The ganache was thick and creamy while the apricot jam provided what was an expected, but surprising, acid note. The texture of the thing was rather dry, however, which my wife and I speculated was either because it was made in Austria, which was rather cold, or because it flew through high altitude. It was a little disconcerting to our gooey-dessert palettes, but it actually still worked. And, according to our European guests, that's how cakes are over there.
We had more of the cake as time progressed, and it actually moistened up a bit, probably because of the humidity here. And it went absolutely gangbusters with strawberries. I suspect a nice slightly sweet chardonnay would do really well, too. I've heard of some people actually ordering it from Vienna, for a couple of thousand bucks. As cakes go, it may not be worth all that effort.
But, as an encounter with a celebrity, well, I'd get it.
LABELS: For Once, It's the Food That Travels, The Travelling Table