By franco on 6 January, 2008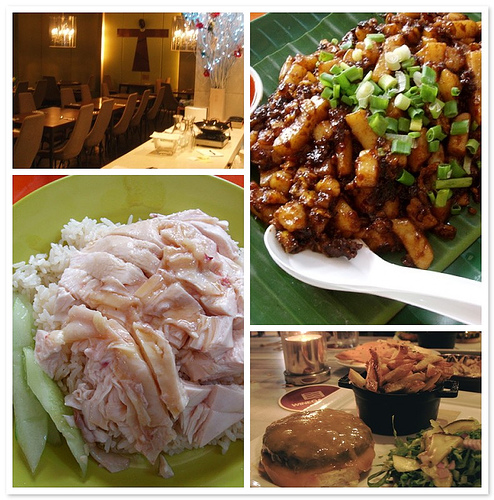 from top left, clockwise
Interiors of the Majestic Restaurant, Carrot Cake from Maxwell Food Center
Burger from Wine Garage, Hainanese Chicken Rice from Maxwell Food Center
When Franco found out I was going to Singapore on a business trip, he asked me, "So should I give you a list of restaurants to go to?" I told him, unlike our honeymoon, I would have limited time to go to the ten places he wanted me to visit. He exercised some self-control and trimmed the list down to three.
Maxwell Food Center
It was a lazy Sunday morning when my brother, Dr. L, and I went to the Maxwell Food Center. The hawker center was less than half-full—families enjoying an early Sunday lunch or a late breakfast. No ties and business suits here; just dressed-down Singaporeans, far away from the chic-ness that is Orchard Road.
There was only one long line and predictably, it was for the chicken rice stall. When my brother came with our two plates of chicken rice, I understood why the line was so long. The chicken-broth-suffused rice, the tenderness of the white chicken, the spicy oiliness of the dipping sauces—they all perfectly enhanced each other. My brother had also ordered a carrot salad and oyster omelet but I ignored them both, preferring to focus on my favorite Singaporean dish.
I washed everything down with a tall glass of sugarcane juice. I've tried to find this all around Manila but have failed so far. It's sweet but not cloying—and extremely refreshing in the humid Singapore air.
As we exited the hawker center, I took one last look at the chicken rice stall. Laminated accolades from food magazines and websites encircled its front. Anthony Bourdain's face was on one. But more than the recommendations from the experts, it was the long, seemingly unending line of locals that gave the stall a stronger seal of approval.
Wine Garage
I met up with M, one of my dearest friends, in Wine Garage, for Sunday dinner. It was one of those chic little places by the riverside. What's interesting about Singapore is that we can actually sit by the river and there will be no stench, garbage or floating bodies to overwhelm us.
I had a few minutes to kill before M arrived and had time to observe the restaurant. It was long rather than wide with one wall, dominated by a display of wines. But it wasn't the usual clichéd display—like Magnum or Cork. Rather the full wine bottle was exposed and placed on individual stands all across the wall. Behind me was a black wall with handwritten truisms such as "In Vino Veritas (the truth in the wine)" or "If you drink no noir, you pinot noir" (whatever).
Both Franco and M did warn me that it would be pricey. Both M and I order the burger (the cheapest thing on the menu), no starter. Funnily (or stupidly?) enough, we both didn't order any wine.
The burger was rich, juicy, with cheese melting on top and crispy lettuce adding interest to the burger. The fries were crisp and for some reason, special as the menu specified that they were handcut, which was a description for fries that I haven't seen in any other menu before this. Aren't all fries handcut anyway?
The Majestic Restaurant
Our partners invited us to dinner at the New Majestic Hotel. This is a fairly new boutique hotel, near Chinatown. Like most boutique hotels, a premium is placed on high design. The lobby is littered with chairs—from a dentist chair to a whole slew of designer chairs. You're suddenly 100% hipper just stepping into the lobby with its exposed ceiling and all-white interior and without the corny giant reception/concierge desks that are the hallmarks of the big chain hotels.
Our partner booked a function room at the restaurant. The dinner started out with a salmon tartare with mixed salad in soya vinaigrette and majestic claypot shark's fin soup with crabmeat. While delicious, they weren't particularly memorable. The meal started picking up when the third dish was served. Oh. My. God. Yum. It was a combination of crispy wasabi prawn,peking duck and pan-seared foie gras. The refreshing, crisp taste of the prawn counteracted the richness of the Peking duck-topped foie gras. I was getting full at that point so I wanted to ignore the next dish: a braised "South African" whole abalone with homemade beancurd and garden green. I took a bite and immediately decided this was a dish I couldn't ignore. I ended up finishing my bowl of abalone. I loved the different textures, suffused with a very flavorful sauce. The main course was a perfect pan-seared fillet of rib-eye in homemade sesame sauce.
I kept my dessert order simple. I ordered a mango sago with pomelo bits. It was definitely the best mango sago I had ever eaten in my life. The broth was cold but the sensual flavor of the mango was a burst of tropical sunshine in my mouth. The pomelo bits also added crunch to the chewy sago balls.
My colleague K said that it was the best meal she's ever had in her life. While I can't entirely agree with her, I can say that this would rank among my top five.
Maxwell Food Center
South Bridge Road cor. Maxwell Road
Singapore
Majestic Restaurant
New Majestic Hotel
31 Bukit Pasoh Road
Chinatown, Singapore 089845
Telephone: (65) 6511 4718
Wine Garage
30 Merchant Road, #01-07
Riverside Point
Singapore 058282
Tel: (65) 6533 3188
Franco's Note: Many thanks to A. for the lovely post, to M. for the Wine Garage burger photo and to K. for the Majestic Menu.


LABELS: Singapore, Singapore Swing, The Travelling Table