By Mariko on 24 January, 2008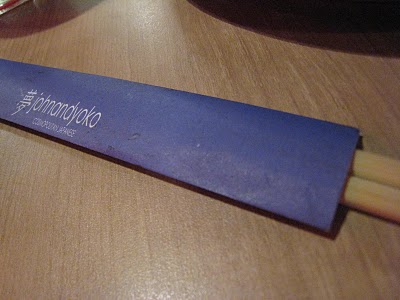 For a resto that hasn't gotten any spectacular reviews (at least, none that I've read), John and Yoko sure has a lot of people raring to try it. All the tables were filled when B and I were there, and there was a continuous stream of customers–impressive, considering this was an ordinary, non-holiday Tuesday night.
I wasn't really expecting much, but I did kind of expect it to be better than its brother, Sumo Sam. While the latter isn't on my list of favorite restos, I found their food satisfactory (again, not spectacular)–I was lured by the crowd regularly gathered outside, waiting to get a table. Ahh, you know how it goes: A crowd attracts a bigger crowd. I figured the number of people must account for something. But I digress.
Franco already mentioned the trendy interiors at the brand spankin' new GB5 resto. I've got a bonus image though–the wall upon which black-and-white Japanese films are projected…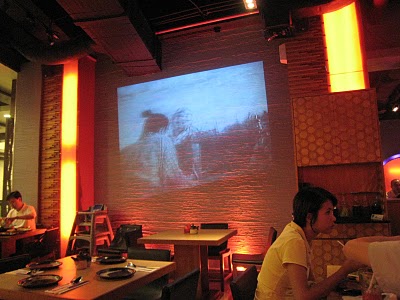 Now, onto the food.
B chose one item that didn't succumb to this whole fusion nonsense: good old-fashioned Tuna Sashimi (P168). Hey, at least they got this one right. It was very fresh, and thankfully, the wasabi had a bit of a kick (a lot of Japanese restos nowadays have green gunk posing as wasabi).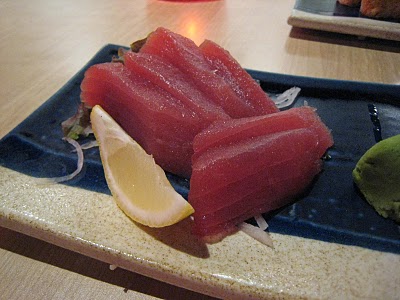 He also ordered the Dynamite Roll (P168), one of the bestsellers. It wasn't, er, explosive, but it did have some delightfully spicy and crunchy bits.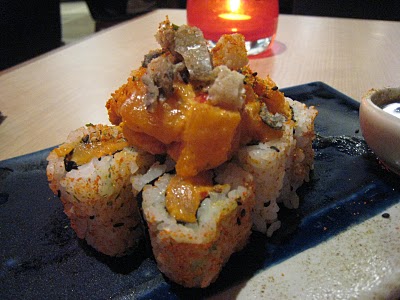 I was craving for something meaty, so I got me the Mt. Fuji Steak (P338), beef tenderloin on a mound of French fries and mushrooms, drizzled with gravy. Hmmm. I liken it to high school cafeteria roast beef. But with fries instead of rice. And a price that's, like, five times more expensive than caf food. The meat was also a bit overdone and slightly tough.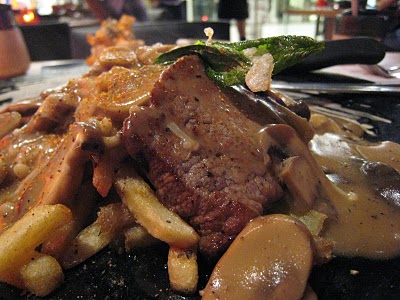 As Franco mentioned, there were some similarities between the John and Yoko menu and the Sumo Sam menu. B and I decided to order the Salmon Wasabi Cream (P294), something we ordered and quite liked at Sumo Sam, just so we could compare.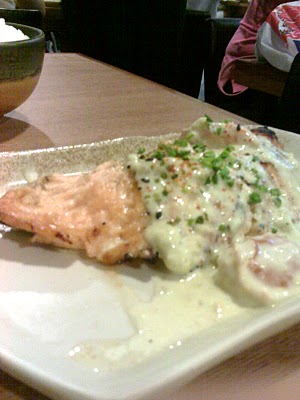 Sumo Sam Salmon Wasabi Cream versus…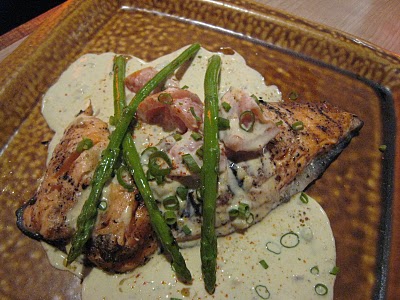 John and Yoko Salmon Wasabi Cream
And the winner of Battle Salmon is…Sumo Sam! The John and Yoko version looks more attractive (is it the artfully placed asparagus?), but don't let looks deceive you. I distinctly remember savoring the white sauce at Sumo Sam, appreciating the hint of wasabi that came at the end of each bite. After trying the John and Yoko salmon, I remarked, "The sauce tastes like it should be on pasta." And B agreed! There was not a trace of wasabi in it; it could very well have been served as carbonara. (Japanese-Italian. Now there's fusion for you.)
Sigh. I think, more than anything, John and Yoko is a seen-and-be-seen-type of place, rather than a gustatory destination. And if there's anything they're doing exceptionally well, it's generating buzz–whether they deserve it or not.
John and Yoko
2nd Floor
Greenbelt 5
Makati City
Telephone: (02) 7298698


LABELS: John and Yoko, Manila, Mariko, Restaurants