By franco on 31 January, 2008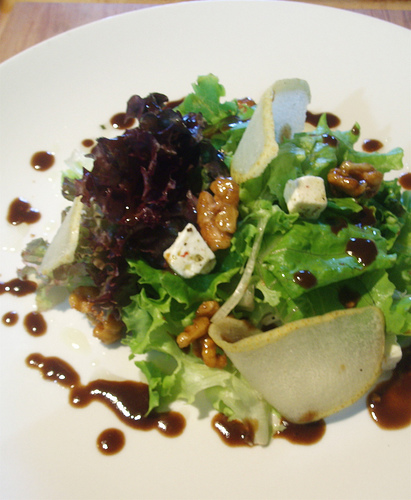 Here is a confession of sorts. I hate salads.
I remember as a child, I would eat mostly everything…except for the greens. Rabbit food. Who wants to waste precious stomach space for something so unappetizing? But as an adult, knowing how important it is to consume a daily dose of raw (or properly cooked) vegetables and fruits, I have given into the green.
But eating a salad doesn't necessarily mean having to force down a dish only a furry, buck-toothed mammal would nibble on. Gone are the days that you were stuck eating iceberg lettuce, squashed tomatoes and soggy croutons, topped with a nasty, bottled Thousand Islands dressing. Now, salad options from a variety of ingredients and combinations of dressings are as varied as the world's cuisines.
For lunch, A. requests that I keep it simple. No weird concoctions. No funny experimentation. Just honest to goodness food. Thus, to start we had this salad. I'm not sure where or when I first tried this salad but its flavors and textures made an impression. I swore I would recreate it at home. Now, it has become a family favorite.
Mixed Green Salad with Feta Cheese and Candied Walnuts

One bag of mixed green for four
200 grams of feta cheese, cut into cubes
One pear, ribboned
100 grams of candied walnuts*
Salt and ground pepper

In a large salad bowl, lightly dress the your mixed green with the balsamic viaigrette.

Add the ribbons of pear, feta cheese cubes and candied walnuts

Toss and season with salt and freshly ground pepper to taste. Serve in the salad bowl or in individual salad plates.

Makes four servings

* Yummy Magazine's December issue has an excellent recipe for candied walnuts.

Balsamic Vinaigrette

1/2 cup extra virgin olive oil
3 tablespoons balsamic vinegar
1 tablespoon dijon mustard
1 clove of garlic, minced
Salt and freshly ground pepper

In a mixing bowl, combine the vinegar, mustard, and garlic. Whisking constantly, add the oil in a slow stream.

Season with salt and pepper to taste.

Makes 3/4 cup
This salad is about creating balance in both taste and texture. The sweetness of the pears and candied walnuts balances out the acidic tartness of the vinaigrette. The salty creaminess of the feta cheese is countered by the crispy bite of the fresh greens and walnuts.
If salads were this delicious when I was young, I probably would have eaten more of my veggies sooner.
LABELS: Mixed Green Salad with Feta Cheese and Candied Walnuts, Table Recipes