By franco on 27 January, 2008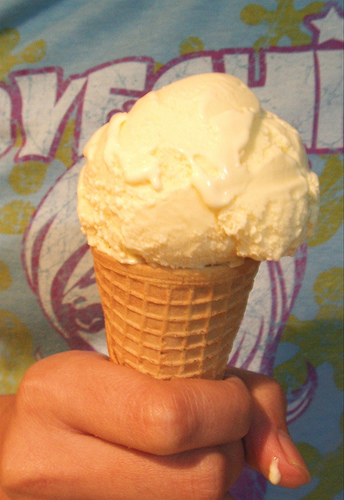 Once again, like clockwork, A and I got sick over the holidays.
The usual colds and cough. Nothing to worry about. As any doctor will tell you, drinking lots and lots of liquid is a must. My drink of choice? A nice hot cup of ginger tea with a spoonful of honey and twist of lemon. Warm and soothing, this drink really clears my airways and helps me sleep at night.
Taking a sip of my ginger tea, I wondered, would these flavors work as an ice cream? Once better, I did some research–and discovered that the recipe I needed was right under my (slightly clogged) nose, care of David Lebovitz's Perfect Scoop.

Lemon-Fresh Ginger Ice Cream
Adapted from David Lebovitz's Perfect Scoop

85 grams peeled fresh ginger
1 cup whole milk
2 cups cream*
3/4 cup sugar
5 large egg yolks
Zest of 2 lemons
Pinch of salt

Cut the ginger into thin slices. In a saucepan, place the ginger slices and add just enough water to cover. Bring the water to boil and blanch the ginger for two minutes. Drain. Save the ginger and discard the liquid.**

In a separate bowl, combine the finely grated lemon zest, sugar and milk. Mix thoroughly until the sugar dissolves.

Place the reserved ginger back into the saucepan. Add the milk mixture, half a cup of cream and salt. Warm the mixture. Once warm, remove from the heat. Cover and steep for at least an hour.

In a separate bowl, whisk the egg yolks.

Rewarm the ginger mixture. Remove the ginger slices with a slotted spoon. Dispose of the ginger. Slowly pour the warmed mixture in the egg yolks and continue to whisk.

Once combined, return the egg-ginger mixture to the saucepan. Over medium heat, stir the mixture constantly with a wooden spoon until it thickens and coats the spoon. Strain the mixture into a bowl and combine with the remaining cream.

Immediately chill the mixture in the freezer. Once thoroughly cooled, freeze it in your ice cream maker, according to the manufacturer's instructions.

Makes 1 liter

* I use good quality whipping cream.
** You can use the liquid as ginger tea, if you wish.
The end result is surprisingly light, creamy ice cream with an overall ginger flavor and a strong note of lemon. Of course, I would never recommend eating ice cream to those with colds but this flavor makes getting better oh-so-sweet.
LABELS: Lemon Ginger Ice Cream, Table Recipes