By franco on 10 January, 2008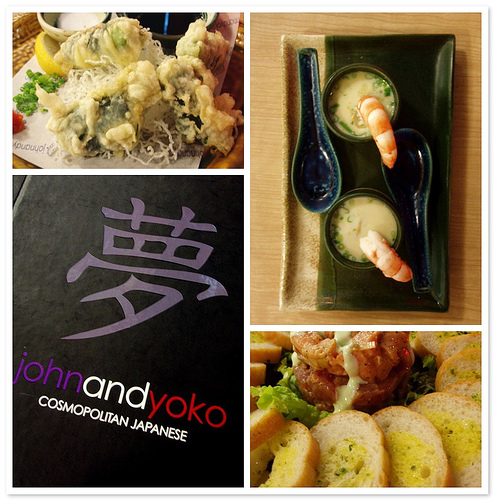 from top left, clockwise
Uni Nori Tempura, Chawan Mushi Shooters
Two's Company, John and Yoko Menu
I always find restaurants that label themselves as fusion a bit worrisome.
Really, it could go either way. Some brave culinary artists can elevate traditional cuisine to new flavors and textures that none dare imagine. Or sadly, some wayward souls could fall flat on their faces creating food that is just plain inedible.
Yes, I know that most (if not all) world cuisines are essential fusion. Over the centuries, cooks around the world have borrowed techniques and ingredients that are not indigenously their own and integrated them into their own culinary repertoire. Like everything else, food preparation will progress and evolve with the times. Only the delicious survive. The question is what the eating public will embrace as genius and what will they toss aside as another failed (but well-intended) experiment.
Case in point, John and Yoko.
John and Yoko doesn't hide the fact they are a fusion restaurant or that their concept is not completely original. What they do promise is to bring their guests on a tour of the world's culinary capitals that innovate traditional Japanese cuisine, giving their diners a taste of Japan in new and interesting ways. It's a great and intriguing idea but for some reason, my tour took a wrong turn.
The interiors are stylish and modern. Techno music blares in the room. The service staff looking sexy/cool, dressed in black and silver clothing unseasonably warm for this country. You almost feel like you've walked into a fancy supper club in London/Tokyo/Hong Kong/ New York. Then your meal begins…
It's a bit troubling when a Japanese restaurant (fusion or otherwise) serves their green tea from a single tea bag steeping in pot of hot water. More bothersome is fact that your tea still tastes like plain hot water. Maybe it needs another tea bag?
We start our meal with a pair of Chawan Mushi Shooters (P108), each garnished with a steamed shrimp. To be honest, we wanted to try this traditional egg custard because it was supposed to be served in shot glasses. We liked the idea of downing this dish in one go. Shallow? Yes. Cool? We thought so. Sadly unlike the picture in the menu, ours looked like any other chawan mushi served in little, green and blue stoneware cups. It was fine but the presentation was not as innovative as promised.
Next, we have the Uni Nori Tempura (P218). Uni is rolled in dried seaweed, coated in tempura batter, deep-fried and served on a bed of fried vermicelli noodles. This is a dish is one that we enjoyed, mostly because it involved raw sea urchin and deep-frying.
To end our meal, we have the Two's Company (P228), a small tower made of tuna and salmon tartare surrounded with pieces of toast. A new way to enjoy your tuna and salmon sashimi, we thought. This dish which I imagine does not require much (if any) cooking, was actually undercooked. The slices of baguette were cold and soggy, ruining the experience of this dish. Really, how hard is it to toast toast? Again, what was delivered was not as it was pictured in the menu where the thick slices of bread were grilled, rather than merely toasted.
A high concept, up-scale, Japanese fusion restaurant is great in theory but if the actual taste of the food doesn't match the marketing or décor then what's the point?
I applaud the proprietors for their attempt at innovation. The idea of this restaurant will get people through the door but as more restaurants around John and Yoko begin to open will people be satisfied with just cosmopolitan ideas and stylish interiors? God is in the details. In the end, it is always about the food.
PS. Recently, I saw a feature on food from Sumo Sam. I was shocked at how similar it was to John and Yoko's menu. Hmmm…

John and Yoko
2nd Floor
Greenbelt 5
Makati City
Telephone: (02) 7298698
LABELS: Franco, John and Yoko, Manila, Restaurants