By Mariko on 17 December, 2007
I thought
Bag of Beans
was just a quaint little bakeshop selling breads and pies, as proclaimed by its signage. But this little store along the Tagaytay main highway hides a pleasant surprise—right beside it is a small gate and a flight of stairs leading down to an utterly charming resto.
A few vines might graze your head as you make your way down the stone steps. As you head to the main restaurant, you'll find customers enjoying the cool breeze, taking their meal in one of the little gazebos or sitting around a table under the mild Tagaytay sun. There is no view of the lake, but Mother Nature is present in the lovely hodgepodge garden—no manicured lawns here. And fashionistas, take heart: No need to fret that your chi-chi high heels will sink into the soil as the ground is covered with pebbles.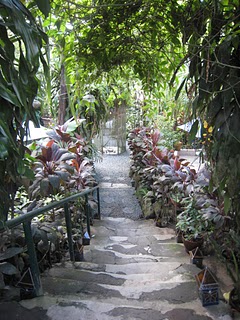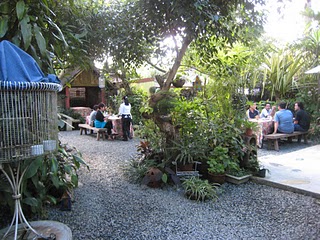 On my recent visit, it was just too cold outdoors, so B and I opted for a table inside. (I am a woman of the tropics!) And even though I wasn't surrounded by lush greenery, I still didn't feel like I was missing out—the rustic tropical interiors still gave me the feeling that I was in a place made for relaxing: Beyond the usual tables and chairs, comfortable daybeds overflowed with plump pillows, swags of white cloth drooped from the beams near the ceiling, and weathered wooden doors opened up to the delightfully unkempt gardens.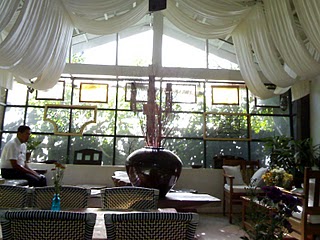 We were given the menu, which featured much more than pies and bread: main courses, grilled selections, pasta, desserts, soup and salad. I was eyeing the Pink Salmon Fillet (P350), but alas, they had run out of it. So I settled for the Chicken Breast Fillet and Pasta (P275). I chose the white sauce over the red sauce because I'm a sucker for anything creamy! In this case, however, I discovered that there can be too much of a good thing—my pasta was just swimming in the aforementioned sauce. I like my noodles lightly coated. The chicken could have used a bit more flavor, but I had no complaints about the portion size. I got two chicken breast fillets with my pasta!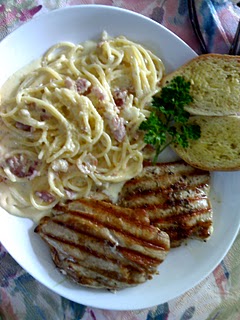 B, manly man that he is, chose the Porterhouse (P425), served with some really buttery mashed potatoes (yum). The meat was quite tender, but it too lacked flavor. The good thing is we had a savior on hand—a bottle of HP Sauce! It was the first time we'd ever encountered it and loved how it added an extra zing to the steak (and even to my chicken).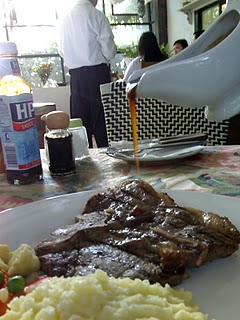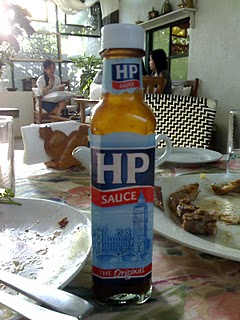 After the heavy meal, I hardly had any room for dessert, but I decided to order anyway. You know, for research's sake. I really wanted the Apple Pie ala Mode (P120), but figured I might as well get something I wouldn't be able to find at just any other resto. I chose the Mixed Fruit Pie (P85), one of their specialties. It was filled with bits of apple, pineapple, mango, and peach, and was served deliciously warm. I would have enjoyed it more if it had a little less crust though.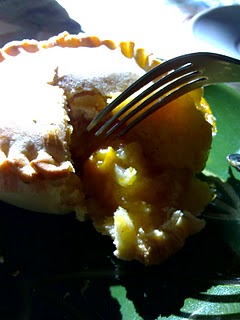 So yeah, the food wasn't spectacular, but it wasn't bad either. Besides, I've realized that Bag of Beans isn't a place you go to just for the food—you go for the experience. And for that alone, I would definitely go back.
P.S. I'm not a coffee drinker, but my research tells me that Bag of Beans serves that famous Alamid coffee—the stuff made from civet droppings. (Ahh, just one of the reasons I don't drink coffee…)
LABELS: Bag of Beans, Tagaytay, The Travelling Table