By franco on 3 December, 2007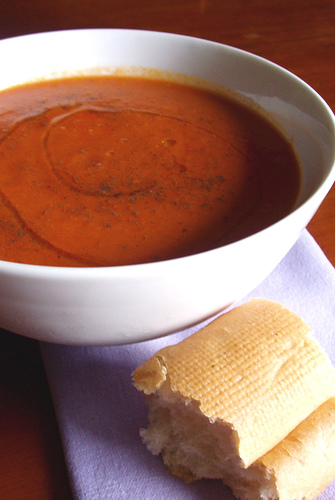 Three reasons for this dish.
First, the weather has been unseasonably cold these past few days. In my opinion, nothing warms up like a hot bowl of soup. Secondly, We just got a panini press. I just couldn't resist having a soup and sandwich brunch. And lastly, because of a misinterpreted shopping list, we ended up with way too many tomatoes. I guess if life gives you tomatoes. You make tomato soup.
I am a huge fan of Jamie Oliver. In many ways, Jamie reintroduced me to cooking. With his easy-going and humorous manner, this chef makes cooking uncomplicated, accessible and even fun. This dish is all about comfort. It's simple and relatively quick to make.
Tomato Soup with Truffle Oil
Adapted from Jaime's Dinners by Jamie Oliver

1 onion, peeled and finely chopped
1 clove of garlic, peeled and finely chopped
1 carrot, peeled and grated
6 tablespoons double cream
1 teaspoon red wine vinegar
2 eggs yolks
1 kg very ripe tomatoes*
1 litre chicken stock
sea salt and ground black pepper
A handful of basil, leaves pick and stalks finely chopped
olive oil
truffle oil


In a large pot, saute the onions, garlic and carrot and basil stalks in olive oil. Cover the pot and simmer gently for 20 minutes.

Whisk the cream, vinegar and egg yolks together in a bowl and put aside.

Drop the tomatoes into boiling water for 30 seconds. Then gently move them into an ice bath. Remove the skins and roughly chop the remaining flesh.

Add the the chopped tomatoes to the sauteing vegetables. Add the stock and simmer again for another 20 minutes. Lid on, please.


Puree the soup with a blender, food processor or immersion blender

Return the pureed soup into the pot. Bring it back to a simmer and season to taste with sea salt and black pepper.

Before serving, stir the cream mixture into the soup. It gives the soup a shiny and silky texture.**

Garnish with finely torn basil leaves and truffle oil.

Serves 4 generously

* You can subsitute this with canned tomatoes.
** Don't reboil the soup after this point or you might end up with tomato flavored scrambled eggs.
Some may find this soup a bit rich. I would suggest you serve it with some bread. It helps cut the acidity. I myself love this dish with a warm French baguette.