By franco on 9 December, 2007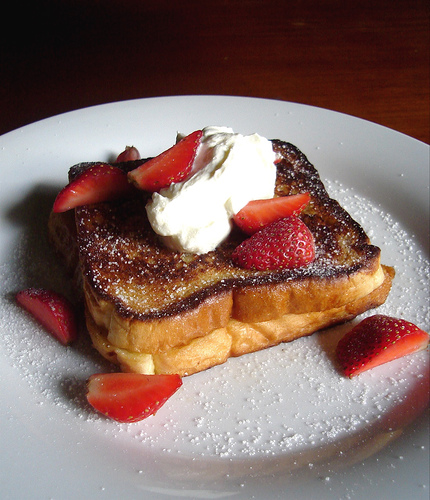 I love brunch.
Simply because you can eat breakfast food late in the day and people wouldn't think of it as odd. One of things I love making is a variation of Jaime Oliver's recipe. This dish is an improved version of a brunch staple, French Toast. But here, what you create is a French Toast Sandwich with a sweet, fruity filling.
Since there seems to be an abundance of strawberries in the local markets, I decided to create a version using these lovely red berries adding a bit of Nutella for a nutty chocolate kick.
Strawberry, Nutella, Banana French Toast
Adapted from Jaime's Dinners by Jaime Oliver

4 pieces sliced bread
2 eggs
1/4 cup milk
1 cup of strawberries, quartered
1/2 of a medium banana, mashed
2 tablespoons Nutella
caster sugar
butter
whipped cream


Beat the eggs in bowl and mix in the milk.

In another bowl, gently mix together 3/4 cup of the strawberries, the mashed banana and Nutella.

Thinly butter each side of the sliced bread and dip each slice in the egg mixture.

Place the strawberry mixture between two pieces of sliced bread and gently press down.

In a non-stick pan, fry the french toast with some melted butter.

Once golden brown and slightly crisp, transfer to a plate.

Sprinkle with sugar. Garnish with the reserved strawberries and dollop of whipped cream.

Makes two servings
For this recipe, you can use any fruit combination you want: Blueberries and bananas. Bananas and melted chocolate. Sliced mangoes and condensed milk. Anything your heart desires. Have fun and enjoy.
Many thanks to Stich and K. for their help.
LABELS: Strawberry Nutella Banana French Toast, Table Recipes