By franco on 13 December, 2007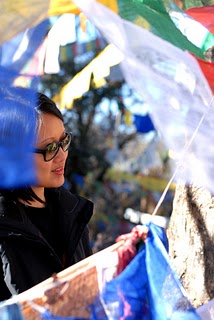 From experience we can tell you, making a great blog is never a one man (or woman) show. One way or another, a great food blog is always a collaborative effort. Take for example, Chubby Hubby. Although most attention is focused upon

Aun Koh

aka CH, many fans know that his wife,

Tan Su Lyn

better known as S. plays a large part in blog's success. A brillant writer and an editor of many well-known books, Su Lyn is Chubby Hubby's behind-the-screen editor and occassional contributor. It is their shared passion for all things gastronomic that binds them together and creates blogging magic.
So Su Lyn, tell us about yourself.
There isn't much to tell. I am Singaporean. I grew up in Singapore but spent 6 years in Perth, Western Australia (where alongside getting a BA in Media Studies and PR, I developed a love for cooking and a greater appreciation for good food). In truth, I probably spent more time in the kitchen in the final few years of my studies than I did at the computer writing my honors thesis and beginnings of my doctoral thesis (which I still haven't completed). Serendipitously, when I returned to Singapore, I applied for a job at a local weekly entertainment magazine and got hired! I realized that I loved writing about food more than I did about meeting Johnny Depp, Mariah Carey and Ricky Martin. So I eventually moved on to focus on writing about food. Over the 10 years I have been writing professionally, I have worked on a food magazine, books on food, as well as cookbooks. I feel very lucky to be able to have a career that revolves around a subject that I love.
How and when did you decide to make food your life's work?
My initial attraction to food writing took seed at my first job, where I worked closely with a boss who loved restaurants and food passionately. His enthusiasm was infectious. But I have to say that it became an obsession when I met CH. We were both writing about food when we first met at a restaurant tasting. I guess we added fuel to one another's passion for food and wine! It's scary to think that when we first moved in together, we probably had no more than 10 cookbooks between the 2 of us. We now have over 400 at last count. Of late, it has been even greater fun putting cookbooks together as a team.
You are a very accomplished food writer and editor, why not make you own food blog?
I don't have the kind of energy CH has. But I like to think of the blog as not just his, but ours. Although I may not officially write most posts, I have edited or at least proof read the majority of them. We often discuss what should go into a post, and certainly a good deal of what is cooked and/or eaten is done collaboratively. It reflects our life together, and I don't feel the need to duplicate that. We have made many friends through the blog, and interestingly, some people email me rather than CH. Perhaps they have specific questions they prefer that I respond to, or they might have accidentally chanced upon my address rather than his, but we do feel that the blog is run by both of us. Any questions he gets about cookie cutters, ovens or making ice-cream are automatically forwarded to me.
What is your favorite food blog, cookbook, food-related TV show and food magazine?
I love visiting Matt Bites, Nordljus and The Traveler's Lunchbox. Matt, Keiko and Melissa are generous souls, eloquent writers and fabulous photographers. They inspire me.
It's difficult to pick just one favourite cookbook. I just can't! I do love Thomas Keller's French Laundry. Even though some of the recipes are ludicrously elaborate, if you do get into them, they actually work. When I want to cook for my own (rather than my husband's or my guests') pleasure, I enjoy dipping into Joyce Goldstein's Italian Slow and Savoury. For sheer unattainable fantasy, I flip through the pages of Pierre Herme's PH10 (yes, it's in French, and no, I cannot read French). But the one cookbook I own that's threatening to fall apart is probably Barbara Tropp's The Modern Art of Chinese Cooking.
TV show-wise, we're currently obsessed with Gordon Ramsay's The F Word. It has all the elements of engaging reality TV and, well, it's just there, readily available on TV (I'm not much of a TV junkie).
I collect Donna Hay's magazine obsessively. I have every single issue since she first launched it. And in all honesty, I just love the gorgeous pictures.

What would you cook in the following situations?
A surprise visit by the in-laws

Um, that just doesn't happen—ever. But if I had to, I'd probably throw together a simple seafood or vegetable pasta, something light, healthy and fresh—probably with Japanese flavours–because my parents-in-law appreciate those elements in their food.
A sudden craving for comfort food

Easy. Baked beans on buttered toast, or sardines and hard boiled eggs on buttered toast. I am a girl with simple needs. These dishes hit the spot for me.

Your husband is in a foul mood

Steamed savoury custard filled with minced pork marinated with soy sauce and Chinese wine, and studded with salted duck egg yolk. It's HIS comfort food.
What food related habits of your husband, do you hate and why?
His eyes are bigger than his stomach. He tends to order way too much food when we dine out.

What is typical weekend with Chubby Hubby like?

Exhausting. We usually squeeze in at least one movie, lunch with family, a dinner party and brunch with friends.

Say I'm visiting Singapore for one day, where would you and husband take me for breakfast, lunch, an afternoon snack, dinner and cocktails?

Breakfast at Ya Kun Kaya Toast for a quintessential Singaporean breakfast of soft boiled eggs and toast, lunch at Iggy's, Lana's chocolate cake for tea, cocktails at Coffee Bar K and dinner at Sin Huat Eating House in Geylang for crab beehoon.

Can you give three tips for would be food writers?
1. Set out to be a writer first, and food writer second. By this, I mean that one needs to learn the ropes. There are only that many jobs available for people who want to write about food. Learn how to write well wherever you get the chance to, even if you don't get to write about food. While you're doing that, read widely and learn about food on your own time as well.
2. It takes time. Unfortunately, to write about food well, you need to have eaten well. I don't mean that you have to have eaten at the most expensive restaurants. But you do need to taste lots of different kinds of food and learn to focus on what you're tasting, and then learn to articulate the experience. Start with what you're most familiar with, but be adventurous.
3. If you're passionate about the subject, you'll find that there are lots of people who are willing to share their knowledge and experience with you. Reach out to people. If you are genuinely interested in learning, there are plenty of people who will be happy to help you along the way. Don't be afraid to ask for help.
Thanks to Su Lyn for the picture and Margaux for getting the ball rolling.

LABELS: On The Table, Tan Su Lyn