By franco on 26 December, 2007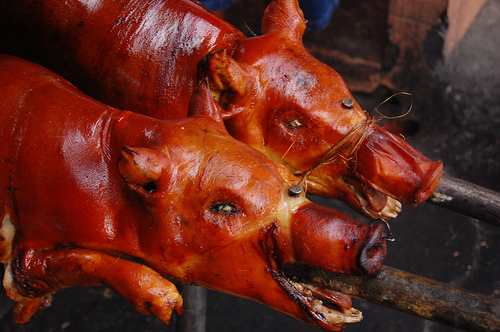 In the Philippines, there are few things that say celebration like a lechon.
A lechon is a suckling pig stuffed with herbs, marinated in the lechonero's secret brew and roasted for several hours over hot charcoal until the skin is a crispy, dark amber. A traditional Filipino centerpiece of any fiesta buffet, everything just seems more festive while tucking into crunch and juicy piece of skin and falling-off-the bone tender, succulent meat.
Maybe it's the time of year or just the need to eat roasted pork. Whatever the reason, my photographer friend Erik and I decide to visit what has been labelled the lechon capital of the Philippines, La Loma. Our hope was to gain a behind-the-scenes look into the creation of this celebrated dish. In the end, we saw and heard much more than we had expected.
Please be warned. Some of the pictures are graphic. If you have certain sensitivities toward animals I would suggest that you not view this slide show. If not, please click here.
Note: Once viewing the slide show, click on the pictures to read more information
To Serafin Cesario, Ate Rose and the hard working lechoneros of La Loma, many thanks.
LABELS: Behind the Kitchen Doors, The Lechon Captial of the Philippines