By franco on 6 December, 2007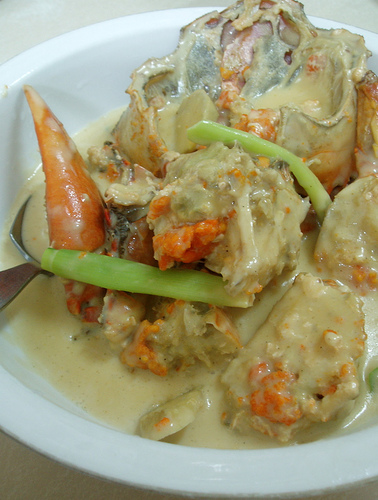 Fook Yuen Crabs
Franco's note:

A little bit of a change this month. Instead of the usual three impressions of one restaurant, we will be writing about a food destination that piqued our interest, namely Banawe Avenue. The three of us will be visiting three different restaurants along Banawe Avenue. Enjoy reading.

For those of you unfamiliar with Metro Manila, Banawe Avenue is well known for one thing, after-sale car parts. From wheel rims to steering wheels, from spark plugs to seat covers, if it's a part of car, it's almost certain that one of the myriad of shops along this avenue has it for sale. But since this is still a food blog, we won't get into that.

This was my impression of Banawe. Until, I stumbled upon this post. Interesting. Who would have guessed that over the years Banawe would have some of the most authentic Chinese restaurants in Manila outside of Binondo, Manila's old Chinatown? I just couldn't resist. So after doing some consulting, I chose to visit the crab place, Fook Yuen Food Center.
Let's get this out of the way first. The place is small–25 seats maximum. During lunch, it can get noisy and very crowded. With its white interiors, linoleum covered tables and plastic monobloc chairs, this food center is far from being a luxe Chinese restaurant. In fact, I imagine that under the definition of 'hole-in-the-wall', there is a picture of Fook Yuen.
With that said, let's talk food. After taking our order, our waitress runs off and disappears in the back of the room. She returns holding a fat, very dark green crab, still alive and snapping. We ask for a smaller crab but she retorts that this 800 gram crustacean beauty is smallest they have. We approve. After a momentary wait, our crab returns to our table ready to be devoured.
Fook Yuen Crab (P100/100 grams) is amazingly delicious. The crab, quartered and dismembered, is served in a creamy curry sauce which, I imagine, started off as milky white but has turned a light yellow-orange because of the infused crab fat. The scent of crab, ginger and leeks steaming from the dish is simply divine. My mouth waters.
Eating crab is neither a clean nor civilized affair. It requires some effort and you will get your hands dirty. But in the end, the reward is worth it. The crab is fat and the flesh is succulent. Pouring the crab fat-enriched sauce over a bowl of streaming hot rice and tucking in is just blissful.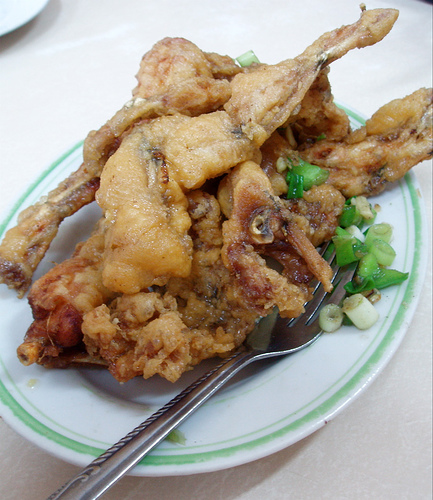 Salt and Pepper Frog's Legs
In the middle of relishing our crab, the side dish of

Salt and Pepper Frog's Legs (P190)

arrives

. Initially, what surprises you about this dish is the size of the legs. They are unusually large. Seasoned, lightly battered and fried, these legs are a much-needed, delectable break from the rich fatty crab. The dish alone is tasty but it's hard to ignore the star of the table.

I admit that I love eating in small, out-of-the-way places. The adventure of discovering restaurants like Fook Yuen Food Center always intrigues me. Would I go back? Absolutely. Whether my car needs an overhaul or not.

Fook Yuen Food Center
558 Banawe Street
corner Samat Street
Quezon City, Metro Manila
Telephone: (02) 711-3057, (02) 740 7849
Many thanks to Tanya and docchef for pointing the way.
LABELS: Banawe Bound, Fook Yuen Food Center, Manila, Restaurants