By Mariko on 30 December, 2007
It's funny how B and I ended up at a seafood restaurant without actually ordering any seafood. Unless you count the Shark's Fin? Didn't think so.
Our first plan was to go to Wok with Liu, which, I was told, was like a Chinese food version of dampa. With raging tummies, we were about to park when we realized that the place had closed down! Hungry as we were, we didn't want to have to figure out which among the unfamiliar restos would satisfy us, so we ended up at Causeway Seafood Restaurant.
Those in search of hole-in-the-wall, best-kept-secret-type restos might be disappointed with this post. Causeway, after all, is rather mainstream, with a branch in Libis. But it's a good starting point for those who wish to explore Banawe, yet are quite timid in their food choices: It's enough to give you Banawe bragging rights, but it's also a safe enough choice to keep you from sweating bullets about the eats on offer.
We started off with the aforementioned Shark's Fin (P50 for four, but I heard it goes down to P39 after 9:00 p.m.), which, in my opinion, was the highlight of the meal–not because everything else sucked, but because this was Shark's Fin done right. It was a perfect blend of meat, mushroom, and shrimp, and there wasn't an excess of siomai wrapper! You know how the wrapper tends to flake off at those cheap siomai stalls, leaving you with half the Shark's Fin you thought you bought? There was none of that nonsense here!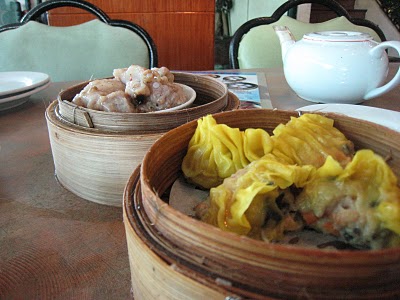 We likewise enjoyed the Spareribs with Tausi, also P50. I daresay that everything on that roving dumpling cart would be just as good.
A food columnist (I forget which one–perhaps Reggie Aspiras?) once wrote that every time she tried a new Chinese resto, she would order the standards: sweet and sour pork, and lemon chicken. If the resto can't get these two basic dishes right, she reasoned, how can you expect them to do a good job on all the others? I took a page from her rule book and ordered the Fried Chicken with Lemon Sauce (P210 for a small serving–"small" in this case is enough to feed three). If this was any indication of everything else on their menu, then Causeway would be fairly average. The good part was that the sauce wasn't cloyingly sweet.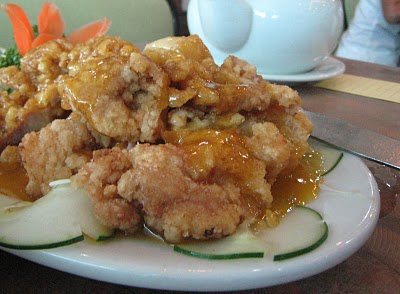 The Yong-Chow fried rice (P160, small) was likewise pretty average. I would've liked to order the Peking Duck (served two ways, P650 for half) but we were just too full–we still had a lot left over.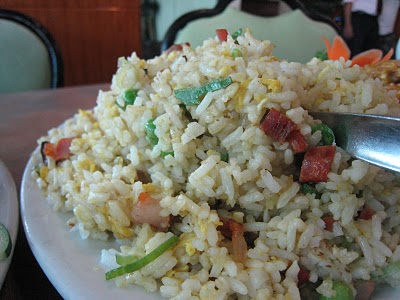 What B looked forward to ordering the most was the Tsing Tao Beer (P100), a slightly sweeter take on regular beer. I'm not big on the beer, so I couldn't really tell. It all tastes the same to me! But I'll take his word for it.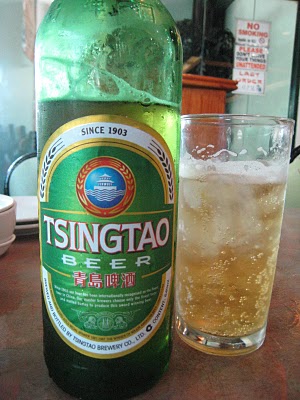 I was surprised that our bill added up to over P800–I expected Banawe eating to cost us much less, but Causeway is supposedly one of the higher-end restos in the area. I think you could get the same stuff for much less elsewhere. But to be fair, we probably ordered enough for three, even four (don't believe the menu when it says "small"!). If you do decide to drop by this place, maybe it'd be a good idea to keep the dumpling cart parked beside your table.
Causeway Seafood Restaurant
883 Banaue Street cor. Del Monte
Quezon City
Telephone: (02) 410 8690, (02) 740 8787

LABELS: Banawe Bound, Causeway Seafood Restaurant, Manila, Mariko, Restaurants