By franco on 2 November, 2007
Vietnam has always been a country that has intrigued me. Like most people of my generation, my idea of Vietnam was shaped (for better or worse) by the American media. Movies like Rambo and Platoon or TV shows like China Beach portrayed Vietnam as a war-ravaged, third world backdrop to the American-Vietnamese War. Not exactly what one would call an ideal tourist destination.
So unless you have been hiding under a rock for the past few decades, you may have missed the news. Vietnam is nothing like that. No matter what travel show, magazine or website you may watch, read or visit, I'm almost sure, they will be saying the same thing, Vietnam is hot and definite a must-see for the traveller looking for the unexpected.
I love Vietnamese food. I also believe that if you want to try the very best of a certain cuisine that you must go to its country of origin. For me, travelling to Vietnam was a no brainer.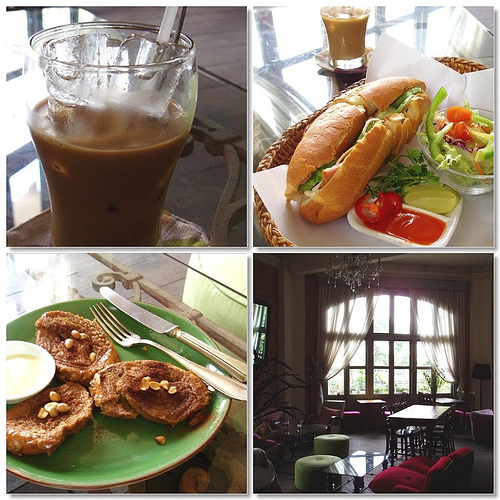 From top left, clockwise
Vietnamese Iced Milk Coffee, Vietnamese Styled Sandwich
Interiors of La Fenetre Soleil, French Toast with Vietnamese Coffee Flavor
After a hectic trip to Bangkok and short lay over in Manila (that's another story), A. and I finally arrived in
Ho Chi Minh City
(HCM). Tired and suffering for a case of traveller's hangover, we retired for the evening and promised ourselves an early start.
We're up at 11 am.
Too late for breakfast and too early for lunch, we decided to try out a place we read about in our Luxe City Guide, La Fenetre Soliel.
A. and I arrived that appointed address. For a while, we stood confused (and a little scared) in front of a small, dark stairwell with a broken neon sign hanging over the archway. We wondered if we were in the right place. Not the types who frighten away so easily, we climbed up the dingy stairs to second floor and found ourselves greeted by beautiful loft space bathed in morning sunlight.
This little tucked-away gem of a place is an oasis from the hustle and bustle of the growing city of HCM. With its high ceilings, exposed brick walls and comfy, mismatched furniture, this space feels more like a cool artsy friend's apartment than an actual café.
On this late weekday morning, we have the place all to ourselves. Lounging around and listening to chilled out music, we decided to have our first taste of Vietnamese food in Vietnam.
We started with a couple of glasses of Vietnamese Iced Milk Coffee. This concoction of Vietnamese weasel coffee and condensed milk poured over ice was both refreshing and invigorating. I may not have been a coffee drinker but this drink made me a quick coffee convert. Next, I ordered the French Toast powdered with even more coffee flavor. Normally, I love French toast but the added coffee kick just pushed this dish over the top. On the other side of the table, A. wanted to try Vietnamese street staple, a Bahm Mi. This Vietnamese take on a baguette sandwich is stuffed with tomatoes, greens and sliced beef and pork dressed with light vinaigrette. A. loved this sandwich. It was simple, fresh and light. I had to agree.
A. and I adored this little salon, so much so, we returned on our last day to chill out and relax.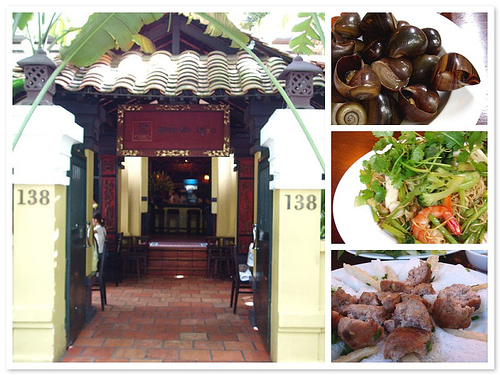 top left, clockwise

Entrance of Quan An Ngon, Steamed Snails with Lemongrass
Stir-fried Egg Noodles with Seafood, Vegetables, Grilled Pork Balls with Rice Paper

This is how our Luxe City Guide described it "It's like Pamela Anderson's bra in here, big and packed." With a description like that, how can anyone resist
Quan An Ngon
?
This converted one-story, dark-wood and open-air French villa is so popular with the locals that is practically packed all hours of the day. Getting there early is a must. And that's exactly what we did, arriving just in nick of time right before the early dinner crowd.
Diners are seated in central main house while along open terraces, hawker-like food stations stocked with fresh produce and ingredients prepare their dishes to order. The first dish to arrive at our table was the Steamed Snails with Lemongrass. Dipped into a sweet chili-ginger sauce, these snails were so fresh and distinctively delicious that even A. (a devoted non-eater of anything that crawls) enjoyed tucking into them.
The next two dishes came in quick succession: the Stir-fried Egg Noodles with Seafood and the Grilled Minced Pork Balls with Rice Vermicelli. Although stir-fried noodles are fairly common is Southeast Asia, the grilled minced pork balls with rice vermicelli and fresh veggies (all wrapped in an almost transparent piece of rice paper) is very Vietnamese. A. and I have enjoyed getting 'involved' with our food. Thus, this process of having to assemble and wrap our meal into a fresh spring roll before biting into it thrills us.
With a couple of glasses of Vietnamese Iced Coffee (our new beverage of choice), this was easily our best meal of our Saigon journey.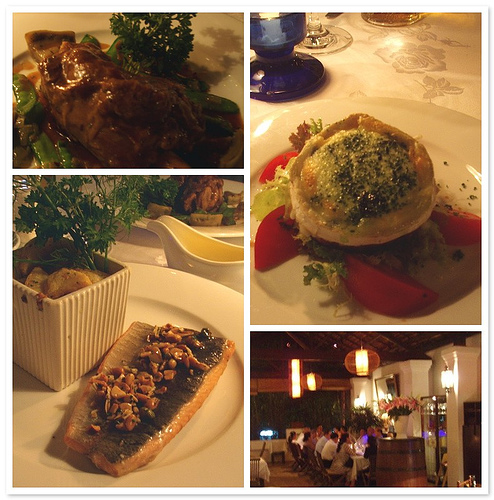 top left, clockwise

Roast Lamb Shank, Melting Goat Cheese with Fresh Herbs

Interiors of Camargue, Steamed Salmonized Trout
Like the Philippines, Vietnam has its own colorful colonial past. For a time, the country fell under auspices of the French who, in many obvious ways, influenced the culinary tastes of the Vietnamese. Like, for example, their daily obsession with coffee and their love of fine baked goods like the baguette. It is no wonder then that trying French cuisine in this once French outpost was a to-do in our list.
Camargue is one of the older, more well-established French restaurants. We were excited by the prospect of eating at what has been dubbed a Saigon institution.
Only open for dinner reservations, this once colonial French villa is now a two-story restaurant and bar. On the first floor is a casual bar with billiard tables, dartboards and an open-air pizza oven. On the second floor is the slightly more formal dining area. That night, the Camargue is packed with good mix of foreigners and locals. All dining is done al fresco and by candlelight. It would have the perfect romantic setting but…
We ordered our dinner. We decided to share an appetizer of Melted Goat Cheese flavored with Fresh Herbs. A good starter but somehow a bit uninteresting. Next, we ordered two dishes that caught our interest: the Steamed 'Salmonized' Trout in a Warm Truffle Sauce and the Roasted Lamb Shank with Steamed Artichokes and Spring Vegetables. By themselves, these dishes were executed well and yet, like the goat cheese starter, they were both painfully bland. I don't know if we ordered badly or if the kitchen was having an off night but I was thankful that least the alcohol was flowing that evening.
A solid reputation and high prices always equal higher expectations. If those expectations are not met, the experience will always be a disappointment. By Saigon standards, this was our single most expensive meal but sadly, it was also one of our least favorite dining experiences of all time.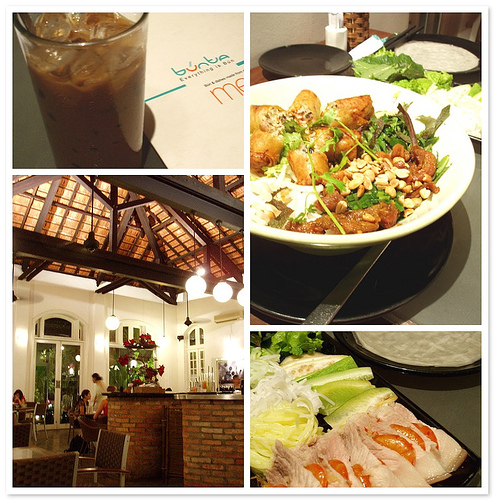 top left, clockwise

Vietnamese Iced Milk Coffee, Bun Thit Nuong Cha Gio

Bun Cum Tom Chua, Interiors of Bun Ta
Next door to Quan An Ngon is another Vietnamese restaurant we enjoyed called
Bun Ta
. In Pinoy restaurant terms, if Quan An Ngon is Cabalen then Bun Ta is Abe.
Bun Ta is also a renovated colonial bungalow with an all-white, air-conditioned interior (a rarity in HCM). With its modern, minimalist take on the traditional Vietnamese restaurant, this establishment is decidedly the upscale sibling of its next door neighbor.
With every other dish offered having it, in one form or another, bun or vermicelli noodles are obviously a prominent part the menu. A. and I shared two dishes. First, a Bowl of Egg and Vermicelli Noodles served with Grilled Sliced Pork, Fresh Herbs and Fried Spring Rolls. Next was the Sliced Pork and Fermented Shrimp with Rice Vermicelli and Fresh Greens which we hungrily wrapped in rice paper.
The food was quite tasty. But in my opinion, I would still go next door. You just can't beat the authentic air, lively energy and the cheaper prices of Ngon.
La Fenetre Soleil
2nd Floor
135 Le Thanh Ton
District One
Ho Chi Minh City
Telephone: (848) 822 5209
Open from 9 am to 11 pm daily
Enter via the stairway at 125 N.K.K.N Street
Quan An Ngon
138 Nam Ky Khoi Nghia
District One
Ho chi Minh City
Telephone: (848) 825 7179
Camargue
18 Cao Ba Quat
District One
Ho Chi Minh City
Telephone: (848) 824 3148-9
Dinner Only
Bun Ta
136 Nam Ky Khoi Nghia
District One
Ho Chi Minh City
Telephone: (848) 822 9913
LABELS: Hello Vietnam, The Travelling Table, Vietnam