By franco on 14 November, 2007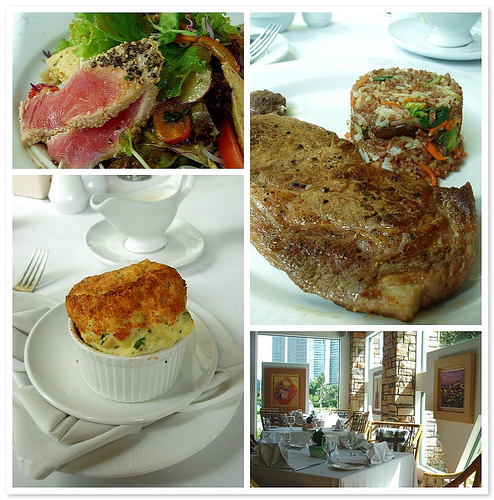 from top left, clockwise

Pepper and Sesame Crusted Tuna in Ponzu Dressing, US Rib Eye with Brown Rice Risotto,
Interiors of The French Corner, Cheese, Mushroom and Spinach Souffle
The Sunday started well.

We were driving south to Ayala Alabang, an upper class enclave in Metro Manila. It was a sunny day and thankfully, no traffic jam in sight. Usually, it's such chore to go to that part of town but on that day, you could say it was almost pleasant.

Our goal? To dine at the Alabang incarnation of Chef Billy King's much revered chain of restaurants.
This eatery is tucked in a corner of Westgate, an upscale strip mall of restaurants, high-end furniture stores, art galleries and even plastic surgeon offices.
It's called

The French Corner

.

When you go to one of Chef King's restaurants, you will have expectations. Well-appointed interiors, attentive service and of course, great food. Some would ask if Chef King is still relevant in Manila's booming food scene.
I would argue that his restaurants are still the fine dining benchmarks that all others are measured against.
Far from being ultra-modern and sleek,
The French Corner feels like a large dining room of an even larger house. It was warm and inviting but relatively empty for a Sunday lunch service. A and I surmised that the locals were having late lunches at home. With its b
lond, wooden floors, white table clothes and expensive art on the walls, it seemed like we had walked into a rich aunt's summer home instead of ritzy fine dining establishment.


I started with a savory

Cheese, Mushrooms and Spinach Souffle (P215).

This is after all a Billy King restaurant. It would be a sacrilege not to order a souffle in one form or another. When it arrives at the table, I can't but smile at this puffed-up pastry. It's almost a shame to cut into it. But of course, I zealously did, digging into its lovely puff and pouring the accompanying cream sauce straight into it. It was everything you expect it to be. Light, airy and sublimely delicious.

Arriving little bit after my delightful souffle, A's US Rib Eye Steak with a Brown Rice Risotto (P700) was set in front of my wife. Her eyes widened with delight. Even though Jayson, our server, brought out the wrong side of mashed potatoes (A ordered the french fries), he didn't miss a beat. He replaced the dish before we could say, "
Remplacez, sil vou's plait". The steak was grilled to medium-rare perfection. Although the brown rice risotto didn't have the creamy consistency we expected, it was still a pleasure to eat.

My main course of a Pepper and Sesame Crusted Tuna with Asian Salad (P350) was a bit of a disappointment. Not because it wasn't good and beautiful on the plate but because there seemed to more salad than tuna. The tuna lent itself well to the pepper and sesame crust. With the intense citrus tang of the Ponzu dressing, the dish was elevated to a new level of flavour. I just wish there was more tuna to savor.

In the age of Web 2.0, what is relevant tends to be the new. Food blogs are no exception. I will not say that Chef King's restaurants are at the forefront of any culinary revolution. But because of their hallmark of consistently high standards in all aspects of the restaurant experience, I believe that they will always occupy a revered place in the Philippine food scene. If it is all about the food, Chef King and his team are on the right track.


A pleasant restaurant. A pleasant meal. Overall, a very pleasant day.

PS.We knew that The Dark Chocolate Souffle would have been amazing. But, I just couldn't resist going to Sebastian's Ice Cream Studio near by. Try the Dark Malt Milkball. Divine.

The French Corner
Lot 102-103
Commerce Ave cor Filinvest Ave.
Alabang Muntinlupa City
Telephone: (02) 771-2345 or (02) 771-2346
LABELS: Franco, Manila, Restaurants, The French Corner