By franco on 5 November, 2007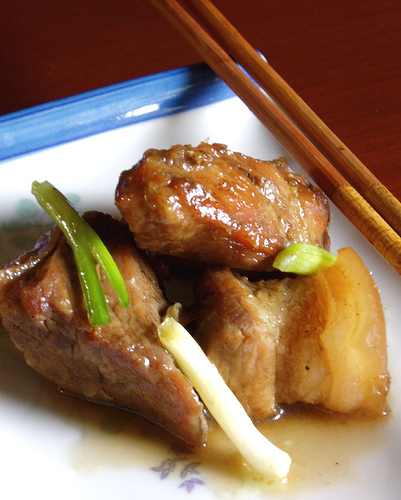 Gastronomically speaking, there are two things that I am loving right now: The simplicity of Vietnamese cuisine and lovely white, fatty pork.
Since our (much too short) trip to Ho Chi Minh, I have become a bit obsessed with Vietnamese food. So when I come across a recipe that indulges the things that I love, I dive right in and start heating up my wok.
According to Chef Ken Hom, this pork dish has much in common with a similar Shanghai recipe. However, the Vietnamese version uses fish sauce instead of soy sauce and is a lot simpler to cook.
Vietnamese Braised Pork
Adapted from Foolproof Asian Cookery by Ken Hom

3 tablespoons groundnut oil

750 grams pork belly including the rind, cut into 1.5 inch cubes

8 spring onions cut into 2 x

1/4 inch pieces

500 ml chicken stock

3 tablespoons sugar

1 teaspoon salt

2 teaspoons ground black pepper

2 tablespoons Thai fish sauce

Heat the groundnut oil in a work or a large frying pan over high heat. Once slightly smoking, fry the cubes of pork belly in the oil. Once crisp and seared on all sides, remove from the wok and drain.

In a large casserole, place the cut spring onion, chicken stock, sugar, salt and pepper and bring it all to a slow boil.

Add the browned pork and simmer for 1 to 1.5 hours. Check and stir occasionally to avoid burning. Before the last five minutes, add in the Thai fish sauce.

Serve and enjoy.

Makes 4 generous servings
What I really love about this dish (like most stewed or braised meat recipes) is that it tastes even better the next day.
LABELS: Table Recipes, Vietnamese Braised Pork