By franco on 11 November, 2007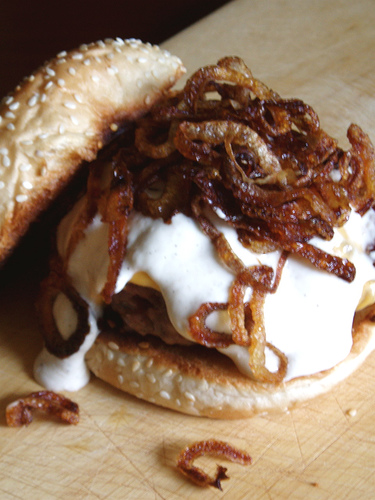 After a drastic change in the family lunch menu over the weekend, I decided to fall back on a messy, eat-with-your-hands, personal favorite recipe,
The Schlow Burger.
This quick, easy and simply delicious burger is named after its creator,
Chef Michael Schlow
. Chef Michael who is the executive chef and owner of famed Boston eateries
Radius
,
Via Matte
and
Great Bay
and a champion of the
SlowFood
movement in America, is also the author of a book which I consider one of my go-to cookbooks,
It's About Time.

"So, instead of my "ego book," here is a book about time — time and it's effects on our meals and eating habits. Whether you have a little bit of time or a lot, many of the cooking situations you face in your home will be addressed here. This book is about more than just time measured in seconds, minutes, hours, and days. These ideas on time will rely on rather elastic definitions of the word…

This book sets out not only to teach you how to cook and eat well when you're on the go; it also works in reverse for when your soul is crying out for a ittle bit of culinary therapy. I can't think of a better way to unwind than by spending a couple of hours in the kitchen with a glass of wine, some music on the stereo, and something delicious simmering on the stove." – Chef Michael Schlow

This recipe is the reason why I have never returned to a fast food joint for my burger fix. Cook, eat and enjoy. And take your time…
The Schlow Burger
Adapted from It's About Time by Michael Schlow

1 kg Ground Round
4 tablespoons Olive Oil
Salt and Pepper
6 slices of good quality English Cheddar
6 Hamburger buns, split in half

For the Horseradish Sauce

8 tablespoons mayonnaise
4 teaspoons prepared white horseradish
Juice of a lemon

For Crispy Onions

2 large yellow onions, sliced into rings, 1/3 to 1/8 inch think
2 cups canola oil
Mix together the ground beef, olive oil, salt and generous amount of black pepper.

Divide the meat into six equal sized patties and refrigerate until needed.*

Heat the grill or grill plate to high.

Remove the refrigerated patties five to seven minutes before grilling.

Place the burgers on the pre-heated grill and cook for three minutes on each side.**

Transfer the burgers to a cooler section of your grill/grillplate and cover each one with a slice of cheese.

Lower the heat and cover. After four minutes, the cheese will be melted and the burgers will be cooked rare to medium-rare.

Toast the buns and place a burger on each. Spread a dollop of horseradish sauce on each burger and top with a generous amount of crispy onions.

Season with black pepper and enjoy.

For horseradish sauce:
Combine mayonnaise, horseradish and lemon juice in a mixing bowl.

Season with black pepper and store in refrigerator until needed.

For crispy onions:
Place oil in a small sauce pot. Bring to a boil over high heat.

Add onion rings. Reduce heat to a low simmer.

Turn onions occasionally with a fork and cook until golden brown–approximately 20 minutes.

Remove onions from oil and blot on paper towels.***

*Chef Michael recommends doing this an hour before grilling.
**For rare.
***The onions won't be crispy at this point but will crisp after a few minutes.

Makes 6 large servings
LABELS: Schlow Burger, Table Recipes