By franco on 7 November, 2007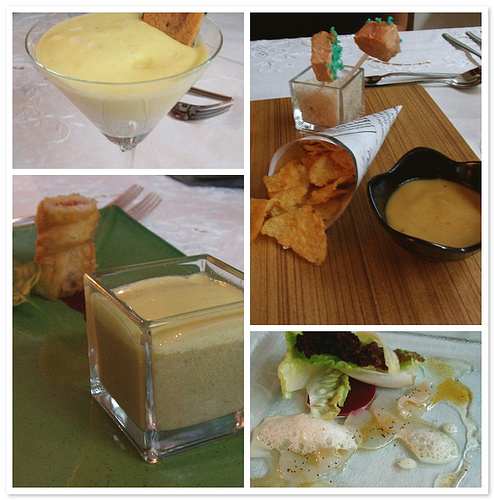 f

rom top left, clockwise

21st Century Eggs Benedict, Foie-lipop and Potato Chips with Anchovy Aioli,

Ponzu Scallop Carpaccio and Mesclun Salad, Prosciutto and Brie de Meaux Roulade and
Foie Gras Cappuccino with Sweet Corn Form
I always enjoy watching an artist perform.
Be it a movie, a television show, a painting or even a great book, there is nothing like relishing in another person's creative passion. In my opinion, in this country, a chef's art is much undervalued. Their form of performance art, be it staged in five-star hotel restaurant or Aling Nena's carinderia has the same goal: to create food that whets the appetite, satisfies the senses and leaves the guests wanting more.
Chefs Sunshine Puey and Robert Pengson compose the core of Gourmandise, a catering company they both cook for and manage. Besides their private dining commitments, they also teach at the Academy for International Culinary Arts. On a monthly basis, it is at this school, where Chefs Sunshine and Rob have a little fun with their guests' taste buds.
We interviewed Chefs Rob and Sunshine a few months back. And after reading their responses, I knew that theirs was a playground of gastronomical flavors I had to indulge in. Since this is only once-a-month event, tables at their school's small dining area fill up quickly. Sadly, A. and I would have to wait two months for the privilege. A test of my emotional quotient.
Finally, the date arrives.
So with our favorite Shiraz in hand, A. and I trek to dinner, giddy with excitement. Once at the school, we are ushered into the school's dining area–an intimate, high ceiling room done in muted neutrals with a large glass window that gives the guest a clear view of the kitchen. The room fills quickly; mostly with large groups of friends and family. I believe we are only one of two couple tables that evening. After a short but warm greeting from Chef Sunshine, the dinner begins…
Gourmandise
Degustation Dinner Menu
Foie-lipop, Potato Chips with Anchovy Aioli, Lychee Jello-O Martini
21st Century Eggs Benedict, Truffle Oil & Fleur de Sel
Ponzu Scallop Carpaccio, Mesclun Salad
Prosciutto and Brie de Meaux Roulade, Raspberry Coulis, Foie Gras Cappuccino with Sweet Corn Form
Roasted Vegetable Tart
Chilean Sea Bass, Truffle – Honey Beurre Blanc, Toasted Sapetzle
Intermezzo
Duck Breast, Tart Tatin with Port Wine Reduction and Duck Confit & Foie Gras Croquette, Green Papaya Salad, Plum Sauce
Cold Champagne and Peach Soup with Ice Cream
Sweet and Sour Lemon
Mini Chocolate Hazelnut Cake

By themselves, most dishes were delicious. Some were outstanding. But others were not particularly memorable. While with some dishes, our opinions were split.
A and I loved the 21st Century Eggs Benedict and Ponzu Scallop Carpaccio with a Mesclun Salad. The eggs benedict served in a martini glass was a frothy, whimsical play on the breakfast favorite while the light, simple and elegant scallop carpaccio dish was the perfect foil to its relatively heavier predecessor. We also enjoyed Foie-lipops covered in Pop Rocks and the Potato Chips with rich Anchovy Aoili. We laughed as we bit into the foie gras lollipops. Not only were we treated to the rich flavor of duck liver but also the tiny candies were literally bursting in our mouths. And as for the potato chips, who doesn't love freshly made chips especially with a salty, creamy anchovy dip?
Two dishes were a bit of a letdown: the Roasted Vegetable Tart and the Cold Champagne and Peach Soup with Ice Cream. Although both were delicious by most standards, it felt like these dishes lacked the kind of innovation and imagination the other dishes displayed earlier, especially the champagne and peach soup which tasted like a watered-down mango jubilee. A. loved the Prosciutto and Brie de Meaux Roulade while I thought it felt like eating a ham and cheese croissant. I loved the Foie Gras Cappuccino with Sweet Corn Form but A. just could not get over the idea drinking liver. As for the main courses, we both liked the Chilean Sea Bass with its Beurre Blanc infused with honey and truffle oil over the much too busy Duck Breast with Port Wine Reduction and Duck Confit Croquette. This fish course was more sublime and far less confusing for my taste buds.
We want to apologize to Chef Sunshine, the more pastry-inclined chef of the duo. A and I, in our advancing years have become lightweights in the wine drinking department. So after polishing off a bottle of red (soon after the duck course), we found ourselves with a bit of a buzz. We know we enjoyed the desserts but we can't remember what was better between the chocolate and lemon pastries, But one thing is for certain, we were a happily (and a bit tipsy) satisfied table.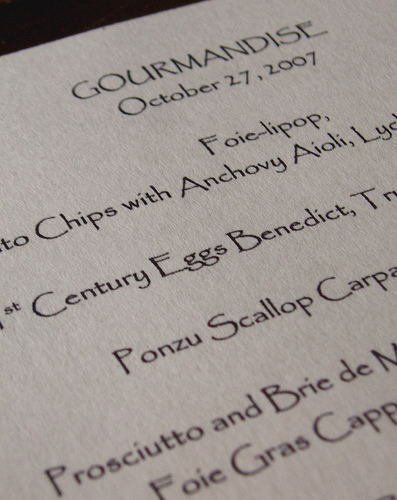 Be forewarned, the tasting menu changes every three months. We were the last batch for this menu. So beginning this November, Chefs Sunshine and Rob will be rolling out a completely new menu and thus, a different dining experience.
As a little preview, Chef Sunshine mentioned that their new menu will be more tapas-inspired. Interesting. Call soon. Reservations are hard to come by.
Gourmandise Catering



Email: gourmandisefood@gmail.com


or


The Academy for International Culinary Arts
Telephone: (632) 672-2271