By franco on 22 November, 2007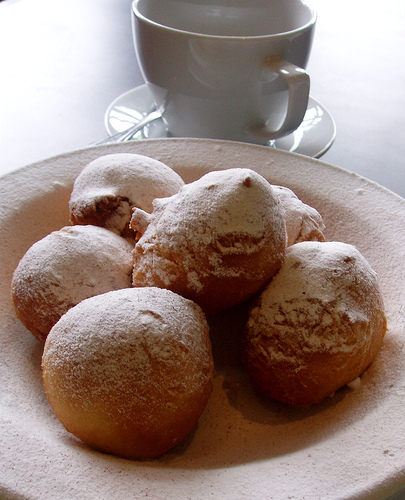 Lately, I have been dreaming of
beignets
.
Strange, I know. When most people dream sunny days at the beach, spending time with loved ones (living or otherwise) or flying, I dream of sugar-covered, french doughnuts. Go figure. Let me just say I have never been Cafe du Monde, the American home of these famous little pastries, let alone New Orleans. So I'm bit at a loss as to why I would be dreaming about them to begin with.
In my dream, I am sitting in some unfamiliar cafe waiting to be served. When out of nowhere, a waiter with a wide toothy smile places before me a plate of spherical, golden-brown, sugar-coated goodness. I pick one up. The powdered sugar cascades down to the table and then to my lap. As I am about to bite in, A appears and says, "Why bother? There is a perfectly good Krispy Kreme down the road." I wake up. Denied a taste. Sadness.
I am not a person who quickly gives up. Thus, when an opportunity to have a meeting at Serendra arises, I take it as sign that I can go to the one place in Manila where my dream can find closure, the newly-revived New Orleans Restaurant.
I call to check if beignets are available. Intially, I am told that the beignets are on the menu but they are currently unavailable. Again, sadness. I ask to speak to the manager, Mike. After explaining to him my need to have an order of beignets (I left out the part about the dream), he graciously explains to me that their beignets moved rather quickly and are difficult to make. But if I can tell him when exactly I would coming over, he would have the kitchen cook me up a batch… I love New Orleans.
At the designated time, I arrive at New Orleans, mention my name to the host, take my seat and wait. I don't even order. They know what I want. Twenty minutes later, my order arrives. My eyes widen and my mouth waters. It is everything that I dreamt it to be and more. Served with a freshly brewed cup of coffee, I dip a piece into my java and take a bite. Happiness at last.
I was a little bit late for my meeting. But I'm sure they didn't mind too much.


New Orleans
Building 6
Bonifacio High Street
McKinley Parkway
Fort Bonfacio Global City
Taguig City, Metro Manila
Telephone: (02) 856 4326, (02) 856 4785
Many thanks to Mike and the gracious staff at New Orleans for fulfilling a sugar covered dream.
LABELS: Beignet, Manila, New Orleans, Table Conversation