By franco on 16 October, 2007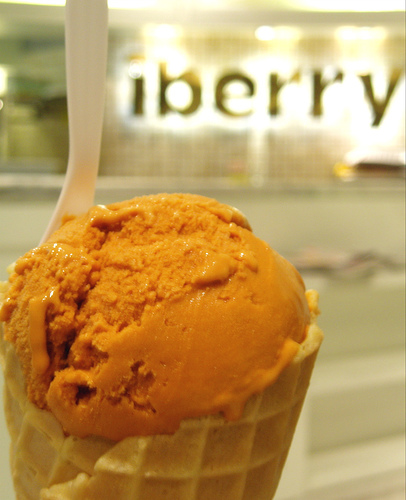 Paradise Tea from iberry
Again, this post is inspired by
Robyn of Eating Asia
.
After reading Robyn's hilarious plea to the creators of this Bangkok based ice cream brand, I knew that I would find my way to one of their branches and try them out. Being the ice cream fanatic that I am, you know that going to iberry would be high on my "things to do in Bangkok" list.
And as the photograph above makes obvious, I went and ate. Not once, not twice but at least three times (I lost count after the third time). What did I think? I love iberry.
There is such a wide range of flavors that you can spend way too much time just trying to figure out what to try–from the common ice cream flavors like, Cookies n' Cream, Pistachio and Rum Raisin to the uncommon, Horlicks, Black and White Sesame, Taro and Pandanus. And if that's not enough, they have a range of sorbets that blew my mind: Tamarind, Rambutan, Custard Apple and Salted Plum. What I love about iberry besides the obvious range of flavors is that attempt to bring locally loved flavors to the ice cream- and sorbet-eating public.
My personal favorite? It's no secret that I love Thai Iced Milk Tea. So when I tried iberry's take on this flavor called Paradise Tea, I quickly fell in love.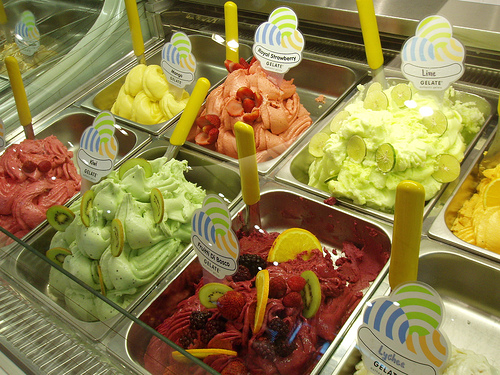 Gelati from Gelate
If discovering iberry was not enough. A. and I had a serious overload of ice cream options just walking around the Siam Paragon's food court. Besides the usual players like
Swenson's
,
Haagen Dazs
and
Baskin & Robbin's
(all of which we ignored), the other gelato shop we loved was
Gelate.
Located in Siam Paragon's supermarket, Gelate was an amazing food find. Was it good? It was delicious. But I have to say, the adage is true. You first eat with your eyes before you eat with your mouth (please refer to the picture above and try not to drool).
The Thais are so spoiled for choice. I am so envious of them.
So if you find yourself in Bangkok, run, don't walk, run to nearest mall and try the ice creams and sorbets. I promise, it will be worth it.

For iberry locations in Bangkok, please click here.
LABELS: Bangkok, Bangkok Style, Eating Ice Cream, The Travelling Table