By franco on 13 October, 2007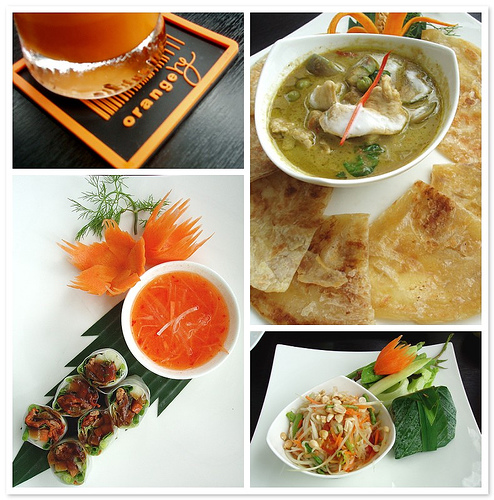 top left, clockwise

The Orangery Restaurant, Free Range Chicken with Malaysia Style Roti,

Green Papaya Salad with Sticky Rice, Fresh Spring Rolls with Roasted Duck

The Blue Elephant is an institution in Bangkok. As far as I know, it is the only Thai restaurant that serves as Thailand's culinary ambassador with international branches from Paris to Dubai. And sadly, a restaurant that we will have to dine at during our next visit. Like all major cities, so much to eat but so little time.
But luckily, A. and I stumbled an unusual restaurant concept at the Siam Paragon Mall called the
Orangery Restaurant.
In here are six kitchens from six reputable restaurants specializing in six different cuisines. It's like a high end food court without the self service, paper napkins and plastic table settings.
So if you can't go to The Blue Elephant, order it from this version of a frou-frou food court. To be be fair, the Orangery is beautiful, modern and comfortable. A calming alcove from the shopping rush below, it is flooded with light from the floor-to-ceiling windows. And yes, the food is mostly excellent and, as you can see from the pictures, very pretty.
A. and I were taken by the Fresh Spring Rolls filled with greens and slices of roasted duck and the Green Papaya Salad. Both dishes were light, fresh and flavors were very balanced. We enjoyed the Green Curry Chicken served with a very buttery Malaysia roti. It was good but after tasting so many curries, it wasn't outstanding.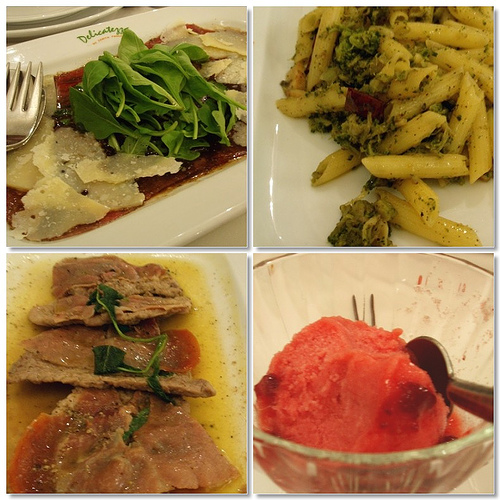 top left, clockwise
Beef Carpaccio, Penne with Broccoli with Anchovy Sauce,
Raspbery Sorbet, Saltimbocca alla Romana
I am a huge fan of Chubby Hubby. Thus, when the opportunity came to visit a restaurant that he recommends, I take it. I distinctly remember reading a
post
that basically said that although Thailand maybe famous for its Thai food (and rightfully so), one should not miss the chance to try their Italian food. After a short discussion with our friendly concierge, we decide on
Delicatezza
.
After a several years in Italy, Zariya Charoenphol, owner and head cook of Delicatezza returned home to Bangkok with a passion for Italian cuisine. Learning her craft from her Italian friends' madri e nonne, she decided to open her restaurant in a chi-chi part of downtown Bangkok. Delicatezza is decorated simply. Dark wooden tables and chairs. White tablecloths and wall covered in colorful eclectic art. An open kitchen at back of the ground floor. Some people would call their interiors austere. But I would like think that like the decor, the food is about substance and not form.
I can't say that it was best Italian food I've ever had but there is something charming about this small, relaxed restaurant. Zariya cooks with love and care, creating food that unadorned in looks but filled with amazing flavor. We both liked the Beef Carpaccio which we ordered as an appetizer. Thin slices of raw beef, 'cooked' in a balsamic vinegar and dressed with shaved Parmesan cheese and arugula. Simple and very flavourful. A. enjoyed her Penne with Broccoli in an Anchovy Sauce because of its chili spiciness and the salty flavor of the sauce. By the way, make sure to order a couple of scoops of gelato or sorbet (we tried Zariya's favorite, Raspberry Sorbet), as Chubby Hubby says they are fabulous.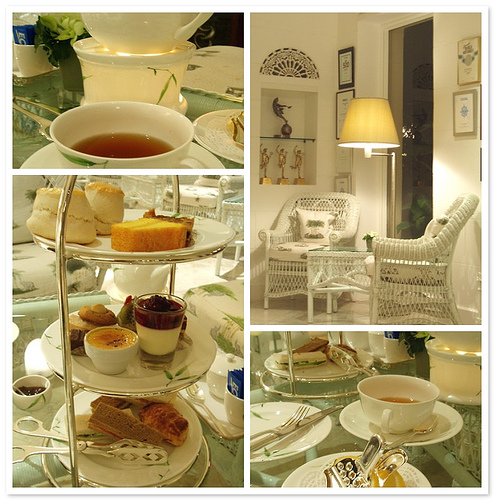 Afternoon Tea at The Oriental
When I was much younger, I would sometimes travel with my father whose job required him to attend a conference or two. On one of these occasions, during a stay at the legendary Oriental in Bangkok, my father took me to afternoon tea. At the time, I was too young to appreciate the entire significance of it all, But now much older, I wanted to share this experience with A. and take a bit of a sentimental journey.
Beginning at noon, the Oriental serves afternoon tea in the Author's Lounge amply named for the number of authors (Joseph Conrad, John Le Carre, Graham Greene and Barbara Cartland, among others) who have stayed at the hotel. Newly renovated, the Author's Lounge is dressed in white with wicker sofas and tables and bathed in sunlight from the glass ceiling.
Keeping with English tradition, I ordered the Earl Grey with lemon and A. tried the Oriental Tea, specially made by Mariage Freres for the hotel. Along with that, we requested for the Traditional Afternoon Tea Set, which elicited oohs and aahs once it arrived. Four tiers of silver platters filled delightful snacks: Traditional and Raisin Scones, Smoked Salmon, Egg, Ham and Cucumber Finger Sandwiches, a Savory Chicken Turnover, a Potted Ginger Creme Brulee, a Berry Panna Cotta Shot, a Soft Brownie and a Refreshing Green Lime and Gin Sorbert.
Having a little tea in this lounge is like drinking a bit of history and remembering a father who showed me the world.

The Blue Elephant at the Orangery Restaurant
4th Floor
Siam Paragon
991 Rama 1 Road, Pathumwan
Bangkok 10330
Thailand
Telephone: (662) 129 4548-51

Delicatezza
351/3 Soi Thonglor
Sukhumvit Soi 55
Bangkok 10110
Thailand
Telephone: (662) 382 2850
The Oriental Hotel
48 Oriental Avenue
Bangkok 10500
Thailand
Telephone: (662) 659 9000
Email: orbkk@mohg.com
LABELS: Bangkok, Eating Bangkok, The Travelling Table