By Guest on 18 October, 2007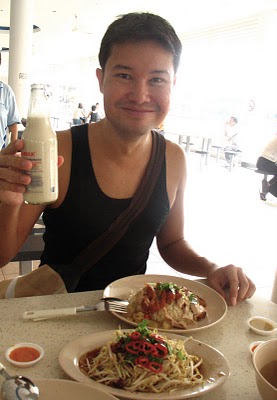 If you're a shopping addict who will happily splurge on a Balenciaga bag, but scrimp on meals just so you can afford this season's Blahniks, head for Tiong Bahru Market for nourishment. This two-floor building has been newly renovated, so don't let the 'Market' part turn you off. The ground floor has a wet/dry market, and by taking an escalator or lift, you get to a clean hawker centre/food court on the second floor. Here you will find various stalls and salespeople enthusiastically hawking (hence the term hawker centre) their traditional Singaporean fare. Take your pick, then cart your food to one of the tables and chairs at the centre.
Initiates to the hawker experience may want to start with the famous and easy to order Hainanese Chicken Rice (pictured with my friend Troy about to tuck in) – your choice of steamed or roasted chicken served on a generous bed of rice cooked in delicious chicken fat, with sidings of sliced cucumbers, chilli and a thick, brown sauce (from S$3.50). Another favourite, albeit cholesterol-drenched dish, is the Oyster Omelette (from about S$3) – fresh oysters tossed around with egg batter and veggies in an oily pan. Prawn Mee (from $3.50), the Singaporean version of pansit palabok, is made with meehoon noodles, juicy prawns and a salty fish sauce. Sqeeze a lime over it, add chilli, and you're a happy camper. Wash down with a tall, icy glass of Coke – instant sebo in your tummy, but hey, you don't do it every day.
For breakfast, I love Nasi Lemak (about S$3). This popular Malay street dish is much like our daing na bangus breakfast served with sinangag rice, egg and tomatoes. In this version, the secret is in the rice, which is cooked in coconut milk, giving the grains a nice creaminess, which is served with fried fish and chicken, fried ikan bilis (which is like dilis), cucumber slices, fried eggs or omelette, and sambal chili paste.
Healthy eaters, take heart. You can order Sliced Fish Soup (from S$3) – a clear soup with slices of white fish, leafy greens and your choice of rice or noodles. If you really are watching the calories, ask them to hold the starchies, and instead to pile on more veggies. You can actually request for less oil in your food from all the hawker stalls.
Don't forget to try the Tiong Bahru Pau – siopao filled with your choice of savoury (char siew pork is kind of like pork asado) and sweet (red bean paste). At 60 cents a piece, this makes for a yummy, portable snack to munch on when you're on your way to your next shopping destination.
Just spray on some Chanel No. 5 after your hearty hawker meal, and you'll be ready to hit Orchard Road in no time.
To get there: Tell the cab driver to drop you off at Tiong Bahru Market. Or take the MRT, and get off at Outram Road, and take an 8 to 10 minute walk to the market.
Franco's Note: Maya Calica, a proud Filipina is the beauty and wellness editor of Singapore based Female Magazine. You can read about Maya's adventures and insights on her blog, Swingapore, Sister!. And just in case you missed it, that is not Maya in the picture. That's her friend Troy. Maya is decidedly more feminine.
LABELS: Singapore, Table Guest, Tiong Bahru Market