By Salamia on 7 October, 2007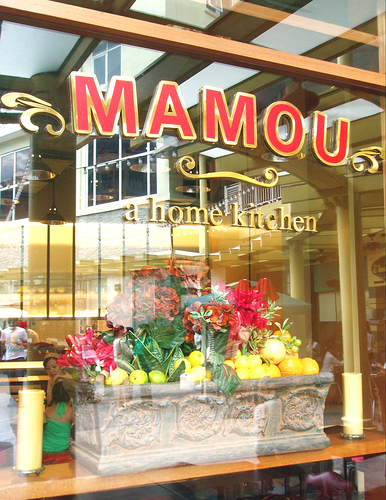 My sister and I had just gotten some shopping done at Market! Market! and were HUNGRY. But it was only 5.30. Everything at Serendra was closed (except for Conti's which was, on the other extreme, full).
Maybe if we sit outside they'll open the restaurant for us
, I suggested, remembering that they did this for me at Mezza Luna a while back, when I was too early for lunch. We made our way to Mamou, only to find the whole place booked! Was there a party, was it closed for one person? No. Just too many people wanting to eat at Mamou.
The friendly waiter, though, not skipping a beat, offered us the lone table at the side outside. And it was still hot. I was about to lose it when … I spotted a fine glass of mojito. Done. Sold. What can I say – I'm easy. But hey. It was a damn good glass.
As I was quite hungry, I followed the alcohol (lol) with soup, trying a funky chickpeas with lamb meatballs. I liked how the lamb stole the show for this filler. Then, while my sister went for basic fish n chips (which she did not like), I had my staple duck (which I liked). Their duck is not sliced. They serve duck drumsticks with red rice that is mixed with chorizo for flavor. It's crispy outside then yummy chewy inside.
I liked the place so much I was back the following week. Around 9.30, I held my breath for a vacant table. Luckily, we found our way to prime seats inside and were brought in by Mamou herself! (Malou Fores, sister in law of THE Gaita Fores). This time I tried a tuyo salad, which is bursting with flavor, the mix of salty tuyo against the fresh tomatoes. Followed by a chicken and pork dish (the only one on the menu) which also achieved impressions of fresh and refreshing. I looked at the menu again and realized the secret must be that the pork is rubbed with some citrus base. Nice.
My date had the steak. But I'd eating so much steak recently that even if it looked gooood, I just had a couple of stolen bites, appreciated the quality, then went back to my pork. Back to the good ol pig.
I was telling a friend about my Mamou experience a few days later. Not to be trumped, he challenged, But have you tried their chocolate sans rival? Ack. I had to go back.
Went back for lunch with good ol momma this time. Again, I convinced her to have the duck (tee hee). I had the sans rival. Yup, me friend was right. Pretty good. And again, Malou was there herself, asking if we wanted iced tea.
Such personalized service is pretty damn impressive. No wonder you need a reservation!
PS Easy to get tired of the menu though. It's a petite selection. They should throw in a few more choices for those of us who've been over two times!
Mamou: A Home Kitchen
Unit 1C-15
Ground Floor, Serendra
Fort Bonifacio, Taguig City
Telephone: (o2) 856-3569
Celephone: (917) 816-2668
Email: mamou@info.com.ph
LABELS: Mamou, Manila, Restaurants, Salamia