By Stitch on 29 October, 2007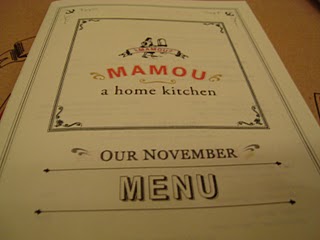 The word "Mamou" first entered my consciousness via that Del Monte ad featuring Panjee (then) Gonzales, who called her grandmother "Mamou". So, when Mamou, the resto, opened, well, thoughts of a young Panjee and Del Monte tomato sauce somehow mixed in my head. I actually never bothered to check what was going on in that little space, and what I encountered when I went in to eat surprised me.

The first surprise was the time limit, if you happen to book the 6:30 seating. Because there is a second seating at 8:30, you will be asked to leave by 8:20. My first reaction was, not surprisingly, "WHAAAT? Dining under time pressure?? What is the world coming to???" Actually, the world, or in this case, Mamou, was coming to New York, where things like set times for dining are actually common. And, to be fair, they do warn you about it when you reserve. You'd be lucky to stay for two hours at some joints in New York; they limit you to an hour, so, looking at it that way, it was fair.

However, the 8:30 seating has no such time constraints. Needless to say, I booked for 8:30. Which was a little pointless since my wife and I arrived at the place at 7:30, starving.
Luckily, our table was already set. I ran into a few friends and what looked like the carcass of a small animal on their table. I asked what was good, and they replied, in unison, "The steak!!" Which immediately set me up NOT to order the steak.
Aside from the fact that I am a nonconformist by nature, I had already heard of the steak and its, well, its goodness, from other people. I also am not a big steak lover, but the chorus of halleluias intrigued me enough to see what else can these people do well.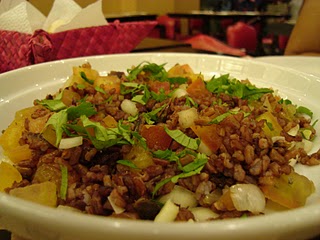 The Tuyo Salad – Salsa meets Tuyo
The menu was, surprisingly small. Given that it was termed "the November menu" led me to think that they rotate dishes monthly. That's actually a good thing; it keeps the food from getting boring. But they could have had a few more items on the menu anyway. We ordered the Tuyo Salad (P 155.00), which was composed of red rice, cilantro, onions, tomatoes, and, of course, the ubiquitous tuyo as our starter. The idea of the salad was actually very good, at once very Filipino and yet also reminiscent of Mexico, especially with how the tomato, cilantro, and onion work together. The firmly textured red rice was also a treat; it held the whole dish together and served as a bridge between the sweet/sour/pungent flavors of the salsa and the saltiness of the tuyo. My one beef was that the tuyo turned out bitter. I'm not sure if it was the fault of it contrasting against the tomatoes or if it was just a smidge overcooked, but the bitterness kept putting me off of what was otherwise a good starting dish.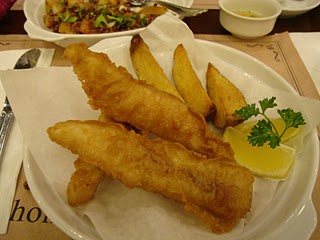 Three Fishes and three fries – kinda wish I had Jesus with me to multiply them.
I ordered the Fish and Chips (P 255.00), which had three potato wedges and three fish fingers. A little small, if you ask me. Oh, and two lemon wedges. Hey, that's part of the dish Too, right? And a little sprig of parsely.
To be fair, the fish was unquestionably fresh and was battered excellently. The wedges, which were all of, oh, a third of a potato, I'm guessing, were also well done. The dish came with a small saucer of tartar sauce and an empty one, where one could pour some malt vinegar to dip the fishes and chips in. A good experience, except that I could have used some more chips. Also, while the tartar sauce made for an excellent condiment to the dish, the malt vinegar seemed to be asking for something more, like maybe some salt sprinkled in the dish itself, just to enhance the contrast the vinegar provides. It was good, I just wish there were more of it.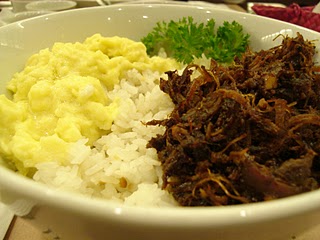 Best, and least obvious, dish of the night.
My wife ordered something that, while very ordinary looking on the menu, proved to be the best dish of the evening. She had the Duck Adobo Flakes (P 280.00), which proved to be a hit, not only in taste, but in quantity. Served in a huge bowl, with some very creamy scrambled eggs, it was simply wonderful. The adobo flakes themselves were slow cooked and fried to a nice crisp. The gaminess one associates with duck was cut by the marinade, leaving enough of a duck flavor to distinguish it from say, chicken or pork, but was mild enough for non-duck lovers to enjoy its distinctive flavor. At first glance, the price may seem a lot for some adobo flakes, but, as I told my wife, this one was the one dish, among the ones we ordered, I would go back for.
As we were leaving, I caught sight of the citrus-rubbed pork and chicken roast, which looked absolutely wonderful in its plate with a side of red rice. And, of course, there was also a serving of their huge steaks getting prepped for delivery. To be fair, the steak looks awesome; its just that steaks don't impress me.
The experience at Mamou was good, but, sadly, not satisfying. This was the verdict my wife and I reached, even as we sat eating potato wedges in another restaurant across Mamou, mulling over what we just went through. Would we go back? Maybe, that roast dish looked promising. But definitely not at 6:30.
Mamou: A Home Kitchen
Unit 1C-15
Ground Floor, Serendra
Fort Bonifacio, Taguig City
Telephone: (o2) 856-3569
Celephone: (917) 816-2668
Email: mamou@info.com.ph


LABELS: Mamou, Manila, Restaurants, Stich