By franco on 6 October, 2007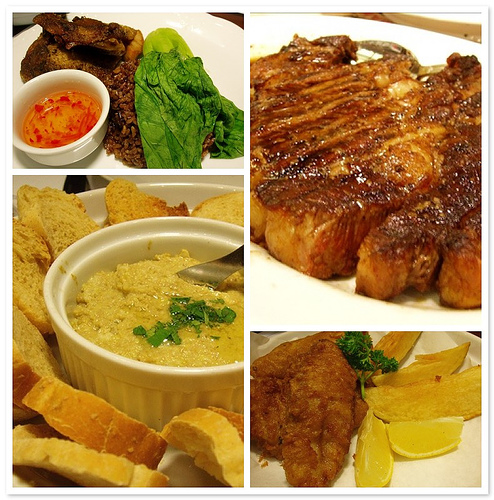 from top left, clockwise
Crispy Roasted Duck with Red Chorizo Rice, Angus Prime Steak,

Beer Batter Fish N' Chips,
Truffle Oil Vegetable Mushroom Dip
As soon as I walked into Mamou, I knew I was going to like this place. Couldn't help it, it's my kind of restaurant–small, comfy and full of people who seemed to be there to enjoying their food and the company of their family and friends. It was a good sign of a great meal to come.
Dining in Mamou is like being invited to someone's home. This is a welcoming place, not overtly sophisticated but there are hints that the owner and gracious host, Malou Fores, has an eye for detail. Here are two examples. For the most part the place is a composition in black and white, white tiled floors with dark, wooden tables but she offset this with bright, primary colors of her red leather vintage-like chairs and vases and wood containers filled with fruits instead of flowers. Also, as A. pointed out, only a woman owner would take the time to place hooks underneath the table for female customer's hand bags. I am told, this is a small but essential detail.
I have heard people complain about the open kitchen as being too loud and/or smokey. In my opinion, I like watching cooks and servers at work. I enjoy the theater of it all. But if you prefer, request for a table by the window or go al fresco to stay away from the drama that is the kitchen.
In an article in the Philippine edition of Town and Country, Malou reveals that her menu finds inspiration in her travels and what her own family loves to eat. Her food reflects this and adds a delicious layer to this comforting establishment. Although she is a veteran in the food industry with her Blue Kitchen retail brand, surprisingly, this is Malou's first attempt at the restaurant business.
Our table started with the
Truffle Oil Vegetable Mushroom Dip, served with Melba Chips (P195)
. I can't say that I loved this appetizer. Honestly, this particular dish was forgettable. Not that it wasn't good but it didn't't really leave much of an impression. But we were starving when it was served and we basically gobbled this starter up.
I'm a sucker for a good duck dish. So without hesitation, I ordered the Crispy Roasted Duck with Red Chorizo Rice (P395). This wasn't best duck I've ever had but I will say that it was fairly satisfying. The skin, as promised, was very crispy but the duck meat was a bit over done. The chorizo-infused red rice was a delightful revelation that I enjoyed so much I tried to recreate it for lunch the next day.

A. ordered the Beer Batter Fish N' Chips (P295). With malt vineger, this golden brown dish of lightly battered fish fillets and thickly cut ranch fries was a delight to mooch from (much to A.'s displeasure). I've had my share of fish n' chips that sadly go soggy and oily even before the first bite. Mamou was clearly the exception. Light, crunchy and well-seasoned, this dish was yummy. Now, if they could wrap it in newspaper, this dish would be good to go.
If there is one dish that you should try at least once at Mamou, it would be the Angus Prime Steak (P1680 for 400g). Served with a choice of side dishes, (we chose the cream and spinach and cream of corn), this steak was the closest I've had in the Philippines to the ideal way to cook a good piece of beef. A well-seared, salty outer layer encrusted a medium-rare, soft and juicy interior. Although the chef served this steak sliced to share, it was so scrumptious that A. and I actually argued about who deserved the last lovely slice.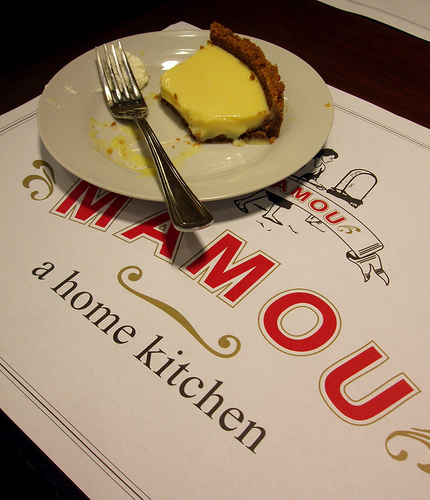 Nothing like a Key Lime Pie Ending


I am not much of a pie guy. So when we got our order of
Key Lime Pie (P180),
I was ready to have the rest of our party eat the whole thing. But with one bite, I changed my mind. Served with a huge dollop of whipped cream, this pie was sublime. The sour of the limes was balanced by the sweetness of the cream and a flaky crust held it all together, making it a pie that anyone (even this not-much-of-a-pie person) would love.
The Mamou experience is like visiting Malou Fores' home. With its warm interiors, attentive staff, delicious food and an ever charming host (she made it a point to visit our table to find out about our experience), it's a visit that I would gladly pay again and again.

Mamou: A Home Kitchen
Unit 1C-15
Ground Floor, Serendra
Fort Bonifacio, Taguig City
Telephone: (o2) 856-3569
Celephone: (917) 816-2668
Email: mamou@info.com.ph
LABELS: Franco, Mamou, Manila, Restaurants