By franco on 12 September, 2007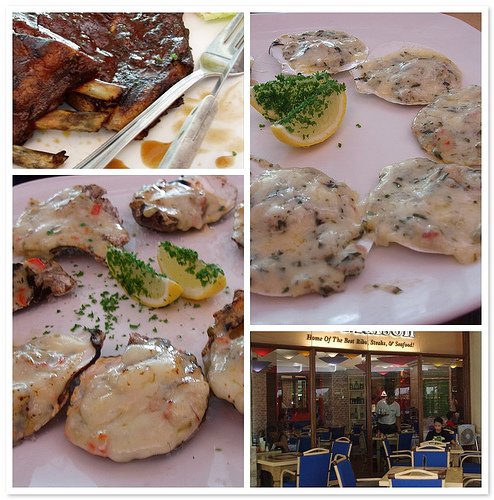 from top left, clockwise
Barkada Ribs, Oysters Royale, La Maison's Exteriors, Scallops Florentine
When you first hear the name,

La Maison,

your mind begins to wander and wonder. French? Fine dining? Food with rich sauces and creams? But it's called The House? So it must be more homey, comforting? A french bistro perhaps? Frankly, I didn't know what to expect for a place called La Maison.

Here is a confession of sorts. I hate surprises. Thus, when it comes to writing my restaurant impressions, I do my research. Yes, I know. By reading other people's opinions on any subject, I could end up tainting my own. But I would like to think that I do know that the opinion of single food blogger doesn't make (or break) a restaurant or that most newspaper food articles sound like glorified press releases. Both media must be read with a grain of kosher salt. Enough said.
La Maison is not a Manila-based original. Established by the husband and wife team of

Ray Alcoseba

and

Marissa Panganiban

, this "casual French restaurant" opened its kitchen in Lahug, Cebu. Due to its initial success, a second branch opened at the Ayala Center Cebu soon after. In May this year, the couple, with the help of their Swedish chef and partner,

Chef Robert Lilja

took a leap and opened their Manila branch at the Ayala Trinoma Mall.

There is a feeling of confusion with the interiors of this restaurant. On one side, there's an attempt to transport guests to a European home and yet on the other, the umbrella ceiling lamps and rattan furnishings bring you back into a more modern Pinoy reality. It's almost like the restaurateurs couldn't decide the direction to take with their restaurant's design.

When an establishment declares that it is the "Home of the Best Ribs, Steaks and Seafood" right outside its doors, in large, bold letters, what you order becomes almost a no-brainer.

We start with their seafood by ordering two appetizers, the

Oyster Royale

(P250)

and

Scallops Florentine

(P290). In my opinion, both these dishes should be immediately renamed. The former Cheese Royale and the latter, Cream Florentine. Why? Because in both cases, A. and I couldn't tell if there actually was any seafood under all that Swiss cheese and spinach cream. Don't get me wrong, it's not that these dishes weren't good (if you like cheese and cream) but I personally prefer to be able to taste the seafood when i order seafood.
Forging on, we settle upon trying their trademarked

Barkada Ribs

(P325). These pork ribs come in three different serving sizes: Regular, Large and Barkada. We chose the regular. When it arrived, we were shocked by the size of it. This is smallest?
In front of us was a 400 gram slab of charred, barbecued meat. Cutting into this side of ribs, the meat seemed to slide off bones quite easily. A good sign. Not surprising, these ribs taste honey sweet with hints of chili heat. Although, my tastes run toward more spicy flavours, I imagine that most barkadas would devour these ribs with much gusto.


A notable grace of this restaurant is the service. The waiting staff from the very moment you enter their establishment are prepared to serve. They are courteous, attentive and fairly knowledgeable about their restaurant and food they serve. They were never overtly hovering or obtrusive. The La Maison's service was above satisfactory.
From the food to the interiors, La Maison attempts to make the fine dining experience more accessible and affordable. The restaurant's desire is to bring French inspired cuisine to a clientele who would not normally want or need to eat in an expensive and intimidating French brassiere. This goal although admirable does have its failings. By pandering too much to conventional tastes, the primary ingredients that make a memorable dining experience are lost in deluge of over sauced dishes and misaligned interiors.
Would I return to La Maison? For now, as a personal preference, I think I'll be running away from home.

La Maison
2nd Level
Ayala Trinoma Mall
North Edsa, Quezon City
Telephone: (02) 916 6351
Telefax: (02) 916 7069
Ayala Center Cebu
Ayala Food and Entertainment Center
Cebu City, Cebu
Telephone: (032) 415-7077 to 78
LABELS: Franco, La Maison, Manila, Restaurants