By Stitch on 25 September, 2007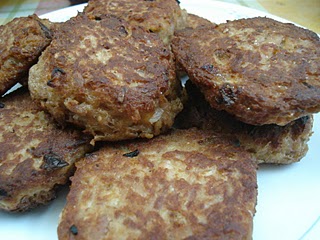 In the spirit of contributing things that may or may not look good, I have a recipe that I think anyone can do in a pinch (which I usually am in anyway). Here's what you need:

Tuna Burger Patties
makes 4

1 184g can of tuna in brine or water (preferably in chunks)

1-2 teaspoons of garlic salt (available in the spice section of the grocery)
1/2 white onion (medium), diced

4 cloves garlic, chopped finely

1/2 cup of unseasoned dry bread crumbs

1 egg, beaten
In a bowl, mush up the tuna chunks until they are, well, mushy.

If you want, to mellow the taste of the onions and garlic,you can sweat them lightly, Set them aside to cool. Add them to the mushy tuna and mix.

Add the bread crumbs, then the garlic salt, then the egg. Mix until you have a hamburger-like mixture.

Form into patties and fry until nice and golden brown.
They go really well with ketchup,
chili
sauce, or honey mustard
sauce
. Sometimes, I add things like
parsley
or
Parmesan
cheese to change the flavor, but the basic recipe is the one above. Oh, and if you want a little New Orleans Crab Cake thing going, add mayo, about a tablespoon. Basically, it's something that has plenty of possibilities for customization so knock yourselves out.
Did I mention they're yummy too? They are.
Have fun!
LABELS: Stich, Table Recipes, Tuna Burger Patties