By franco on 22 September, 2007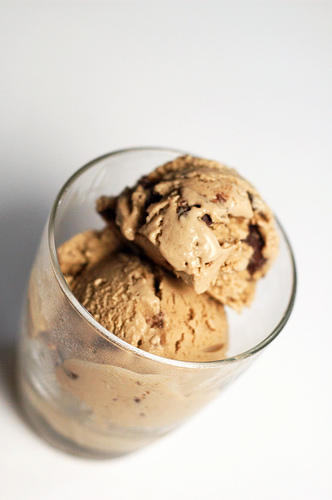 It's been seven months.

And in those the seven months online, we have not sauteed, baked, grilled, broiled, poached or even microwaved a damn thing. How exactly can you call yourself a food blog and not do the one thing that I think every food lover should at least try once in their life? So here it is. Table for Three, Please cooking … or at least, making dessert.

I have documented on this blog that I am obsessed with ice cream. Mostly because of a kitchen toy A. and I received as a wedding gift, a
Cuisinart Ice Cream Maker
(Many thanks to A and M). This matte, stainless steel rectangular box of ice cream making goodness has changed the way I view the ART of making ice cream. So much so that I have made up the

Ice Cream Purchasing Rule:
Do not buy what you can make yourself.
In short, if the ice cream does not live up to a standard of what I can readily make at home, don't bother even looking at it.

Yes, I am officially an ice cream snob.

But trust me on this. If you knew what I know about how ice cream is made by most mass market brands, you would start making your own ice cream too.

Couple of days ago, I decided to gift a friend of mine, E. with a tub of ice cream. But what flavor to make? Well, E. likes Toblerone and his girlfriend loves coffee. So why not make a coffee flavor ice cream with boat load of Toblerone chunks. And to make a bit more interesting, I decided to make it a custard based ice cream instead of an all cream ice cream.

Coffee Ice Cream with Dark Toblerone Chunks
Adapted from the Cuisinart Website


2 1/4 cups of whole milk

2 1/4 cups of heavy cream*

1 1/8 cups of granulated sugar

3-5 tablespoons instant espresso powder

3 large eggs

3 large egg yolks

2 teaspoons vanilla extract

7 ounces

Dark Toblerone, chopped

* You can subsitute this with whipping cream, if you like.
Combine the the sugar,whole milk and heavy cream in a saucepan over medium-low heat Bring to simmer and stir until the sugar dissolves.

Combine the espresso powder, eggs and egg yolks in a medium mixing bowl. With a hand mixer, beat until it has the consistence of mayonnaise.

Measure out 1 cup of the hot cream/milk mixture. Using a hand mixer on low speed, fully incorporate the cup of hot cream mixture into the egg mixture in steady stream.

When completely incorporated, pour the egg mixture back into the saucepan with the rest of the cream mixture and stir to combine. Over medium-low heat, cook and stir constantly until mixture is thick enough to coat the back of a spoon.

Strain the mixture into a bowl. Stir in the vanilla extract. Cover with a sheet of plastic wrap placed over directly on the custard and refrigerate until completely chilled.

Once chilled, pour the custard mixture into the ice cream maker's freezing bowl. Freeze the custard mixture according to your ice cream maker's instructions. Minutes before your ice cream begins to resemble a soft serve ice cream, slowly add the chopped Toblerone and let it mix in completely.

The ice cream will have a soft, creamy texture. If a firmer consistency is desired, transfer the ice cream to a airtight container and place in a freezer for about 2 hours. Remove from the freezer about 15 minutes before serving.
Makes about 14 1/2 cup servings
The end result? A very velvety smooth coffee flavored ice cream, balance out by crunchy chunks of bitter sweet chocolate goodness. Simple, sophisticated and just plain delicious.

Many thanks to Erik Lacson for the photograph
LABELS: Coffee Ice Cream with Dark Toblerone, Franco, Table Recipes