By franco on 15 September, 2007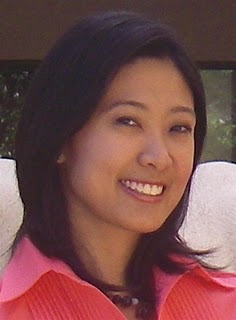 It started with a craving for Tsokolate Eh. While living with grand aunt, Nana Meng,

Margaux Salcedo

decided that her tsokolate was too good not share with rest of the world. From selling at bazaars, now

Nana Meng Tsokolate

is sold in two mall kiosks at the Salcedo Market every Saturday. A journalist, a lawyer, a food writer and now an entrepreneur, Margaux is helping keep a Pinoy culinary tradition alive and with her weekly column, (in the Sunday Inquirer Magazine) promote this country's culinary future.
Of all the things you could write about, why food?
Letty Magsanoc, EIC of Inquirer, made the decision for me. I actually wanted to write about politics/economics and government. I majored in economics and history in college and have a JD from Ateneo so I was hoping to go in that direction. My favorite columnists are Cruz, Monsod and Doronilla. The legacy I wanted to leave (when I was a college dreamer) was a contribution to government or (don't laugh) "nation building". Unfortunately, I don't think I give off a very serious vibe. I giggle too much. So I was typecast into the lifestyle section. Except I refused to write about events or beauty products. So LJM said, "Food. Would you like to write about food? We're looking to train someone to become the next Doreen." My eyes went thyroid-big in excitement when she said that and I said yes in a heartbeat, even if I knew no one would
ever
be able to fill those shoes. I said I'd at least try. Besides, I'd always loved Julia Roberts' role in My Best Friend's Wedding. And I love to eat out.
Who are the food writers that inspire you?

Doreen Fernandez, of course. I had been doing bits of food writing for Global Nation of Inquirer before joining PDI print and contributed pieces on a couple of restaurants and chefs but the first
real
piece I did about food was for the Doreen Fernandez Essay Writing Contest. The competition required sources and a basis for your statement and it was then that I realized that food writing could be serious business. I wouldn't have realized that without reading DF's books. After seeing through her works the great lengths she would go through to explain food, I gained a respect for food writing that has kept me inspired since.
Of current writers, I love the way the Tayags write. Both Claude and his darleng Mary Ann. I also love the way Myrna Segismundo injects humor into her stories. Among the foreign critics, I'm a [Frank] Bruni fan, even if others dislike him for being too harsh. I like his humor – borderline sarcastic but not overboard. There's also Ruth Reichl. Who doesn't love Ruth Reichl? I also like the way Time Magazine's Leisa Tyler elaborates on her subject's cultural background and history, although she doesn't limit her writing to food. I think this is how DF would have envisioned real food writing to be because like art, food is a reflection of culture.

You have your own food blog, Margauxlicious, but what are your favorite food blogs?
I would NOT put my blog among anyone's favorite food blogs haha. I really don't know where bloggers get the stamina to maintain their blogs so I have tremendous respect for you guys. Non-Pinoy faves: I'm a big fan of
Chubby Hubby
and his wife S,
Chez Pim
,
Rasa Malaysia,
Tiger and Strawberrries
and
101 Cookbooks
Dito, Table for Three, Please,
Wysgal's Rant and Raves,
Tennis and Conversation
,
80Breakfasts
,
Ramblings from a Gypsy Soul
,
Market Manila
, Anton's
Our Aweswome Plant
… naku, lahat na!
Why did you decide to bring your Nana Meng's Tsokolate to the world?
We have three people to thank: Nana Meng [her maternal grand aunt], my mom and Lala Ticzon, one of my best friends. I lived in Bulacan in 2003 and Nana Meng just fed and fed and fed me. I really got quite addicted to the tsokolate. I honestly would have it at least twice a day. In the afternoon I'd also add in a bit of coffee. And I'd have it with pandesal and kesong puti. Still do. Christmas 2003, Lala was into bazaars, selling children's clothes. I didn't want to sell
clot
hes
. To begin with, I don't even go shopping for
myself
. (I'm the kind who owns only two pairs of shoes and jeans until they wear out.) But I had been toying with the idea of branding the tsokolate and thought the bazaar would be a great opportunity to test the market. So my mom helped me out, since she and my Tita Cory had been bottling it and giving it away as a Christmas gift since maybe 1998. We joined the Angels Bazaar at Makati Sports.
Mila
was our first customer and we've been selling the tsokolate since!

Of all products you sell at your shop, which do you love to eat/drink the most?

You throw tough questions, my friend…Among the hot drinks, I would have to say…the
Tsokolate Eh.
Because it's the hardest to cook. And it's really way different from the tsokolate eh of other shops, even if I have to say so myself. It has egg, though, so for those who are allergic, be warned. If I had to buy a bottle though and make it at home, I would choose the
Special Cashew Tsokolate
because it's easy to cook and you have that hint of cashew in your tsokolate. Among the cold drinks, I like the
Tsoko Nana Banana
, a chocolate banana shake. To eat…I really love all of the Bulacan delicacies. If I had to choose though…it would have to be the
Cassava Leche Flan
. I like its texture and I have a sweet tooth!
Which restaurant meal (foreign or local) do you remember the most?
Well, on assignment, I tried dog stew at an obscure Korean restaurant near Rockwell once.
Name your top five restaurants in Manila. Why are they your favorites?
Top of mind,
Lolo Dad's
for French,
Tsukiji
for Japanese,
Li Li
for Chinese,
Bistro Filipino by Chef Laudico
for Pinoy, and
L' Opera
for Italian. Good food, good service, good setting and chefs/restaurateurs who take their food seriously. Out of town, of course, would be a different list.
My personal favorites though, are different. I'm much less high brow. My faves would be Cosa Nostra, Mati, Uva, Ziggurat and Apartment 1B. Reasons would be coziness, great service, and menu variety. And for Apt 1B, the coffee, eggs benedict and (hehe) free wifi! No more Mati and Uva now though, boo hoo…I'd probably replace these with Akitaya on Milelong and Abe in Serendra.
What junk food do you love?
Pizza! Four or five cheese. And ice cream. Chocolate or strawberry. And popcorn. Microwavable salty popcorn. And fries. And cheap chips like Chippy—red, none of those new bastardized flavors—and Clover—barbecue. And chicken chicharon!

Is there a food you just can't seem to enjoy?
Ok, here's the big confession: I don't like white chocolate.
You have done so much: broadcast journalist, lawyer, entrepreneur and even, congressional candidate. What's are the future plans of Margaux Salcedo ?
I don't know…maybe Hollywood? Lol. My lips are sealed…also because I'm chewing. 😉
Nana Meng Tsokolate
3rd level
Glorietta IV
(Near Food Choices)
Market!Market!
Activity Center
(Near National Book Store)
Salcedo Saturaday Market
(Facing Leviste Street)


LABELS: Margaux Salcedo, Nana Meng Tsokolate, On The Table