By Stitch on 30 September, 2007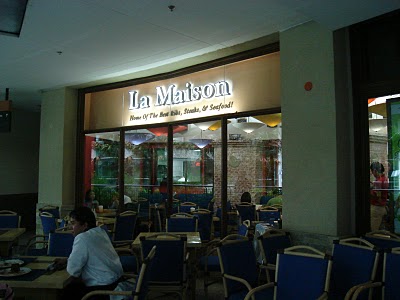 The journey to someone's house is usually very simple and straightforward, as are most homes. The journey to La Maison (that's "the house" in French), however, takes one through the guts of the Trinoma Mall and through that lush garden/rainforest thing they have set up in the fine dining area, wasn't. After parking and figuring out where the restaurant area is, I being a newbie to Trinoma mall, ended up going the longer way to get to the restaurant, enjoying a short tour of the mall in the process. It didn't help that it was cold and I drank a lot of water before going but that's another story.
When we finally got to the lush restaurant area, with the plants and shooting fountains, we were greeted by the neon backlit sign announcing that La Maison was, "the home of the best ribs, steaks, and seafoods". Hmm.

I must confess, my hackles go up anytime anyone announces themselves as the best at anything. Including myself.
But, moving on, we sit down to a nice little table near the door, where I am instantly confused by the interior. There are brick walls, a set of blackboards announcing the specials, a display case with Toblerone inside, and another area with…palm trees? Oh, and there are upside down umbrellas hanging from the ceiling. Here, look.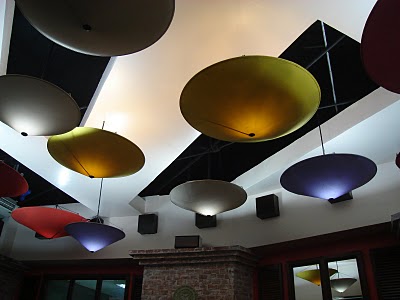 Oohkaay. What is this place really?
It took me a couple of seconds to settle in. The name really does confuse. It's French, hence, associations with fine dining, waiters with thin mustaches and, if you saw the movie, cooking rats. But the decor, the dress of the waiters, and the general atmosphere of the place reminds one more of Fridays than, say, Je Suis Gourmand. Remove the name, however, and what we actually have is a casual dining restaurant from Cebu that did quite well for itself over yonder and decided to open up shop here. (See Franco for more details.)
With the French biases removed, we proceeded to the denim covered, buttoned menu. There are actually a lot of choices, from soups and salads to entrees and pasta. What interested me in particular, however, were the grilled dishes, with their varying serving sizes. Barkada sized meals are a good idea for any restaurant that wants plenty of diners, since Filipinos love to share meals. And, from what we've heard, the servings here aren't for the weak at heart.
But, since this time there were only two adults and a four year old, we decided to order simply.
Oh, they also supplied us with a loaf of bread and some balsamic dip. Cute, not terribly original, but cute.
The bread was unremarkable, but it can take the edge off when starving. As for the balsamic and olive oil dip, well, it was also OK, but nothing really great.
We ordered two regular dishes. The Dover Sole (P 275.00) and the Braised Baby Back Ribs (P350.00). We also got two orders of garlic rice, which set us back another P 90.00.
How was it?
Ok, Dover Sole first. It was lightly grilled and served with hollandaise sauce, I think. It was nice and delicate, the fish was cooked and seasoned just right, since sole is a rather delicate fish, I was glad they didn't salt the heck out of it. The sauce, however, was invisible.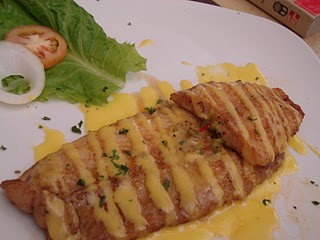 For some reason, all that yellow stuff couldn't register on my tongue. It didn't really take anything away from the dish, but I had the feeling that the dish could have gone well without it. The execution of the dish couldn't be faulted, really, except that it wasn't delivering the experience I was hoping for.
And for garnish, they have a leaf of lettuce, an onion ring, and a slice of tomato

???
Maybe they'll do better with the meat.The braised baby back ribs were indeed nice. They cooked the meat well and the braising was able to prevent the meat from drying out in the grill. It was tender and tasty, so how come I was left wanting something else? Was it the honey-chilli dip? Oh, which my wife loved because it tasted like Cow Label.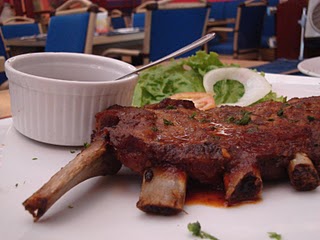 That's right, you heard me, Cow Label. Doesn't inspire, does it? Oh, pay close attention to the pic above, and you'll see the same lettuce, onion, and tomato garnish. And the leaves all over the place I think is parsley. It's like it snowed parsley, actually. It was everywhere.
So, there was something amiss.
What was it, really? Their service was very good, with waiters that actually looked like they knew what they were doing, and liked doing it. The serving sizes were very good, the regular sized dishes, which we ordered, were plenty for us, I can only imagine how much more the larger servings would be. The dishes themselves were executed well, plated with only slight minus points for the micro-salad and the parsley blizzard. So, what was bothering me about it?
Two things, actually, stood out. One was, it was pricey. Yes, the servings were large and the dishes not commonly found elsewhere, but it felt pricey. Like it wasn't enough value for the amount of money being asked for. The other one was the fact that when there are claims to be things, like being French and being the best, my benchmark immediately goes up. And the thing about that is, unless I'm dazzled, I will almost definitely be nonplussed. Which is what happened here.
Is it good, then? Well, yes and no. It's a good dining place for large families or groups of friends looking to have something that is a little better than your common grill fare. My suggestion is to forget the associations with the name and go there instead with the mindset that it's a Filipino restaurant doing some interesting things. Because that's what it actually is. I think, with that in mind, its actually quite interesting and can be a great place to eat in.
Just remember however, it ain't French.
La Maison
2nd Level
Ayala Trinoma Mall
North Edsa, Quezon City
Telephone: (02) 916 6351
Telefax: (02) 916 7069
Ayala Center Cebu
Ayala Food and Entertainment Center
Cebu City, Cebu
Telephone: (032) 415-7077 to 78
LABELS: La Maison, Manila, Restaurants, Stich