By franco on 29 August, 2007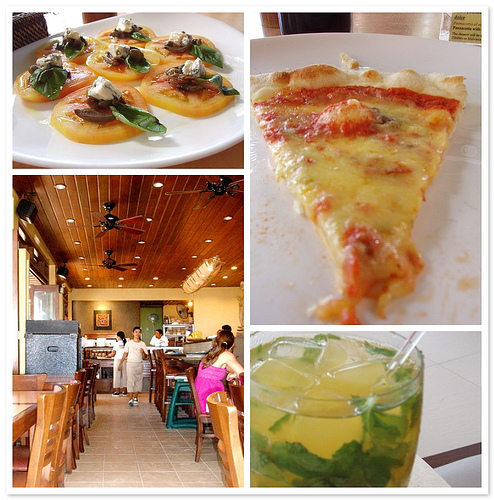 from top left, clockwise:
Insalata Mediterrano con Gorgonzola from Aria,
Napoli Pizza from Aria,
Passion Fruit Mojito from Sands Restaurant,
Interiors of Aria
A and I have not been to Boracay for a few years now, almost five years to be exact. It's not that we didn't like the place. But over time (and advancing age), we were getting tired of the party scene and high prices that Boracay was slowly becoming infamous for. But since our friend, M. would be in Boracay around the same time and the prices would be relatively lower (given the off-season), we decided to take a break from city and visit one of most beautiful beaches in the world once again. But this time, it would be a Boracay trip with a difference–less about partying and more about spa treatments and good eats.
Over the past few years, Boracay scene has changed. Some say for the better. Some for the worse. But one thing is undeniable. The options of what you can eat on this little island has never been so diverse. From turo-turo (cafeteria style) restaurant at D' Talipapa to chi-chi fusion dining at a hotel restaurant, food lovers have it great along these powdery white shores.
My list below was not about discovering new places but visiting the tried and true. Given our limited time, we wanted to visit restaurants and cafes that have established themselves as places one should not miss on a trip to Boracay. After talking to a couple of fellow bloggers, I packed my bags, pulled out my flip flops and shorts and prepared myself for a culinary journey.

Aria As soon as we arrived, we made our way to D'Mall, to eat at a small Italian restaurant called Aria. A bit of Boracay landmark, Aria is famous of its salads, pasta and pizza dishes. Not to mention, it's the perfect place to take in the beach scene and people watch. We wanted to try the famous watermelon and arugula salad, but because of the strange weather lately, arugula had been in short supply. So instead we started with the Insalata Mediterrano con Gorgonzola: sliced tomatoes topped with anchovies, olives, basil and Gorgonzola. Next, we tried the Napoli Pizza. A pretty basic pizza topped with Mozzarella cheese, garlic, tomatoes and anchovies. Overall, the food (along with a couple of cold beers) was simply excellent.
True Food Five years back, A and I stumbled on this Indian restaurant. We loved it. So when dinner with M. rolled around, the choice of restaurant of the evening was a no-brainer. With its low dining tables, large yellow and fuschia throw pillows and Bollywood techno background music, this place has a strong Indian/Bohemian vibe. No experimentation here, we order dishes we knew and loved. We ordered bowls of Moong Dal and Palak Paneer, which we scooped up with our orders of Chapati Bread. A lovely starter. But the winners of this meal, were the Chicken Tandoori and Aloo Palak served with a steaming and fragrant bowl of rice.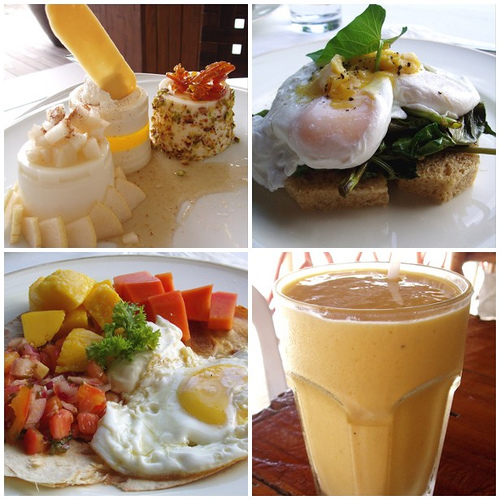 from top left, clockwise:
Panna Cotta Heaven from Sands Restaurant, Eggs Florentine from Prana,
Banana-Mango Milkshake from Jonah's, Huevos Rancheros from Prana
Prana On this trip we were billeted at the Mandala Spa and Villas. Thus, it was only natural that we would have several meals at their restaurant, Prana. A word of warning. The food served at Prana doesn't contain meat, of any kind. Not vegan in the strictest sense, this restaurant still serves dishes with eggs, milk and milk by-products. Breakfast was combination of a buffet of fruit, cereals and breads and choice of dishes from their breakfast menu. We enjoyed their Huevos Rancheros and the Egg Whites Omelette with basil, feta cheese and tomatoes. But I had mixed feelings about their take on French Toast and Eggs Florentine sans the smoked salmon. Dinner was another matter completely. It was not because the dinner menu was tasteless. In fact, we both enjoyed Prana's Broccoli Soup. But being the devout meat eaters, I believe we suffered from a case of red meat withdrawal when they served the main course (curried rice surrounded by sauteed vegetables). I think I will be holding off on going vegan for a while.
Jonah's Here is a simple equation. A golden sunset + a beautiful, powder white, sandy beach + a cold Jonah's Banana-Mango Milkshake = Nirvana. This milkshake is that fantastic. That's why no matter what you do in Boracay, you must pass by this Boracay institution and get one of these heavenly milkshakes.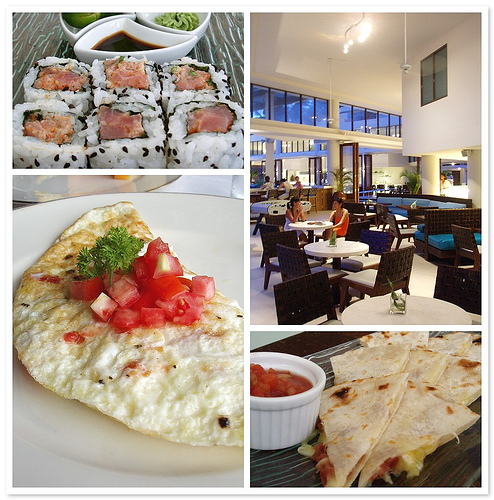 from top left, clockwise:


Spicy Tuna Makimono from Sands Restaurant, Interiors of Sands Restaurant,
Boracay Quesadilla from Sands Restaurant,
Egg Whites Omelette from Prana
Sands Restaurant The Discovery Shores is the latest ultra-hip property of the Discovery Group in Boracay. Their restaurant, the Sands, is modern, minimal and makes you feel like you are in Miami's South Beach instead of the shores of Boracay. I'm not particularly fond of hotel restaurants. But because my last experience at a Discovery restaurant was suprisingly excellent, why resist the chance to sample what Chef David and his team have created? On our intial visit, we decide to have some pre-dinner cocktails. We order the Passion Fruit Mojitos. Good but not as refreshing as we expected it to be. Feeling a bit hungry, I decided to try the Sands version of a Restaurant Verbena classic, the Panna Cotta Heaven. Compared to the Tagaytay version (which was nothing short of heaven), this Boracay attempt was quite disappointing. We decide to visit again the next day, this time for lunch. Their Boracay Quesadillas filled with mozzarella cheese and diced longganisa was served with a tomato salsa. This localized version of a Tex-Mex standard was fantastic. Next, we tried their take on Japanese favorite, a Spicy Tuna Makimono. It was simply the best dish of our Sands experience.

Cyma Before its successful arrival in Manila, Cyma was small Greek eatery in Boracay. Tucked away in a corner of the D' Mall, this restaurant was not only resoundingly popular in Boracay but eventually in Manila as well. I love Cyma so visiting the original branch for me was a must. Ordering the Htipiti, a dip of feta and cream cheeses, spicy roasted peppers and EVOO with side of pita bread, got us started. Immediately after, we were served a Steaming Bowl of Mussels which A. almost devoured single-handedly. As for me, my Cyma dreams revolve around their Lamb Gyros. Even now, just thinking about makes my mouth water. Hands down, our lunch at Cyma was our best meal on the island.
Real Coffee With a couple of hours left in a Boracay vacation, it begins to rain. Escaping the sudden downpour, A. and I find refuge in a small, rustic shack called Real Coffee. Located behind Hawaiian Barbecue at Station One, we decide to warm up with cups of Real Coffee and an delicious discovery, the Calamansi Cake. Dense, moist and with a distinct sweet-tart calamansi flavor, this little cupcake was so good that we were considering staying longer or at the very least, packing a dozen for the long trip home.
Many thanks to ChichaJo and Wysgal for the restaurant suggestions. To A. for putting up for me being a food paparazzi while on vacation and a much-delayed thank you to M, the queen of the blurb for giving this blog its tagline.
LABELS: Boracay, Boracay Eats, Restaurants, The Travelling Table