By franco on 5 August, 2007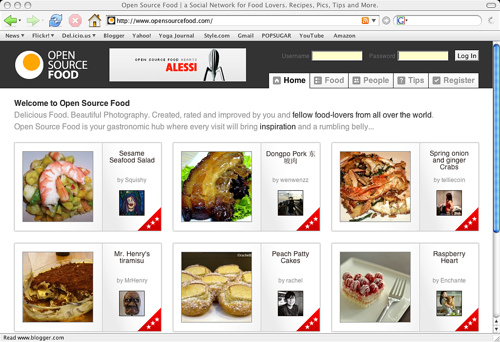 I admit it. I am a food geek.
I'm the kind of person who reads cookbooks like how other people read fiction. I love scanning from page to page, taking it all in. As I look at pictures and read through recipes, I imagine the amazing menus I can create for the next family dinner. It's sort a running joke that if my wife loses me in the mall, she can find me in one of two places: the produce section of the supermarket or cookery section of a bookstore. I consider Iron Chef, Top Chef and Hell's Kitchen the height of television entertainment.
From cooking to eating it. From taking photos of it to reading about it. From talking about it to watching food shows. Yes, I am obsessed with food in all its dimensions.
Needless to say, my love of all things culinary has even found its way to what I surf for on the web. Besides the myriad of food blogs and websites i visit on regular basis, I also enjoy just riding the wave of links and recommended sites, just to see where they'll take me. Sometimes, you can get lucky and find food gems along the way. One of my favorites at the moment, is a site called Open Source Food.
And who better to tell you want Open Source Food or OSF is than its creator, Jon Anthony Yongfook Cockle.
"Open Source Food is a place to show off, a place to learn and a place to get motivated about food and cooking. It is a platform for sharing recipes, improving upon them, and looking at lots and lots of sexy food pics (and sexy pics of the people who cooked the food…).

On OSF you can upload recipes with pics, rate other people's recipes according to originality, presentation and overall yumminess, use drag & drop to create original menus from any combination of recipes on OSF, get a blog widget for your blog that shows your last 10 recipes in a beautiful slideshow, and other tantalising features. It's a social celebration of food for the new web."
Personally, I'm really not into social networking sites like Friendster or MySpace but this food-based community site speaks to my inner foodie. It's like Flickr with recipes.
For all the denizens of the Web 2.0 out there, this is truly our communal cookbook.
LABELS: Open Source Food, Table Suggestions