By franco on 15 August, 2007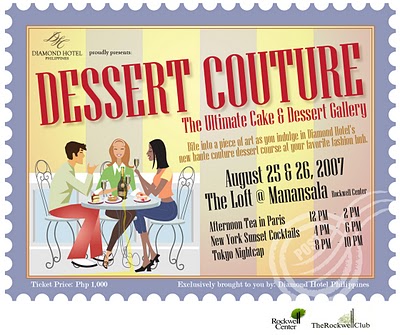 From August 25 to 26, 2007,
Diamond Hotel
and
The Rockwell Club
will be hosting an event called
Dessert Couture
.
Before you dismiss this as another frou frou fashionista party, read on…
Indulge in Diamond Hotel's new line of desserts designed by the celebrated pastry chef, Mr. Pang Kok Keong of Singapore, who was crowned Cacao Barry Pastry Chef of the Year 2007 at the World Gourmet Summit in Singapore.

Enjoy overflowing champagne while relaxing to live entertainment. Witness The Loft at Manansala transform into Paris, New York and Tokyo!

Also, get an exclusive preview of Diamond Hotel's upcoming dessert delivery and catering service. Exciting giveaways also await lucky gourmands!

This two day, dessert banquet will put you back by Php1000. If you are lucky enough to be a Rockwell Club member (or know someone who is), you can avail of a 20% discount on the ticket price. You can get your tickets at the Diamond Hotel or The Rockwell Club.
Event proceeds will go to Pathways for Higher Education. Admittedly, I'm not much of a dessert person but even I'm having a hard time passing on this.
For more details and inquiries:
call: 897-8310 local 7403
visit: www.therockwellclub.com
Many thanks to Irma for sharing the information.
LABELS: Dessert Couture, Table Suggestions