By franco on 8 August, 2007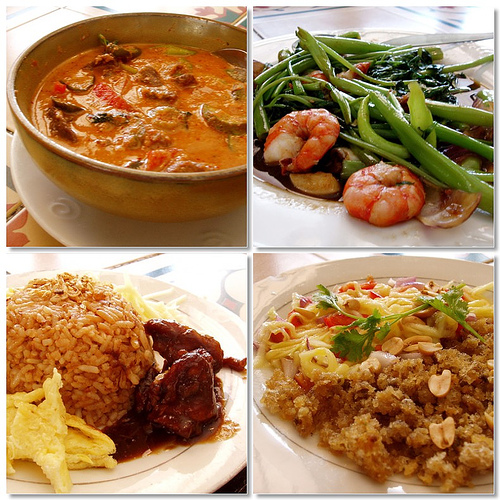 From top left clockwise: 1. Beef Red Curry 2. Pak Boong with Shrimp
3. Bagoong Fried Rice 4. Catfish Salad
There was period of time earlier this year that A. and I attempted to go to Soms Noodle House's Alger branch.
Many, many times. Sadly, without any success.
Since there are so few tables at their 'al fresco' branch, you either had to come alone, eat at the oddest hours or buy take-out and eat in your car. None of these options we found particularly appealing. Eventually, we would give up trying and settled on eating at North Park instead (no offense to North Park lovers. I love North Park but that's another post).
Until one day, our dear friend, The Goddess or T., for short, shares a little secret. Soms has a second branch. It has a roof and more importantly, it has air conditioning. We were so there that afternoon.
Don't expect much from the looks of the place. The exterior of Soms is practically forgetable. As for the interiors? I have a theory that this hole-in-the-wall that is now Soms Noodle House did not start out as such. The orange-mustard walls with faux exposed bricks, oversized speakers and centrally located bar make the place feel more like a low-end karaoke joint than a Thai restaurant (People's Palace it's not). As we enter the restaurant, it is almost full. A good sign. But it becomes quite obvious no one's here for the romantic ambiance. Customers' voices echo off the walls and Eat Bulaga blares from the television near the bar. With little chance of a decent conversation, at least I learned that Tito Sotto is back in showbiz (at least, he has a fallback).
First at the table, the
Yum Pla Dook Foo
(P150)
or
Catfish Salad
.
Shredded catfish is fried, mixed with a green mango salad and served with a lime-chili dressing. This salad was good but not exceptional. Sadly, for the price paid, the saucer-sized portion served was less than satisfying.
Twenty minutes later, our food finally came in quick succession. Another commonly ordered dish the Khao Khluk Kapi(P95), also known as Bagoong Fried Rice, is served with scrambled eggs and chunks of stewed pork. The server will tell you that a single potion is only good for one but in our opinion, one order is more than satisfying for two. Just get more if you want more. This side dish was well done and so filling that we could have eaten it by itself. Obviously, we didn't.
I love Water Spinach, more commonly known as Kangkong. That's why ordering the Pak Boong with Shrimp (P110) was a no-brainer. This stir-fried dish of water spinach, garlic, ginger, chilis, oyster sauce and of course, shrimps is a quick and tasty way to fulfil your veggie needs. Praise the cooking gods that the kitchen did not overcook the spinach or drown it in oyster sauce. The dish may be simple but if not done properly, it can so easily go wrong. This one was just right. "I could eat just this," A. said, gobbling up her Pak Boong and Bagoong Rice. If you have concerns with crustaceans, they do serve Pak Boong without the shrimp.
In my opinion, the star of the meal was the Thai Red Beef Curry(P102). Soms provides a choice of curries, differing in colour (red, green or yellow) and meat (beef, pork, chicken or shrimp). Selecting a red curry was a bit departure for A. and me. We tend to go for the green or even yellow Thai curries, using chicken as our meat of choice. But because everything else we ordered was pretty much standard fare, we decided to try something new. The choice was far from disappointing. From the very moment it hit the table, the air around us was filled with curry goodness. My mouth literally watered from its fragrant scent. This curried stew of thinly sliced beef, eggplant, tomatoes and red peppers can be described in one word : sumptuous. My only complaint, we were left wanting more beef.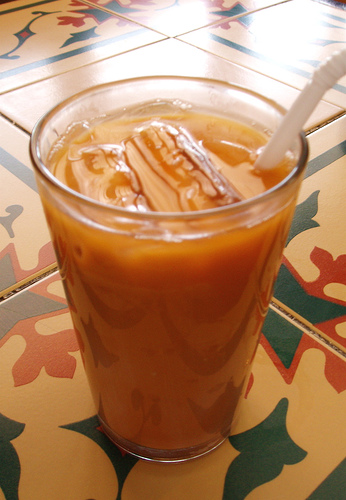 I would like to make special mention of Soms' Thai Ice Tea (P30). It's a simple concoction of water, black tea, condensed milk, sugar and some other unidentified spices. Their tea was surprisingly excellent. I don't know if it was the heat of the room or the spice of the food but this tea was so sublime that we had far more glasses of milk tea than we should. This must- order drink literally saved me from passing out in a pool of sweat. (The airconditioner T. mentioned seemed to be just for display purposes).
The look of Soms Noodle House along N. Garcia are a step up from their Alger branch but not a much higher step. But as is the case in places like this, people come for the food and the food does not leave you wanting. Thai food is always about creating a balance of taste. The salty with the spicy. The sour with the sweet. Achieving this distinctive juggling act of flavors is the mark a truly excellent Thai cooking. Yes, there are fancier Thai restaurants in Manila and some are actually quite good. But because of the very reasonable prices and flavorful food, I am willing to take the heat (and the faux exposed bricks) at Soms. Just in case, make sure to keep the ice teas coming.
Soms Noodle House
766 N. Garcia Street (formerly Reposo)
Barangay Valenzuela
Makati City
Telephone: (02) 729-7489
5921 Alger Street
Barangay Poblacion
Makati City
Telephone: (02) 757- 8079
Cell phone: (0917) 992-7648
LABELS: Franco, Manila, Restaurants, Soms Noodle House