By Stitch on 20 August, 2007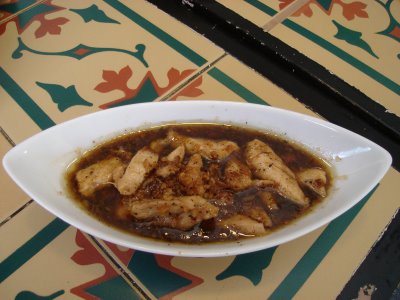 Soms Noodle House

has gained quite a following, at least among the people I know. That was enough to spur my curiosity about it even before we decided to feature it on the blog. Of course, the issue of actually finding the place proved to be trickier than I thought, particularly since I never did find the Rockwell branch and I kind of blundered into their Reposo restaurant. I was, however, impressed with my first trip and decided to do a second, proper, one, with my faithful wife and son in tow.
Still nearly blundering past the place, since for some reason the street sign seemed to deflect rather than attract attention, we returned. And my hopes for the looks of the place actually improving went out the painted windows.
The place is very… orange. It's like opening the door and walking into a bowl of very well colored kare kare. With little brown faux bricks on the walls. That said, I found the tables of the place to be quite charming, with their tiles and floral whatever-you-call-them on it. So, one comes here for the food. Screw the ambience. Unless, of course, swimming in kare kare is your thing.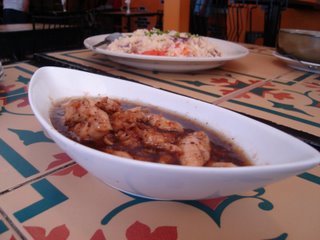 Aren't the tables charming? Someone, please agree.
One thing interesting, though, is the menu. It's cryptic. Kind of like a codebook for those who are really hungry. How else can you explain a typical entry like: Garlic Pepper (B,P,C,S) -P102.00. P102.00 for Garlic Pepper BPCS? Whattheheck? Of course, it took me a little while to realize that, with a lot of the menu items, you can choose the meat that will go into it. Ah. Now that's interesting.
So, B is for Beef, P is for Pork, C is for Chicken, and S is for…Snake? Snail? Sago? Oh, shrimp. Oh yah. Ok. Moving on. (Actual thoughts going through my head when I first read it)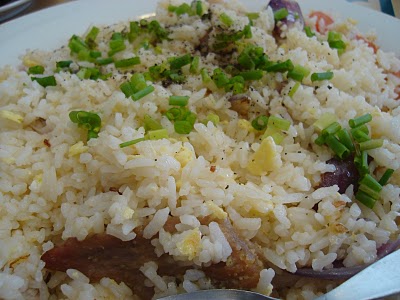 The ordinary sounding Fried Rice (Pork), P 150.00
The most expensive item we ordered, and it nearly ate us.

We finally figured out the menu and ordered several dishes, beginning with the rather boringly named Fried Rice (P), P 150.00. The dish was a revelation. It was very close to a similarly ubiquitously named dish my wife and I had in the Erawan Tea Room in Bangkok a few months ago. Also called fried rice, it had a nearly overwhelming amount of ingredients, including tomatoes, fried eggs, pork, and onions. This one came close, with the main difference being the eggs were scrambled here instead of fried sunny side up, as was the case in Bangkok. But it was very good, overall. Not oily and not too salty. And the tomatoes were actually a very nice touch. And, lest I forget to mention, it was a huge dish.

We also ordered the Red Curry (B), P 102.00. Again, it was impressive. The curry was rich and flavorful, with the sweetness of the coconut milk clearly presenting itself in every part of the dish. The beef was a tad tough, but given the price, it was well worth the extra jaw work. The serving looked small, until I dug in. The flavor of the curry was so rich that a little would go a very, very long way. I was a little disappointed to find out it wasn't masaman curry, which has tamarinds in the curry mix, but it was more a quibble on my part. It was also a tad spicy, fair warning for those who aren't into hot stuff. As for me, it was excellent.
Next on the ordered dishes was the oddly named Garlic Pepper (C), P 102.00. We had no expectations since we had no idea what the dish would be. It turned out to be something like an adobo, or a braise, but in a sweet/salty/garlicky sauce that my wife fell in love with.There wasn't much of a pepper hit, though, not that it mattered. The dish went very well
with the rice and the chicken was nice and tender. It was good enough for my wife not to realize that it was chicken breasts, which she normally hates. The dish was very Thai in flavor in that it was sweet and salty. I also detected the use of fish sauce in the sauce, which added to its Thai-ness (if that's even a word). Again, the dish was very impressive.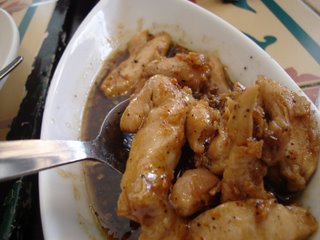 Garlic Pepper Chicken, P 102.00
Another Pleasant Surprise
I was becoming very forgiving of the odd menu and the orange walls.
Lastly, we ordered the Spring Rolls (no letter this time), P 92.00. This was also well done, and was greatly appreciated by my son, who loves anything crunchy. The rolls were cooked with vermicelli inside and was very tasty. The traditional chilli sauce was as expected. So, while this wasn't a shocker, it was very well executed. The rolls went well with our rice and we all enjoyed the fact that we actually were able to order something that appeared as we expected it to.
All in all, I completely forgot the orange walls and forgettable surroundings as I dug deeper inro the dishes. It isn't a place where you'd go if you wanted a swanky, hip place to eat. As Thai places go, that would be People's Palace in Greenbelt 3. But this place should do better since, for one thing, it's cheaper than People's Palace, and for another, you can come in dressed like you just came out of bed with a mother of a hangover, and no one would blink. So you can spend a whole lot less, looking rattier, and still enjoy some really good Thai food.
I also realized that Soms was the kind of place where you can gather your buddies for a good meal and make as much noise as you liked. Which was exactly what my wife and I were planning to do when we stepped out. Soms Noodle House is, from its exterior, to its menu, to its surprisingly good food, proof that looks aren't everything.
Oh, a final tip: look for those odd, indecipherable ones on the menu. Maybe you'll find something as surprisingly good as what we found, or if not, at least you can say you can read the menu.
Soms Noodle House

766 N. Garcia Street (formerly Reposo)
Barangay Valenzuela
Makati City
Telephone: (02) 729-7489
5921 Alger Street
Barangay Poblacion
Makati City
Telephone: (02) 757- 8079
Cell phone: (0917) 992-7648
LABELS: Manila, Restaurants, Soms Noodle House, Stich