By franco on 12 August, 2007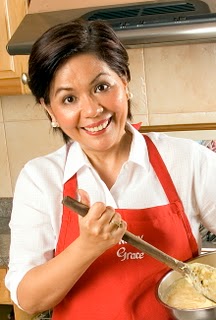 From a business operating out of her own kitchen to her line of signature cafes,

Mary Grace Dimacali

is the epitome of a food enterpeanuer. In 1994, she started selling her now famous ensaymadas and cheese rolls at Chiristmas bazzars. As the Mary Grace brand grew in popularity, she began to open several kiosks in high end shopping malls. In 2006, Mary Grace opened her first cafe at the Piazza Serendra with much success and will be opening two more branches within this year.
Who in your life has influenced your cooking/baking the most?
I have to say that it is my husband Hector Dimacali who influences my baking and cooking in the sense that he is a quality man who puts high standards for me to attain for all my products.

Which book has had the biggest impact?
There is no one book, there are a collection of books that are my teachers. When I trouble shoot or develop a recipe I go to all of these books.

What was your first job in the food business?
I didn't work for any food establishment. I was my own boss.

When did you decide you wanted to open Mary Grace Cafe?

There has always been requests for my customers for me to open a cafe where they can sit down to eat my ensaymadas and cheese rolls with a cup of coffee or tsokolate. This and an opportunity for a little cafe in Serendra lay the grounds for my first cafe. The management of Serendra liked my concept and gave me a break.

What is your favorite item on the your menu?

My food are all my favorites but top of mind is a tomato and herb pasta, a mango and papaya salad with prawns, a cup of rich and velvety Mary Grace chocolate, with a Mary Grace grilled ensaymada of course!

Which restaurant meal (foreign or local) do you remember the most?
This is a hard question as I can remembering enjoying a lot of good meals — Indian, Japanese and Italian.

Besides your own place, what's your favorite restaurant in Manila?

Again a hard question. I have a lot so rather than risk offending other restaurant owners who have turned out to be my good friends, may I just keep you guesing?
What junk food do you love?
A lot! My Sans Rival, ice cream, french fries, chocolates . . .
Is there a food you just can't seem to enjoy?
Let's see… I will never really like eating celery stalks no matter how good the dip is.

Just between us, what are your future plans?

A third branch after Serendra and Trinoma. Expanding my menu to include soup and a few entrees.


Mary Grace Cafe
Piazza Serendra
Bonifacio Global City, Taguig
Telephone: (02) 856-0858
Email: marygracefoods@yahoo.com.ph
Thank you to Gabby Dimacali for making this post possible.
LABELS: Mary Grace Dimacali, On The Table