By franco on 2 August, 2007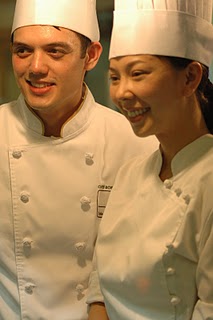 Chefs Sunshine Puey
and
Robert Pengson
have been the talk of the blogsphere lately, creating one-of-a-kind degustation menus for a very discerning clientele. Besides teaching culinary arts part time, these young, up-and-coming chefs run their own catering company called
Gourmandise.
Their monthly dinner club features meals of 13 to 15 courses and are held in their partner culinary schools. Needless to say, reservations are a must.
Who in your life has influenced your cooking the most?
Chef Rob says:
Although I've never eaten their food, I find that Thomas Keller and Ferran Adria are the two chefs that influenced my food. On one hand, Thomas Keller, a master of the classic French technique, produces food that even chefs are in awe of. On the other, Ferran Adria, pushes gastronomical boundaries on "what the future of dining is".

Chef Sunshine says:
Culinary-wise, my mom has influenced me the most. She's an excellent cook so we grew up with great food in our house. She has supported me completely with my chosen path and helps me a lot with menus, set-ups and coming up with new dishes. We also both love to eat and so are constantly trying out new places and are lucky enough to have eaten in some of the best restaurants in the world.
Which book has had the biggest impact?
Chef Rob says:
French Laundry
and
El Bulli
…but when I was starting, I would have to say that my most valuable book was
The Joy of Cooking
.
What was your first job in the food business?
Chef Rob says:
Silks at the Mandarin Oriental Hotel in San Francisco.
Chef Sunshine says:
Selling cookies to friends in school which later evolved into cakes and pastries.
Where does your inspiration for your degustation menus come from?

Chef Rob says:
I draw inspiration from the belief that to be 101% engrossed in one's passion can bring spiritual fulfillment even for just a moment.
Chef Sunshine says:
For me, it comes from everywhere, books I read, other dishes I've tried but mostly from my travels abroad. Our monthly degustation is really the place where we can play around and have fun with our flavor combinations and presentations. We like to think outside the box and push the envelope a little instead of the traditional preparations…or using classic dishes and presenting them in a new way. We've also been known to inject a little bit of whimsy into our dishes, which I think attracts the child in all of us. This ranges from using cotton candy and lollipops to a sort of "interactive" experience where the guests need to squirt something out of a tube or can watch us from the open kitchen.
From your recent menus, what was your favorite item?
Chef Rob says:
21st Century Eggs Benedict.

Chef Sunshine says:
Peanut Butter and Jelly Sandwich and the Foie Gras on Ice Cream Cone.
Which restaurant meal (foreign or local) do you remember the most?

Chef Rob says:
Buon Giorno because of the company I had when I dined there.
Chef Sunshine says:
Guy Savoy in Paris. A degustation dinner with my mom that had about 36 dishes total.
What's your favorite restaurant in Manila?

Chef Rob says:
Sugi.
Chef Sunshine says:
Lolo Dads
What junk food do you love?
Chef Rob says:
Ice Cream with Oreos.
Chef Sunshine says:
Anything chocolate
Is there a food you just can't seem to enjoy?
Chef Sunshine says:
Innards except for foie. I would never eat intestines, lungs or balls.
Chef Rob says:
I agree with the love of my life plus sweetbreads.
Just between us, what are your future plans?
Chef Sunshine says:
I would love to travel and study more abroad with Rob.
Chef Rob says:
To have the best restaurant in the country…after the kids grow up.
Gourmandise Catering
Email: gourmandisefood@gmail.com
Thank you to Chef Sunshine for the photograph
LABELS: On The Table, Robert Pengson, Sunshine Puey